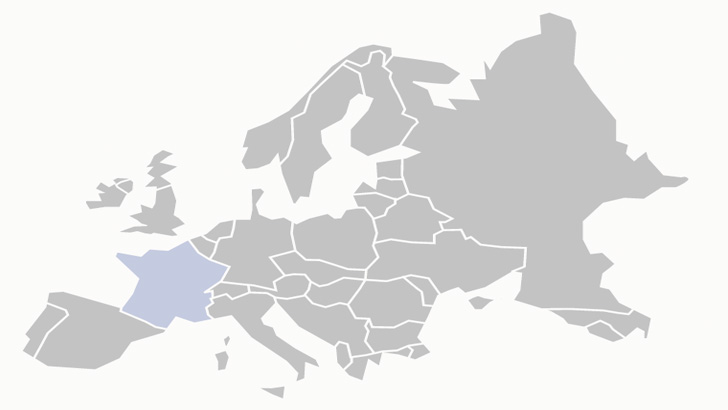 French Market Insight, Summer 2020
While there's currently no indicators in the red at the time of writing these lines, the COVID-19 figures are worrying and France could fall into a situation like that of Catalonia at any given moment. By Benoit Brecq.

Although wearing face coverings has been mandatory in public places since July 20, with fines of 135 Euros for violations, the sanitary situation in France remains uncertain. However, the French economy is bouncing back with various indications that economic activity is picking up faster than anticipated. The 100 billion Euros put in place by the government for a scheme to boost the economic recovery seems to be bearing fruit. But these positive signals should to be observed with caution. Household consumption, a crucial factor in evaluating economic recovery, spiked in May, June and July. Consumption in France has pretty much returned to normal levels (-5%) after the collapse brought on by the novel coronavirus crisis (-30%). Economic upturn began at the same time as deconfinement and seems to actually be accelerating in France with activity showing signs of dynamism in all sectors but the end of the year remains uncertain and the government at this point is remaining cautious, refusing to review its prediction of recession for 2020.
France has seen the strongest regrowth in Europe, much faster than Germany or even the U.K. National demand is starting to pick up again and most businesses are back up and running with consumer expenditure beginning to climb back to normal levels. Banque de France expects a bounce back of 14% GDP in the third quarter and Insee, more optimistically, are charting 19% growth after a drop of 17% in the second trimester in the midst of lockdown.
What does all this mean for our industry? The summer season is generally the key period for sales so is it going as well as in previous years? When it comes to welcoming people into shops and how that works on the ground, it's fairly unanimous: the norms put in place by the government are all accepted and respected by customers as well as shop staff.
Shops have organised themselves and have implemented the government's recommendations and these were adopted by the vast majority of retailers before July 20, the law for mandatory face coverings has also been adhered to. Some additional measures have also been put in place by shops with high affluence such as markers on the floor for distancing and/or circulation purposes, limiting the number of people in the shop as well as Plexiglas screens and disinfecting payment terminals at the cash desk.
In most cases, clothes are disinfected after being tried on and, like at Gliss'up in Bordeaux, neoprene wetsuits are isolated and "put into quarantine for a few hours after being tried on if they are not purchased."
During the summer period, tourism often links directly to shop visitation numbers and it would seem that this year the COVID-19 effect will have a different impact depending on region and shop.
At Nozbone in Paris, Alexis tells us that, "even though we continued our online activity during confinement we saw a drop in turnover in the region of 70% but since May 11 sales went steeply upwards."
It's the same feeling at Chattanooga in Paris where Laetitia confirms "after the confinement period there was an intense upsurge with lots of people in the shop. There was a real feeling of wanting to kickstart the little local businesses and a frenzy for outdoor sports." However, she
does add, "since the summer holidays began we have seen a slight drop in customers but this is in line with last year."
Sylvain from Urban Surfer in Paris says "tourist numbers in Paris are lower than in other years. There are noticeably less foreign tourists this summer and a lot of Parisians have left to get some air elsewhere in France."
In Bordeaux at Gliss'up, Thomas says "we have seen a big boom since reopening with unprecedented customer levels and sales for this particular period! Visitation numbers have returned to a more normal level since July but are still really good for the time of year."
This analysis comes from Surf Avenue in Vieux Boucau, "confinement brought out a real sense of frustration in people. When it was lifted people had a need to buy things," and adds, "we are really happy with the start of the season with good visitor numbers and June's figures corresponding to a normal month of July and that of July corresponding to August in previous years."
Cédric from Unclezaz explains, "undoubtedly there's a fear of reconfinement but since the beaches reopened in June lots of people have come to kit themselves out," adding, "buying habits themselves have changed, before people took a lot of time to think and gather info. These days sales are more instinctive, it must be the fear of tomorrow…"
Benjamin from Hawaii Surf in Paris, a benchmark of E-commerce explains that, "the first week of confinement was very weak in terms of sales online. However, during the following weeks customers started to buy again and with consistent growth." He adds, "since the end of confinement, demand has exploded with a further boost to equipment sales when the beaches opened again."
When it comes to products, it seems as though skateboarding and especially the 'street' sector has enjoyed massive interest. At Chattanooga Laetitia tells us, "skateboarding has been on a good run for 2 years but after COVID we have seen real excitement with sales more in line with the Christmas period." It's the same story at Nozbone where Alexis says, "2/3 of turnover was made from skateboarding hardgoods with double figure growth in overall shop turnover."
In street, the most noteworthy brands are American ones like Real, Santa Cruz, Antihero, Thunder and Venture as well as European brands like Jart and Cartel. When it comes to surfskates and cruisers brands like Yow, Carver, Flyingwheels and Kruuze seem to be selling best this summer.
In watersports, the reports seem to follow suit. Cédric at Uncle Zaz tells us, "the technical aisle is working super well this season, we're selling quite a few surfboards with an average of 2 to 3 boards sold per day." It's a similar vibe at Gliss'Up, where Thomas confirms, "all of our aisles are firing, mainly foam boards and beginner and intermediate boards or entry-level inflatable stand up paddle boards."
Benjamin from Hawaii Surf adds, "during confinement we experienced quite high demand for information about surfboard kit and neoprene in view to making a purchase. Since the beaches reopened, the aquatic section has had really good sales." The most mentioned brands are mainly from surfboards: Torq, Softech and Catch Surf.
In clothing, the dialogue is a bit more mixed, "the clothing section has been a little less under attack since the shops opened back up," says Benjamin from Hawaii Surf, adding, "it was really when the sales period started that we started selling at a pretty decent rate." The sales effect was also felt by Sylvain at Urban Surfer who confirmed, "we saw a slight increase in sales and
visitation numbers with the official launch of the sales period, especially on the whole streetwear section."
Summer means summer so it's only natural that it was summer apparel that sold best like at Surf Avenue, "we have a lot of demand for the whole section of flip flops, swimwear and shades, the flagship summer products." When it comes to brands, it was as much the big brands like Rip Curl, Element, Volcom as the smaller labels like Rhythm, Picture or Polar that were sought out by customers.
Confinement seems to have had a depriving effect on consumers, which produced a strong desire to rediscover freedom and outdoor activities. It seems as though this situation has benefitted our outdoors sports and, therefore, our own industry. Furthermore, the limitations to foreign travel appears to have encouraged the French people to take holidays within France this year and so to spend more locally. While it's true that foreign tourism is down significantly this year, it would appear that shops have already done some really good trade with their compatriots this season.
The government is still floating the possibility of a second wave and of a potential partial or total reconfinement. Is the COVID-19 episode fully behind us?