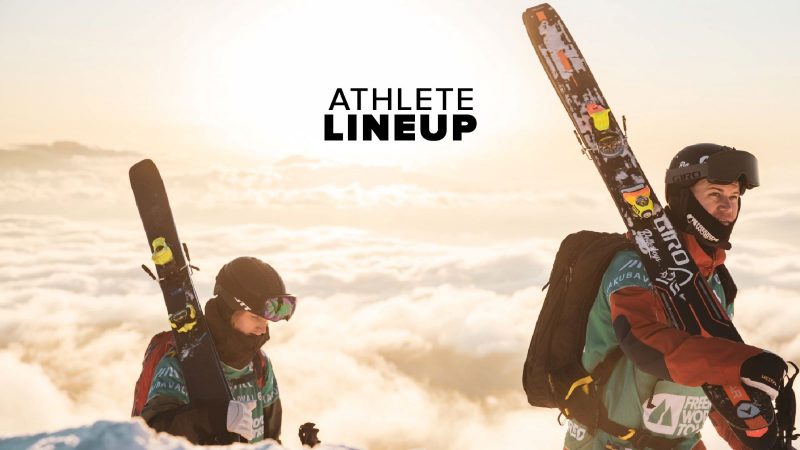 Freeride World Tour Present 2021 Line-Up
48 athletes make up this year's Freeride World Tour line-up: 16 snowboarders and 32 skiers. A combo of legends, rookies and wildcards will compete for the FWT21 World Title.
Press Release:
STAR-STUDDED FWT21 LINE-UP ANNOUNCED AS LEGENDS, ROOKIES AND WILDCARDS PREPARE TO BATTLE FOR THE WORLD TITLE
The FWT21 roster is now official and promises more insane action with a generous mixture of experienced and fresh-faced athletes.
With the FWT announcing the full roster for 2021, many questions resurface. Will one of the legends regain the title? Will an impressive rookie shock to win in their maiden year? Or will one of the wildcards prove their inclusion and take the trophy. Only the world's best big mountain athletes can answer these questions as they get primed for the FWT21 season.
48 athletes in four categories – 7 snowboard women, 9 snowboard men, 8 ski women and 24 ski men – will fight to lift the trophy as the FWT champion. But the highly diverse field from all reaches of the globe guarantee this won't be an easy feat. And surely last year's world champions – Marion Haerty (FRA-snowboard), Nils Mindnich (USA-snowboard), Arianna Tricomi (ITA-ski) and Isaac Freeland (USA-ski) – aren't ready to let go of the sport's most valuable prize.
Athletes will need to be on point from their very first turn. And with the cut now at the third stop, only 4 snowboard women, 6 snowboard men, 6 ski women and 13 ski men (totalling 29 riders) will get the opportunity to compete in the last two stops and the chance to stand on the podium.
Discover the names of the returning legends, tour wildcards and rookies.
Ski Men
The Top 13 FWT 2020 in ranking order.
Isaac FREELAND (USA)
Kristofer TURDELL (SWE)
Andrew POLLARD (USA)
Blake MARSHALL (NZ)
Reine BARKERED (SWE)
Carl REGNÉR (SWE)
Drew TABKE (USA)
Carl RENVALL (SUI)
Tom PEIFFER (CAN)
Tanner HALL (USA)
Kevin NICHOLS (USA)
The Top FWQ 2020 –  "The Rookies"
Maël OLLIVIER (FRA)
David DELIV (SWE)
Julian HAMPTON (NZ)
Ross TESTER (USA)
Cooper BATHGATE (CAN)
Raymond MCDERMOTT (USA)
The Wildcards
Léo SLEMETT (FRA)
Sam LEE (NZ)
Yann RAUSIS (SUI)
Tao KREIBICH (AUT)
Yu SASAKI (JPN)
Konstantin OTTNER (GER)
Aymar NAVARRO (ESP)
Ski Women
The Top 6 FWT 2020 in ranking order.
Arianna TRICOMI (ITA)
Hedvig WESSEL (NOR)
Elisabeth GERRITZEN (SUI)
Jacqueline POLLARD (USA)
The Top FWQ 2020 –  "The Rookies"
Zuzanna WITYCH (POL)
Tracy CHUBB (USA)
The Wildcards
Maude BESSE (SUI)
Juliette WILLMANN (FRA)
Snowboard Men
The Top 6 FWT 2020 in ranking order.
Nils MINDNICH (USA)
Victor DE LE RUE (FRA)
Sammy LUEBKE (USA)
Cody BRAMWELL (UK)
Jonathan PENFIELD (USA)
Gigi RÜF (AUT)

The Top FWQ 2020 –  "The Rookies"
Hugo SERRA (FRA)
Michael MAWN (USA)
The Wildcard
Blake MOLLER (USA)
Snowboard Women
The Top 4 FWT 2020 in ranking order.
Marion HAERTY (FRA)
Michaela DAVIS-MEEHAN (AUS)
Erika VIKANDER (USA)
Núria CASTÁN BARÓN (ESP)
The Top FWQ 2020 – "The Rookies"
Katie ANDERSON (USA)
Claire MCGREGOR (NZ)
The Wildcard
Manuela MANDL (AUT)