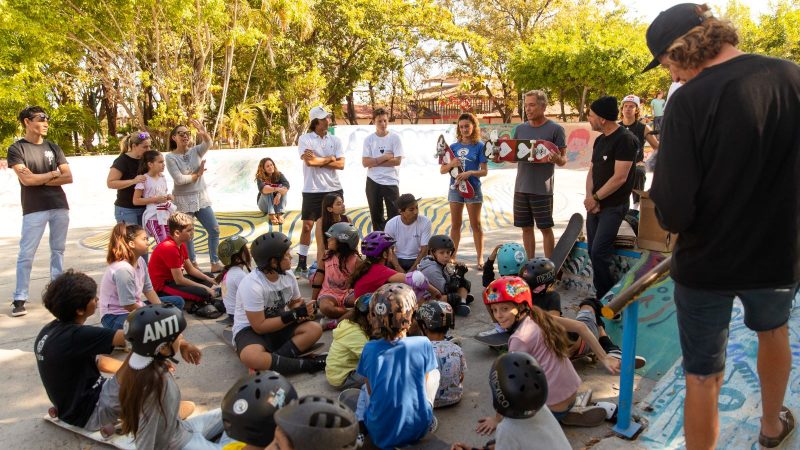 'Xala With Heart' Community Skatepark Project With The Heart Supply
Working with the Xala project, The Heart Supply has announced they've built the 'Xala With Heart' community skatepark in Mexico. 'Xala With Heart' looks to unite the local skating community, foster a love of skateboarding and provide a safe place to learn new skills and make new friends.
Press Release:
THE HEART SUPPLY ANNOUNCES GROUNDBREAKING SKATEPARK AT XALA
New partnership puts skating at the heart of a sustainable vision for the future  
Johnny Schillereff unveils project – 'Xala With Heart' – on the shores of western Mexico  
Team riders and Olympic hopefuls join Schillereff giving skateboards to children at local ceremony  
The Heart Supply has announced an exclusive partnership with exciting new concept Xala – an eco-friendly destination for socially conscious travelers integrated with stunning raw nature and a thriving Mexican community.
Skateparks are known for sustaining communities around the world, but this seminal partnership makes a significant statement about both parties' visions for the future: Xala is launching with a skatepark, not a golf course.
Rooted in a strong local skating community, the development provides young people with a base to learn from renowned skaters from around the world, while also creating an inclusive environment. With the skatepark set to open in Summer 2021, this collaboration brings these two unique concepts together to launch a new era of positive societal change.
An official ground-breaking ceremony was held to mark the 'Xala with Heart' partnership and brought together Xala founding partner Ricardo Santa Cruz and The Heart Supply founder Johnny Schillereff with his team and Olympic hopefuls Jagger Eaton, Heimana Reynolds, Rio Batan, and young gun Camp Schill, who shared their skills and experiences with local skaters. They came together with the local community to plant a 'Giving Tree', symbolizing the trees that provide the ultimate sacrifice for all skaters and a commitment to give-back to the Xala community. They also handed out skateboards to young skaters from Puerto Vallarta and asked them to share their hopes for the future of Xala.
Ricardo, Johnny, his wife Kori, their family, The Heart Supply, and his team riders and friends from the global skateboarding community have founded 'Xala With Heart' to create an inspiring, safe space where local skaters from neighboring towns, including Punta Mita and Puerto Vallarta, and visitors from around the globe can thrive.
Johnny Schillereff, Founder of The Heart Supply, said: "Skateboarding has been my calling as far back as I can remember. It was the one thing that allowed me to escape a turbulent youth, got me off the streets and gave me purpose. Sharing the beauty of skateboarding with the kids in the region, and helping build an inspiring environment, was the reason my family and I fell in love with the Xala project.
"Generosity and creativity are both at the heart of what we're doing. Xala is a magical place where my family and I can work together to create life-changing experiences. Ricardo Santa Cruz's great vision for the town of Xala has materialized, and Xala with Heart is a dream come true."
Ricardo Santa Cruz, Founding Partner of Xala, said: "The Heart Supply is an exciting partnership that sits at the core of our vision for Xala. Supporting the community and helping local people flourish is key to our project, and our partnership with Johnny and his team will help us make this a reality. It feels completely natural to make the skatepark the first concept we bring to life at Xala and I hope this can provide opportunities to both local communities and guests alike."
The skatepark will provide access to a safe environment to develop skills and newfound talents, uniting local skaters with people from all over the world in the coming years. Xala is a one-of-a-kind concept and development in Costalegre on the west coast of Mexico. At the forefront of Xala's vision is creating a sustainable community, which has sparked partnerships with many progressive organizations that share the same ethos.
To follow the journey of the skatepark, please visit the Xala with Heart INSTAGRAM PAGE