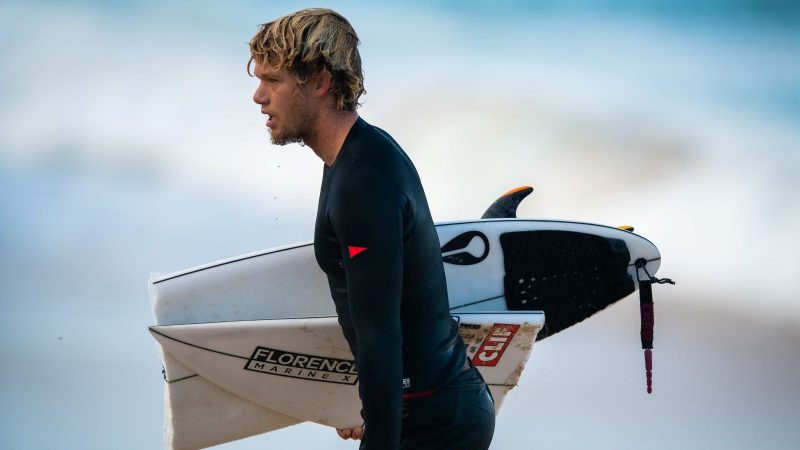 Florence Marine X EU Launch – Jeff Hurley & Pat O'Connell Explain
Back in Spring, the long-anticipated Florence Marine X launched their DTC ecommerce platform in the US, and now, in August, the brand is expanding this DTC platform to Europe. Founded by 2x world champ John John Florence, the brand is focused on outdoor functionality, longevity, and planet-friendly materials.
Ahead of the European DTC launch (and September's retailer prebooking/ sample testing), SOURCE got in touch with Pat O'Connell, President of Florence Marine X, to find out more about the launch, distribution, and the brand's first line. Jeff Hurley, CEO of Kandui Holdings, also pitched in with how the idea of Florence Marine X came about.
How will the brand be distributed here in Europe?
Florence Marine X have partnered with Hectic Europe to handle the EMEA business. In line with the US approach, the brand will initially launch with a DTC ecommerce platform with VVAST in August 2021 and products / categories will continue to be added throughout the remainder of 2021.
However, wholesale is very much part of the distribution strategy and as we head into 2022, we are excited and looking forward to launching the brand with key retail partners across EMEA. At present we anticipate the first wholesale drop will be in store for Spring / Summer 22.
When will shops see the first samples of the line?
We are anticipating the majority of our samples being in hand to present to retailers in September 2021 for Spring / Summer 22 deliveries. That said, we plan to seed key retailers and industry partners in August 2021 so they will have the opportunity to wear, test and experience the product first-hand in advance of placing an order.
What was John John Florence's thinking behind the launch of Florence Marine X?
Answer from Jeff Hurley (CEO of Kandui Holdings, Florence Marine X parent company): We've always had a great deal of belief in John and his ability to inspire others.
Over the years, we've had a lot of fun working together so it only seemed right that we'd find a way to get that going again. Back in early 2020, we and John happened to be free agents around the same time and began having conversations about teaming up again. Through those talks, what was interesting to all of us was doing something new and different that would allow John to plot his own course.
This decision was a big deal for John. From a career standpoint, the safe route would've been to accept a sponsorship from one of the bigger brands, slap a sticker on his board and get back to business as usual. On the other hand, starting something new was a risk. Once you put your name on a brand and its products, there is nothing to hide behind. We asked John a question that summed up the decision in front of him: "John, how much impact do you want to make?" Ultimately, John thrives on inspiring people to get out there and do things, enjoy nature, and do their best to protect the ocean and the land, this was the best avenue to do just that.
Who else is on the team behind the brand?
The main team is headquartered in Southern California. Last year, I began talks with Jeff and Bob Hurley about potentially coming onboard. We've made some magic together in the past, and that history combined with the potential John has to inspire seemed like a pretty good recipe for success. I started my role as President of Florence in March of 2021 and joined an already established and impressive team of experienced product developers, designers, communications experts, and digital marketers all rallying around a common goal of building an inclusive, unique brand that serves those who live their life in and around the water.
How will the brand differentiate itself in the marketplace?
Ultimately, starting a brand with John's namesake allows a direct connection to John and everything he stands for without it having to go through some nebulous "brand" filter. Another key reason why this brand was started – and a key ethos around why it exists at all – is the notion of doing things differently than they've been done before. Everything we make is purpose-driven and has a story behind it. From the material used to the factories selected to the categories we're focusing on; we aren't making things just to make things – we're building functional designs that help people get outside and stay outside.
Why is sustainability and eco sourcing such a key brand ethos?
We are a brand built entirely around enjoying and thriving in the outdoors. Ultimately there is only one earth, and despite the space race, there isn't yet a Planet B, so we need to do what we can with the information we have to protect the places we explore every single day. We do not in any way claim to have all the answers, and we believe responsible sustainability is a lifelong work in progress. But wherever and whenever possible, we make the right decision for the planet with the information we have in front of us whether that's using bluesign®-certified textiles in our boardshorts, creating T-shirts from factory floor scraps or simply making high-quality gear that lasts longer, helping people buy less and keep their things out of the landfill.
Please take us through the different product category offerings.
Right now, we're offering boardshorts, UV-protective Active Shirts, T-Shirts (made from both factory floor scraps and organic cotton), headwear, and Japanese-made wetsuits. Coming very soon, we have a technical outerwear, men's shorts, and a fleece collection for the colder months ahead.