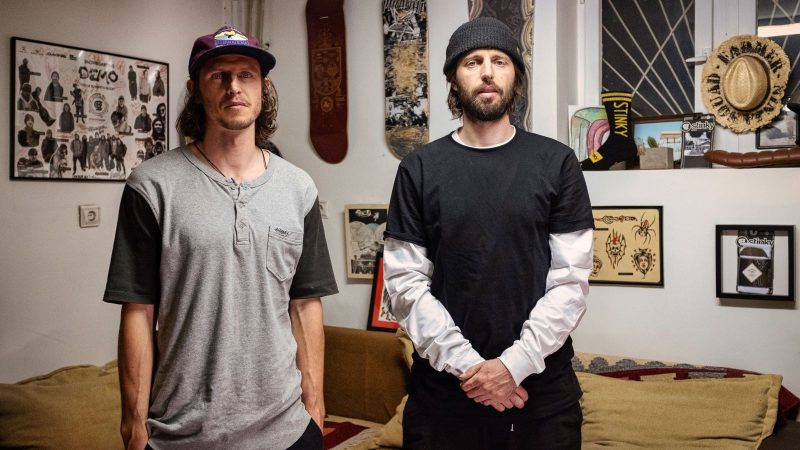 Stinky Socks' Hristo Petkov Speaks on Building a Boardsports Scene & High-Margin Brand in Eastern Europe
Even in today's globalised world, it's rare for boardsports brands hailing from Eastern Europe to make a global impact. But with a presence in almost 200 stores across the world, Bulgarian softgoods label Stinky Socks is bucking the trend. CEO and co-founder Hristo Petkov speaks to SOURCE Editor Dirk Vogel about growing his brand from humble beginnings – and overcoming major 'outsider' bias – into an international lifestyle phenomenon.
Let's be honest: What do you know about skate and snowboarding in Bulgaria? Like, can you name any of the top pros, main distributors, or leading brands? At a time when the global boardsports scene has grown more tightly connected, especially in Europe, the country on the Black Sea in South-eastern Europe still remains somewhat of an outlier.
But it used to be worse.
Just ask Hristo Petkov, the CEO and co-founder of Bulgarian lifestyle brand Stinky Socks. In a recent TedX talk, the 39-year-old from Gabrovo recalls his experiences of trying to enlist support from Western brands in the early 2000s for his local scene-building efforts. Often to no avail. Even when he offered professionally produced video content – he now also runs a film production company – most established brands took a hard pass.
Using their outsider status as fuel, Petkov and his Ninja Squad crew pushed on. They built a scene around their home-made videos, organised video premieres and concerts, and basically spread the stoke behind boardsports culture across the Balkans. Ultimately, this led to the foundation of Stinky Socks, now an international brand replete with local manufacturing according to environmental standards right where it all started in Bulgaria. For an exceptional story in boardsports, SOURCE catches up with scene builder and entrepreneur Hristo Petkov.
Hi Hristo, how are you and what are things like with Covid where you live?
The situation around Covid is getting better. I'm not really following the news, but there have been fewer cases lately and the hospitals are doing good. My partner and I were pretty strict about Covid, and we stayed at home with the baby. All the pubs and restaurants are hurting, but I can't wait to start travelling again.
You've already been all over the world because of boardsports. When exactly did you get into the culture?
I got into skateboarding when my brother and I were pretty young, and we were going through some stuff as a family. My parents split when I was 15, so my brother and I became super close and were looking for an escape from what was happening. My brother, Dimo, is 4 years younger and he started skateboarding first, he is better at everything physical than me. That was back around 1997, maybe 1998. There was a huge crisis in Bulgaria at the time, and it was the three of us, my mum and us two, renting a place in Gabrovo where we come from.
How accessible were skateboards and related products for you at the time?
Well, a skateboard from a Bulgarian brand was 45 Levs for just a deck, which is about 25 dollars. And for perspective, at the time my mum working as a nurse was making 100 dollars per month. My brother was the one doing most of the skating, and I took the role of the one who pushes stuff, you know, films with a camera, takes photos and picks the spots. I started working jobs at age 16 and saved money to buy a camera and computer to edit videos. My brother started editing as well and is now a director.
What about getting magazines and videos?
When someone got a magazine from the States, it would make the rounds among all the skaters. By the time I got a magazine, the pages were all ripped out. And snowboard movies also travelled around the city, one time my friend had even taped some hardcore porn over a snowboard film, which was kind of awkward when we watched it at home living with my mum one time (laughs).
When did snowboarding enter the picture?
That was in the late 1990s, when we already had some experience from skating, but snowboarding was even more expensive (laughs). So, it was hard. But we pushed ahead and snowboarded a bunch. I travelled to the States, met people, and bought a better digital camera, so things were progressing. Until finally in 2008, we started distributing some snowboard and skate brands in Bulgaria and at that time also had a crew of riders who were all getting better.
What was the name of your crew?
Ninja Squad! At one point we got so big, there were about 30 of us showing up at spots somewhere. We kept filming ourselves and creating our own videos, thereby pushing the scene until we had something going. That's why we also named our distribution company N.S. Distribution.
FACING (BUSINESS) REALITY
Which skills, aside from your skate and snowboard insights, have helped you pursue a career working in boardsports?
I have no formal business background. Everything that I do today is coming from skateboarding and snowboarding. I am involved in a bunch of projects outside of Stinky, but all of it follows the narrative of what I learned from skate and snowboarding. Like filming and promoting these videos and doing events around them is how I got into advertising. Now I'm with one of the best advertising agencies in Bulgaria, Next-DC and am also involved in an events agency. And Stinky comes from all that passion for boardsports.
So, did you teach yourself all the computer and editing skills as well?
I graduated with a degree in Marketing from university and learned Photoshop and editing. Then we were always promoting our videos by organising events. We had these premieres and screened our films on a huge screen. It started with 10 to 15 people and by the time we did the last one eight years ago, there were more than 400 people.
How did you finance these events?
We mostly funded them ourselves, living paycheck to paycheck. A lot of kids came and were introduced to skateboarding at these events and we were giving away stuff for free. Our Gabrovo Downtown skate event was all about skateboarding out in the streets in our hometown. We had workshops and brought some of the best skateboarders from Bulgaria to skate with the kids.
In your TEDx talk, you said that growing up in Bulgaria made you an outsider in the global boardsports business. What was it like when you tried to get support for your scene from brands?
I got so many people saying no. It kind of bugged me, but it bugged me in a good way. It motivated me because I am super self-critical. So, if someone says no, I think it's something wrong with what I'm doing. But there was a definitive lack of boardsports events and so we started our own. We wanted to see our community get together.
Even without any outside brands?
We had so much energy that I'd rather spent my own money than beg someone else for peanuts. Instead of wasting my time with marketing managers, I was out spending time with the kids and creating the resources to do things the way I wanted to do it.
BUILDING A NEW BRAND
What was your style with the brands you distributed with N.S. Distribution?
We had a good set of brands but also realised a lack of brands in skate and snow that fit our lifestyle. A bunch of the big brands were kind of cooky, like bright yellow jackets and pants. And we were all more into tight pants and jeans, with more rock coming in. So, we saw a gap in the market.
Did you feel like you had an audience even outside of Bulgaria?
Around 2011, we had a bunch of experience from running our distribution for about three years. We had video content and a web series, and I am a statistics man, so I was looking at views of videos and I saw that most views came from outside Bulgaria and a bunch of media posted our content. But when I approached some of the bigger brands about providing them with content from Bulgaria, they said no, because they had an in-house video production. That bugged me a lot.
Because you felt like you had something to offer?
Right! We had the Ninja Squad going, but we didn't have merchandise. So, we felt like we needed a brand to represent. I would have loved to do hardgoods, but saw it was way too expensive. The margins are so bad in hardgoods…
What other categories were you looking at?
We thought it could be a brand for t-shirts and hats, but everybody was doing that already. We weren't good at designing stuff, either. So, we decided, "Let's do socks" – that was something nobody was doing.
What was it like at the beginning when you established Stinky Socks?
We didn't really have resources. We started out in 2011 with 4000 euro and half of that we spent on the logo (laughs). What happened was that my girlfriend found a guy to do the logo, but I didn't know about anything or what stuff costs. So, we spent 2000 euro on the logo and had the other 2000 to spend on production. So, we did what we could and that was three designs of socks. That is how it all started.
That's a pretty gnarly start. What were some milestones along the way?
Then shops in Bulgaria were sketched out at first. They didn't like us because we were a distributor who also had their own direct sales, which is how it works here in Bulgaria. The distributors run their own shops and sell their own brands. So, we were their competitor and also the underdogs. So only one shop in Bulgaria carried our stuff.
COMMITMENT TO QUALITY
That must have been tough at first. What helped you break that dynamic?
So, I had met a few people during my time in the States and had a friend in Japan who had a distribution company over there. And he said, 'Sure! I'll order some socks!' So, our very first shops and distribution were in Japan. Then we had Microxtreme in Greece and the owner was already a supporter of our skate scene in Gabrovo and would send us used decks and shoes all the time. So, we had a connection in Greece, and they picked up Stinky as well. Then we started to hustle.
You've been hustling for ten years now. Where is the brand at today in terms of distribution and global presence?
Today we are in 17 countries, and we have about 190 shops who order from us. We are currently looking for a strategic partner to support us in growing our retail network in North America and Asia.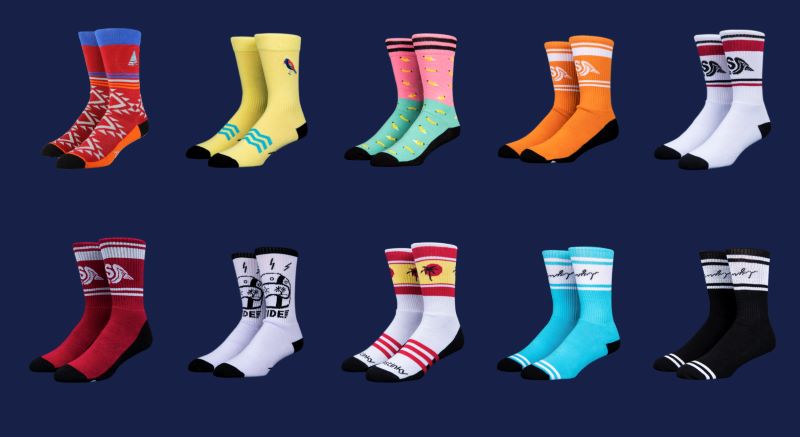 That's a long way from a 2000-euro sock production run. Do you still work with the same factory?
Yes, we are still with the local manufacturing company. They have been so awesome from the start and supporting us from day one. They are a totally traditional factory that did a bunch of socks for different companies, but really classic. So, when we started doing funny and weird socks, they got pretty excited. Everyone in the factory from sales to packaging all the way to the elderly ladies in production are fans of Stinky. They always have comments and like us a lot.
What about the actual products?
We bring some colour into the market with some unorthodox sock designs, but we also work hard on the manufacturing side. We make cotton-based socks, but not from traditional cotton. We use slightly better and thicker cotton. So, our socks are thick close to your feet. Kind of like compression, but without compressing too tightly. And to keep your feet fresh, we have a silver antibacterial treatment. The cotton we use absorbs about three times more moisture for its weight than conventional socks, so you can wear them for a long time and still have dry feet. They also last long even if you wash them a lot, which is definitely not the same for other brands.
What makes Stinky Socks stand out from the competition?
Other socks use way too much excess material in making. So, we limit the amount of what we use and incorporate natural materials when possible. We limit the plastics and polyester stuff to stay all natural. This makes our socks expensive to produce, but we never want to compromise the quality. Everything we do is a bit more expensive and thought out. Even the bags we use in our online shop are biodegradable and will be gone if you leave them in the ground for 80 days.
What's the overall philosophy behind the brand?
Look, my working weeks are like 80 hours, and I value every hour and every dollar I make. And I also only buy stuff from companies that I know and respect. In turn, I don't want people to buy stuff that's not good. We are not a huge company, it's my brother and I and we put our names behind it. We need to be passionate, and we need to deliver.
How do you get feedback whether you are meeting your customers' demands?
On our online shop we always ask for a survey after an order. 'Are you happy with the shipping?' and 'Did the order meet your expectations?' are a few of the questions. And 98% of the people are happy.
BUILDING BRIDGES
As a global brand, how many athletes do you support with Stinky?
Right now, we have around 100 people around the world getting stuff. Not all are riders, we have seven skateboarders and around 25 snowboarders. Plus, we have been giving a lot to people like photographers and musicians and people in the boardsports culture. I generally would rather spend time on young guys, because in three to four years they will be on a level with people we have right now. Other pros sometimes think we are not cool enough, but they're just spoiled (laughs).
Speaking of spoiled, how do you see the state of skate today?
The industry is definitely booming right now. You can still see good brand managers that support the scene, but the big brands all have to report to stockholders and make money. I see a lot of money being put into big events and very few riders. I really want to bring the demos back and bring it back in ways that connects to the local community. Like how we did back in the day with snowboarding.
Do you think live events will come back after Covid?
We don't get so many demos here because we're far away from everyone. But for example, when the SUPRA guys came to Bulgaria bunch of years ago, that was super rad and so many kids went there.
The brands perhaps don't realise that they're creating memories for life. I still remember when the Bones Brigade came to my town in Germany in 1989 and there's a lasting effect, right?
You're grooming a future generation that is going to buy your brands. I have seen a lot of kids grow up from skateboarding and become successful at what they do. You have to invest in the future generation and share certain values with them.
How is the current boom different from previous ones?
Right now, the boom is more about big brands. But these things go up and go down. Within a few years we could be back to local communities. You always have to be a locally relevant brand because the kids need something going on where they live. They can't be on their phone on social media all day or they get lonely. They need their local scene and with the right support, we can get there, and things will be bright again.
Looking at the Balkans, is there something that needs to be done to build more bridges with the rest of the scene?
I would be stoked about collabs with other brands. But I don't think companies are finding it profitable to be on the Balkans. They don't think they can make money out here, but they also don't have to exclude us. In Serbia they have this rad event in art and skateboarding and there are always crews from Bulgaria going up there. There's a huge need for these types of events that connect the scene. And even small brands can do it. We are open to ideas for sure.
I would love to see a hardcore boardsports scene here, but you can't really have a hardcore scene in Bulgaria. At some point, you turn 30 and you have to start making money, so then you lose a lot of people from boardsports culture.
What do you think will be the key drivers of the skate business going forward?
The good years of skateboarding were always when it was based on culture. And we have kind of moved away from the culture right now a bit. Vans is a huge example for how you need to develop your brand and company and keep the culture alive.
And finally, what's next for Stinky Socks?
I wish we had more resources to do stuff that we like. Things that are fed by our curiosity and also get more people involved. We might be growing our line and are trying to make a skateboarding movie. Perhaps bring people to Bulgaria, like our New York and L.A. team guys, and take them on skate trips to film. I think a full movie filmed in Bulgaria would definitely make a huge impact. People just really need to experience it. We really want to do it, but it's expensive and there's still Covid, but these are just a few things to push things forward.
Thanks for the interview, Hristo and best of luck.