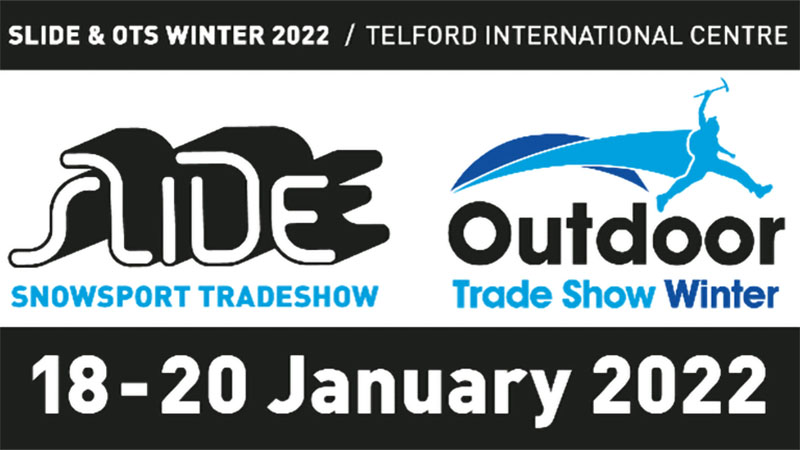 Visitor Registration Open for 2022 Slide & OTS Winter Tradeshow
Visitors are now invited to pre-register on the Slide & OTS website for January's tradeshow at the Telford International Centre, in Telford, England. 77 brands have already registered to attend and remaining floor space is going quickly.
Press Release:
ONLINE VISITOR REGISTRATION NOW OPEN
'Pre- register to attend the winter trade show'
Slide & OTS Winter opens its doors to the retail trade on the 18th January 2022 and with less than three months to go, visitors are now invited to pre-register online on the show website HERE.
Visitors are reminded that everyone will need to register to gain entry to the show – nobody will be auto registered as a visitor, even those who have previously visited the show.
Exhibitor numbers have increased to 77 with several new brands (latest floorplan HERE) including: Bolle, Viking, Feeet, Dexshell, Kelty, POC, Giro, Maier, Uyn, Ice Peak, Luhta and Mountain Boot Company, having already committed to taking space at the show (before the recent October deadline and to take full advantage of the preferential space rate). Show organiser Lesley Beck is pleased to report that, "We now have allocated over 82% of the maximum available exhibition space and are looking forward to a few more brands still to come forward and take some of the remaining space."
Slide & OTS Winter provides the opportunity for retail buyers to view the seasonal collections of snowsport and outdoor equipment, clothing and accessories, all under the one roof. Bringing the trade together, this is the only chance for retailers to place forward orders and guarantee stock for delivery in time for the 2022 / 23 winter season.
Telford International Centre is easy to get to, either by road using the M54 or rail (less than a mile from Telford Central Station) and with 1500 car park spaces on-site, parking couldn't be easier. On-site hotels next to the exhibition centre have provided reduced rates for visitors who wish to stay in the area and further details can be found HERE.