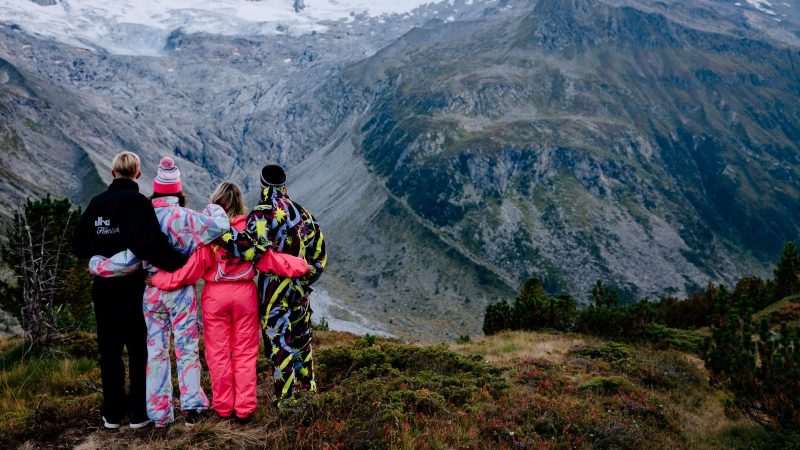 One Year On: A Relaunched elho Makes Return to Freestyle
In the 80s, the elho® Freestyle collection created an unprecedented hype on the slopes – worldwide. For two decades, the brand had disappeared from the face of the earth. A small team of winter sports and fashion enthusiasts has secured the worldwide license and relaunched the brand in September 2020. But only this winter, it's finally back to freestyle.
It's been almost exactly a year since we first talked about the brand relaunch, together with the first new elho collection. What has happened since then?
First of all, thank you for keeping up with the elhos ;-). Not to sound dramatic, but looking back at last winter, the focus was more on what unfortunately didn't or couldn't happen. Relaunching a brand with a winter collection at a time when winter areas were, and stayed, closed due to the Corona pandemic wasn't ideal, obviously. But we stayed optimistic and focused, launched our first summer collection and put all our energy in the preparation of the upcoming winter season.
Quick recap for those who missed elho's return from "20 years of secret research on the moon": What was the story behind the elho relaunch?
Before diving into the story of how elho disappeared and came back, it's important to underline the brand's impressive and fascinating history: elho was founded in Munich in 1948 by master tailor Ludwig Hohenester. Important stations over the decades were patents for the first Jet Pants (1958), the first down collection on the German market (1983), twice official supplier of the Olympic Winter Games… elho is not a retro label, elho is a heritage brand.
A heritage brand which, according to your relaunch campaign in 2020, decided to spend some time in outer space…
As a result of our own understanding of elho, its rich heritage and our extensive research, including talking and listening to those who lived elho back then, we were inspired to not only deliver a great product, but to tell an even greater story. elho is about more than sports and fashion. The brand has been conveying a certain image and mindset, which is as current and relevant today as it was back in the day.
And, well… in the end, the idea of an elho crew secretly planning a big comeback from the moon, perfectly matched our vision of an appropriately uncommon relaunch story.
Speaking of a certain image and mindset – what is it, in your opinion, that makes elho so unique and special?
For us, on the one hand, it's the dialogue between the brand and its fans. elho has been telling a story of many facets for over 70 years now and elho fans made it their own, reshaped it, passed it on to their children and helped breath colourful life into the brand. On the other hand, it's the overall freestyle mindset, which brings a certain magic with it once it hits you. Those who know elho from the past probably especially know the elho Freestyle collections from the wild 80s. Freestyle was never just about oversized neon fashion; it was about curiosity, courage and redefining norms and rules.
Is it still?
Absolutely.
Tell us more about your current winter campaign "Back to Freestyle".
When you haven't been to the mountains for so long, like the elho crew, and you've been only dreaming of snow for more than a year, a longing arises that at some point, can no longer be contained. Then rationality makes way for passion and freestyle.
So the elho crew left for the Zillertal in late summer, to give the anticipation of winter the appropriate backdrop. It's rather unusual to present a winter collection in a summer surrounding. But we decided to focus on the longing first, instead of the performance. And thereby drew a line from the longing for winter to the longing for freestyle.
Is this freestyle also reflected in your new and now second winter collection?
Very much so, yes. In winter 21/22 we still lead with the unmistakable Freestyle look – neon and oversized. As we're hoping to be back on the slopes soon, we put an emphasis on snow shirts and overalls, along with a diversity of other styles. The looks are once again mostly based on original cuts and designs of the past, which have been combined with the technology and function of today's standards. All our styles are lined with REPREVE®, a very light and warm filling material made from 100% recycled plastic bottles. However, there are also calmer pastel shades as well as completely monochrome black silhouettes. The collection has been significantly enlarged and tailored to a broader target group.
Are there products you're especially excited about?
Each of our styles receives the same love and appreciation, of course… but – a special reunion is celebrated with the down jacket, which was first launched in 1986. The unmistakable design, including the touch and feel, has been retained and additionally equipped with Bionic Finish® Eco. The down filling consists of unbleached and RDS (Responsible Down Standard) certified down. This makes this season the first with the new edition of elho® items that were not part of the original Freestyle collections. Another step towards the redevelopment of the great heritage of the brand.
What are your next steps?
We're happy to have recently welcomed a variety of retailers from Austria, Switzerland, and Germany on board. It's crucial for us and the brand's potential to extend our range and gain more visibility on streets and slopes. Even though we've been all-in for over a year now, most people would probably still assume elho to be lost in space somewhere. It's time to change that and go back to freestyle – for good.