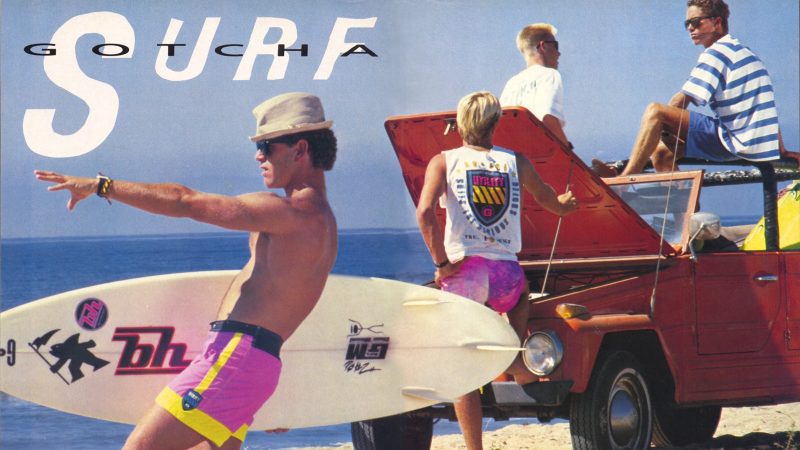 Surf Brand 'Gotcha' Makes Grand Return to Europe for 2022
Surf brand Gotcha has risen from the ashes and will be available in Europe again from this spring. The brainchild of legendary surfer Michael Tomson – RIP – Gotcha will be available in Europe through Estar (2018) Ltd (apparel) and New Day Fury Ltd (hardgoods, also in The Middle East) via Nuno Fonseca, formerly of Maui & Sons.
Please can you give us a short history of the brand from conception.
Founded in 1978, in a one bedroom cottage in Laguna Beach, Gotcha® catapulted the surf industry into a new realm, gave it respect and opened up the perception of surf as a legitimate category in apparel. The brand's meteoric rise was documented by founder and surf legend Michael Tomson. Gotcha® always has been a risk-taking idea factory, a creative foundry that gambles and breaks the rules. The brand creates a look that embodies a lifestyle, a language, an attitude, and a music sensibility all at the same time.
Who is behind the relaunch of the brand in Europe?
Gotcha is owned by Perry Ellis International, who has entered into licence agreements across Europe with various partners to relaunch the brand. Estar (2018) Ltd has taken the licence for apparel in Europe, targeting retailers across the continent. Simultaneously, I (as New Day Fury Ltd) have signed the licence for Gotcha® hard goods in Europe and The Middle East. In addition to this, Kennek FZE will open a stand-alone store in Bordeaux, France in Spring 2022 where both apparel and hard goods will be available to customers. We will all work side-by-side.
How is Gotcha now going to be distributed in Europe?
Gotcha will be sold across a variety of wholesale accounts in Europe, both apparel and hard goods specialists. As mentioned, there will also be a store opening in France early in 2022, with more to follow in coming years.
Where will you draw your inspiration from for your products?
The collections will stay true to Tomson's original concept from the 80s; designs will be vibrant and bold with irreverent graphics across the ranges. The spring/ summer ranges will be based on neon colours and then toned down for the autumn/ winter ranges. We will look to introduce the collections to younger consumers, who might not know the rich heritage of the brand but will soon learn its credible and authentic identity.
Tell us more about the product categories on offer.
Wetsuits and other hard goods such as soft top surf boards, skateboards, scooters and paddleboards will launch in stores from February 2022, with apparel following shortly afterwards in March. Men's, women's and children's apparel products will include t-shirts, hoodies, sweatshirts, sweatpants and swimwear. These will be available in stores from March 2022.
We have also re-introduced More Core Division, aka MCD®. Originally a subdivision of Gotcha®, MCD® was created by Michael Tomson to represent the most modern and progressive pro surfers of the day. Our mechanical accessories such as skateboard trucks, wheels and surfboard leashes and fins will all carry the MCD® mark.
We are excited as the launch comes at a time when the Olympic cycle for surfing and skateboarding has just begun. Performance factors will be a key element in products; we are introducing a wetsuit range, a super-stretch high-end product that will be tried and tested by champion surfers, as well as a beginner wetsuit that focuses on the needs of a first-time surfer.
How are you planning on marketing the brand in Europe going forward?
Gotcha ® plans to support professional athletes in this Olympic circle through sponsorships and events which will be announced in 2022. We want to bring Gotcha® back to its roots and ensure it is visible to both the surf and skate fanatics of the world as well as your everyday customer. As well as sponsorships we will work on a social strategy, organic and paid, which will help us reach our target consumer.
What can we expect from Gotcha in the upcoming years?
The brand is working on a global strategy for the upcoming years. The relaunch in Europe is strengthened even further by existing partners in Latin and North America. In North America specifically, The RP55 Group hold a joint venture for the brand. We hope to bring Gotcha® back to what is once was.