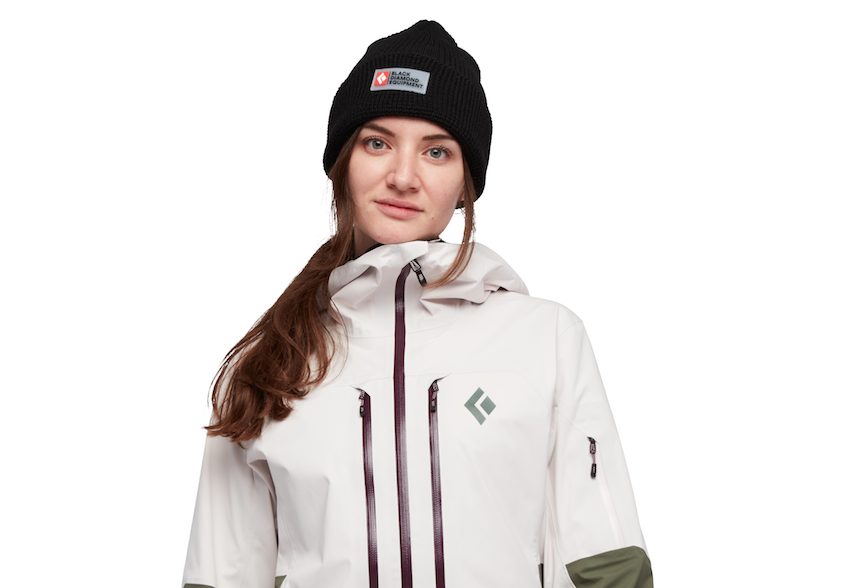 Black Diamond 2022/23 Womens Snow Outerwear Preview
Retail Buyers Guide: Womens Snow Outerwear 2022/23 Retail Buyer's Guide
Brand: Black Diamond
Interviewee: Kristina Ehrschwendtner, Apparel & Footwear Merchandiser, Europe
Please provide an overview of how 2021/22 is shaping up for your brand. Has COVID-19 affected your line? If so, please explain the changes you have made, and how you came to these decisions?
Despite all the challenges we all have been facing in the last 2 years, we see unbroken high demand for our products.​ We continue to see growth in a lot of categories – especially in Apparel. I would not say that the pandemic has affected our line in Apparel. Our direction and strategic plan have not changed. The pandemic has reinforced our focus as a brand and we continue to support our core activities which are backcountry skiing, hiking, climbing and running. Our goal is to build the most trustworthy, innovative equipment (which also includes apparel) so our users can experience their best days in the mountains. During these times I believe this outdoor experience is more important than ever​. But as for most brands and industries COVID-19 has affected planning, processes and logistics. We invested in digital infrastructure, we have to put a big focus on forecasting and we committed to higher inventory to be able to guarantee fulfillment and deliver in time. In Apparel we for the next seasons want to do more with what we have. Consistency and carry over is a big deal here. We have great products and we also want to have the chance and time to talk about them.
What is the overall theme behind your FW 22/23 outerwear range? From which big trends do you take your inspiration?
For F22/23 we are looking at fast and light movement, added protection and durability. These are our key topics for the next season. Product durability is key to consumers when taking a buying decision and an important sustainability criteria. This was also shown in the latest Outdoor Consumer Report 2021 (Deloitte & OutDoor by ISPO). I believe this is an attribute we at Black Diamond consider in all our products and for F22 put a heavy focus on. You can especially see this in our new Recon Pro Jacket and Pant. It's a 3-layer jacket, with a BD.dry waterproof, breathable four-way stretch fabric with reinforced elbows, forearms and hips in the jacket and a reinforced seat and knees in the pant, for some added protection and durability in high-wear areas from packs, tree branches or other mountain obstacles
What new fits / silhouettes are coming out in FW 22/23? What pant and jacket styles are most important in your range?
A place where we see a lot of opportunity for newness is in extending the reach of our snow family, especially the Recon Stretch family. The Recon program has been really successful for us in F21 and we see opportunity in expanding this product line and speaking to a broader consumer group. For FW22/23 we add two new styles: On the one side of the spectrum the Recon LT, for the skier who is looking for fast and light movement on the mountain, for high output activities, for someone who wants that minimum built outfit and a lot of freedom of movement.
On the other side of the spectrum, we have the Recon Pro. This is meant to be the burly pro kit, for the person doing big mountain skiing/snowboarding, for step and deep days on the mountain, for someone who really needs a fully featured ski set with areas of added abrasion resistance and durability where needed. For both styles we definitely wanted to keep the clean and bold look of the existing Recon styles. You will see a lot of this design language continued into the Recon LT and Pro
What new colours / prints are you introducing?
In the women's collection we are adding four new colour options: Tundra, ice pink, aloe and blackberry. What was important for us is the option to play around with those colours and nicely merchandise the products within the snow and outerwear collection. For Men's we move on with some successful colours from past seasons, like amber or tundra but combine them in different ways or add some nice little details. We also continue to work with different shades of blue, kingfisher or indigo. A new highlight colour we add for F22/23 in our men's snow and outdoor collection is lime green.
I think these colours embody our core Black Diamond design language but also add some nice and fresh highlights.
Any *NEW* technical stories with regards to fabrics and materials?
Black Diamond is always looking for new ways to reduce its environmental impact in terms of sustainability. For this reason, our collaboration with GTT's EMPEL Technology (a revolutionary water-repellent treatment which eliminates the use of water pollution from fabric finishing) continues
What are your top marketing stories for FW 22/23? This will help us to put some focus in the right place?
One of the top stories for the FW 22/23 is the "Dawn Patrol" campaign, to support our Backcountry products, with a focus on awareness. The goal is to solidify our positioning in the backcountry and "ski mountaineering" community and also to attract new consumers who are interested in the backcountry skiing experience. Today, "Dawn Patroling" has become ubiquitous throughout the world. From Japan to New Zealand, to British Columbia, skiers rise before dawn to tour for early morning powder turns. We begin in the present, documenting the growing movement. And then we look into the past, and Black Diamond's deep connection to Dawn Patrol.
Our outerwear Best Sellers/Hero products are:
⦁ M Recon Pro Shell & Bib (new for F22)
⦁ M & W Recon LT Shell (new for F22)
⦁ M & W Coefficient LT Hybrid Hoody (new for F22)