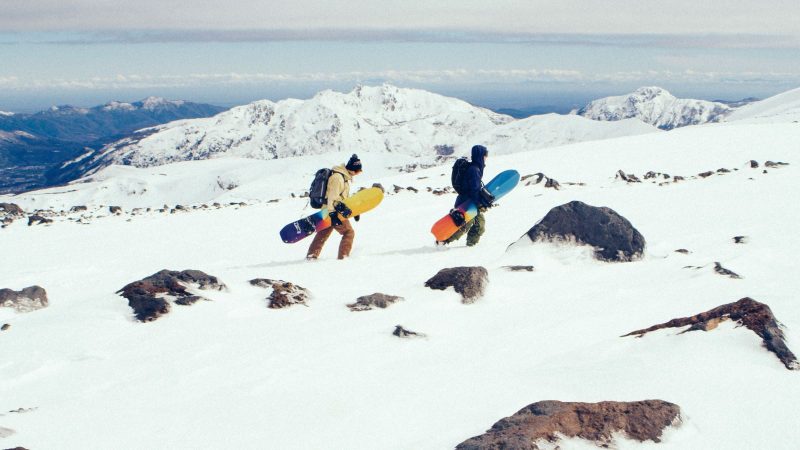 Exclusive Interview: United Shapes' Future Plans After Full Stack Supply Co Acquisition
When we published the news that United Shapes had been acquired by Full Stack Supply Co., we announced an upcoming SOURCE-exclusive interview… and here it is! United Shapes' Co-Founder & FSSC Brand Manager Gray Thompson and Olivier Gouby, Chief Brand Officer told us more about the acquisition and their plans for the future.
Please give us a short history on United Shapes.
GT: Founded in 2014 by Gray Thompson, Steven Kimura, and Peter Sieper, United Shapes entered a snowboard ecosphere dominated by large brands and underwhelming products. Heavily influenced by the snowboard culture of the early 90's – the golden era of freeriding – the trio set out to weave the magic of these transformative years into the development of premium, distinctively shaped snowboards and a brand DNA that spoke to the soul of freeriding. United Shapes quickly resonated with a broad spectrum of snowboarders, especially the growing community of mature riders who appreciate the unique blend of technical innovation with a reverence for snowboarding's past.
Today, United Shapes remains committed to this ideal, creating special shapes that inject renewed excitement into every turn and every air, heightening our senses, and strengthening our connection to nature.
What was the thinking behind the acquisition by Full Stack Supply Co (FSSC)?
OG: With the snowboarding spirit a fundamental piece of Full Stack's core, we always wanted to either create or acquire a snowboard brand to the group. United Shapes presented an amazing opportunity to bring the right kind of brand in – one that is authentic and shares key FSSC values such as a dedication to creating premium products, building a real community, and a focus on producing engaging media. All of this meant that we could plug United Shapes into our Full Stack, made up of an expert in-house team, European production, and worldwide omnichannel sales & distribution.
Olivier, what about looking forward, what is your vision for United Shapes / FSSC and who is on the team?
OG: Our long-term plan is to expand our horizon, push our products further, and stay true to our belief that the Outdoor industry is deeply linked to the roots of progressive outdoor culture. From snowboarding, to skateboarding and surfing – all these activities are connecting the collective on a higher level. It is my source of inspiration, the people, and mindset behind it. The way you practice and progress, with art perspective and lifestyle being more important than the performance itself, yet not neglected.
Gray has joined FSSC full time as Brand Manager and, having worked with him now for a couple of months, it has made us confident that United Shapes is more than just a snowboard brand. We will be working very closely together, along with Olivier Garcin, our Global Head of Sales, Tim Harty, our Global Marketing Head, and FSSC Co-Founder and CEO Alex Hoye – to bring the grand vision of United Shapes to life.
What's the launch / plan for the snowboard line for 2022/23 and 2023/24?
GT: We are deep in development, redefining, and focusing the line to reach its truest potential. Our first big project has been moving all manufacturing from China to Europe, bringing it closer to home where we can maximise efficiency and quality control. For the upcoming season, 2022/23, we will offer an early winter launch of a few key 23/24 products; reimagined fan favourites. This limited offering will be available online and through select retailers around the globe.
The 2023/24 season will mark the first complete shape offering of United Shapes through FSSC. Proper segmentation of new and redeveloped shapes brings even stronger cohesion and consumer opportunity. A more precise, global outlook and distribution will allow United Shapes to start reaching riders in all corners of the globe, broadening their experience with snowboarding.
How will the brand be distributed in Europe?
GT: With a growing demand for United Shapes within Central Europe, we are excited to finally offer our premium shapes to the diversity of riders throughout the Alps and beyond. We will work with our in-house FSSC sales team to ensure we are reaching our fans and making new ones throughout key territories, while partnering with some amazing retailers that share our vision.
What are the brand's core beliefs?
GT: United Shapes exists to enrich the snowboard experience and culture. We believe immersing ourselves in the mountains transforms us, humanises us, heightens our senses, and strengthens our connection with nature; everyone benefits from being active, creative, explorative, and introspective.
We celebrate snowboarding's universal experiences and sensations: gravity, momentum, the turn, conditions, community – pathways to common ground and community.
We believe product longevity to be paramount, both for the planet and for our own cultural appreciation. From aesthetic to construction, we build aspirational shapes with a purpose, shapes to elevate every quiver for years to come.
Inspired by the past, United Shapes is actively shaping the future – deepening the snowboard lifestyle while accentuating its culture.