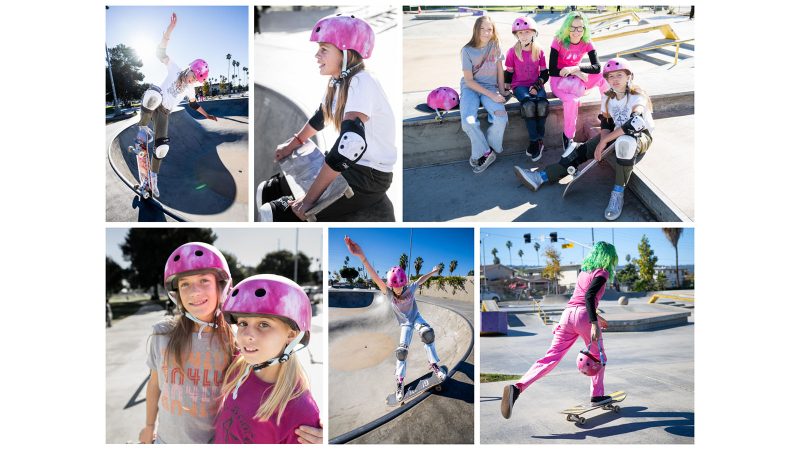 Girl is NOT a 4 Letter Word x S1 Helmets Drop Unique Collab
Press Release:
S1 Helmets x Girl is NOT a 4 Letter Word Release a Collab Helmet That Gives Back, and S1 Names Cindy Whitehead as New Womxn's Team Manager   
S1 Helmets has joined forces with Girl is NOT a 4 Letter Word (GN4LW) to create a unique collab helmet that is like nothing else on the market. This new helmet marks the second collaboration between the two companies and solidifies S1 Helmets' objective to infuse more funding into girls' and womxn's skateboarding through the GN4LW Movement.
The new S1 Lifer Helmet is a mix of purple and pink colors swirled together – similar to a watercolor painting. The exciting thing is that no two helmets are exactly alike due to the process they go through. The light blue straps and Girl is NOT a 4 Letter Word logo complement the colorway perfectly for a fresh new look that refuses to be gender specific.
"We are always excited to work with Cindy, and her Girl is NOT a 4 Letter Word Movement, and S1 is stoked to give back to womxn in skateboarding. This second collab was an easy YES on our part," says Chris Terins, co-founder of S1 Helmets. "At S1, we believe in what Cindy is doing for womxn in skateboarding, so we are also announcing that Cindy has been named as the womxn's Team Manager, and she will be working with our team on anything they need moving forward. With Cindy's extensive history in skateboarding and her work with Girl is NOT a 4 Letter Word since 2013, it makes perfect sense, and we know all the team riders will be excited about this announcement."
Girl is NOT a 4 Letter Word founder Cindy Whitehead has led the fight for women's equality in skateboarding ever since she conquered the male-dominated profession of pro-vert skateboarding in the '70s. To this day, she is the only female to be featured in the centerfold of a skateboarding magazine with a two-page article, her skateboard history has been taken into the Smithsonian's National Museum of American Sports History collections, and her TEDx talk has empowered women everywhere. Cindy was inducted into the Skateboarding Hall of Fame on May 13, 2016.
"We are so excited to be doing our second collab helmet with S1 because they understand how important safety is and that their helmets are certified and in compliance with IOC rulings for the upcoming Paris Olympics in 2024. Being named Team Manager for the womxn's division of S1 is something I am also thrilled about," says Whitehead. "These skaters are charging hard, and I am here with S1 to help them get anywhere they want to go in skateboarding – including the Olympics."
The Girl is NOT a 4 Letter Word x S1 Lifer Helmet collab is one in a long line of products from S1 Helmet Co. The S1 Lifer Helmet has been around since 2012 and has become one of the industry's top-selling and most trusted skateboard helmets. Lab tests have shown that it is five times more protective than non-certified soft foam helmets.
The GN4LW x S1 Lifer Helmet is available now in sizes XS to XXXL, retails for USD 84.99, and can be shipped anywhere in the world.  https://shop.s1helmets.com/s1-lifer-helmet-gn4lw-purple-water-color-matte/