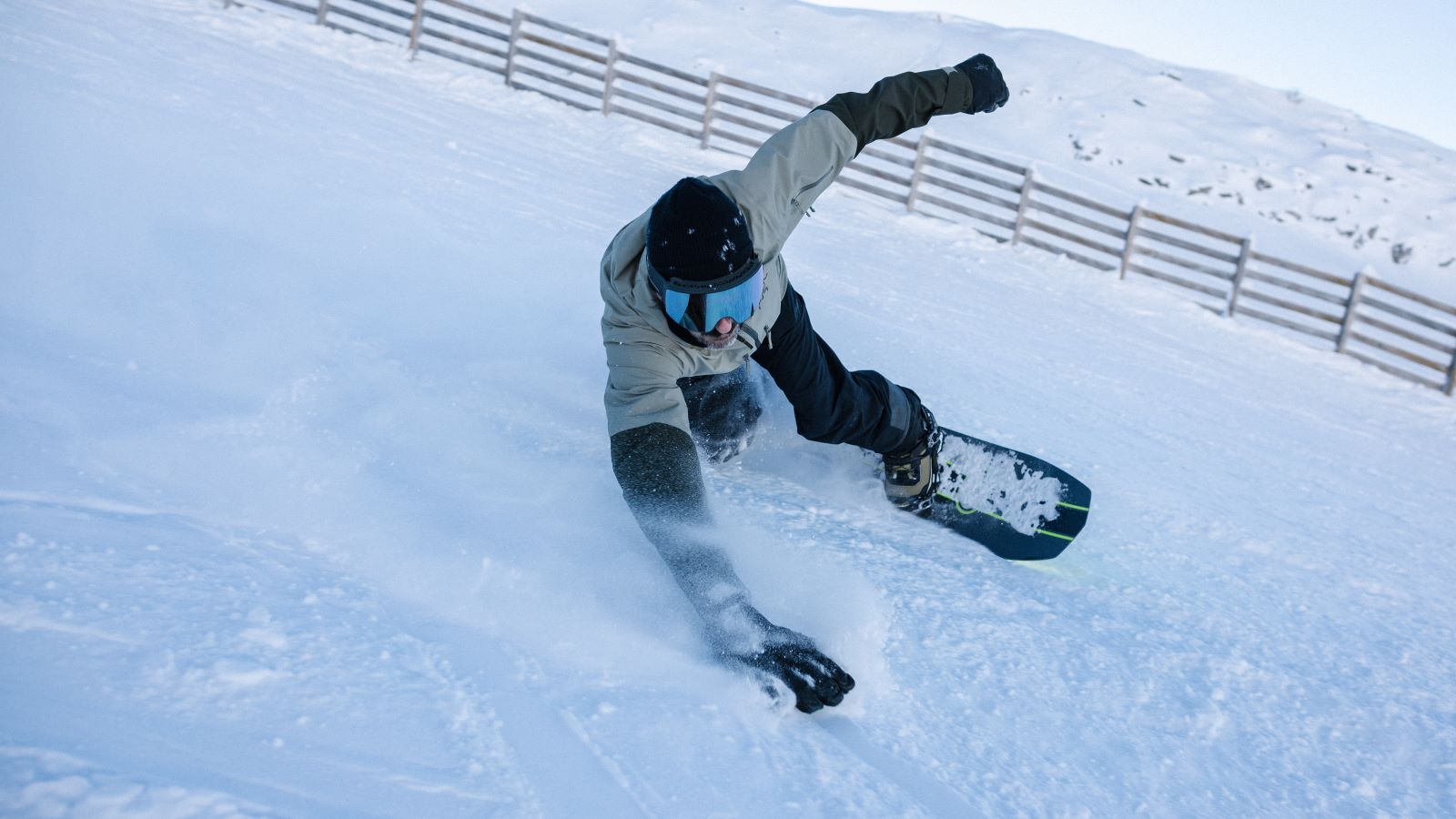 Big Wig: Salomon's Snowboard Business Unit Manager, Jeremy Joire
Jeremy Joire started out as an intern at Salomon in 1999 and after working through a number of roles including boot product line manager, has now been Salomon Snowboard Business Unit Manager since 2008. Salomon's brand presence has been on the up in recent years, with notable moves in the US market – no mean feat for a French company. This issue's Big Wig gives great insight into the brand's plans for growth, how to harmonise D2C with b2b and Jeremy has some interesting perspectives on trade shows. Interview by SOURCE Editor, Harry Mitchell Thompson.
Tell us about your background and what led you to your current position at Salomon.
I grew up in the Alps in beautiful Annecy, Haute Savoie. As many kids from my generation, I started snowboarding in the early days. Craig Kelly's Board With The World made me quit skiing in 1990 and Critical Condition made me switch to soft boots in 1991. Since then, I have been totally hooked and it quickly became clear that my dream job would have something to do with snowboarding.
I have been working for Salomon for quite a while now! I started as an intern in 1999 and worked in different jobs and countries until I finally made it to the snowboard division. I started as a boot product line manager in 2004 and took over the management of the full Salomon Snowboards unit in 2008. I have been through a few cycles and industry mutations, but my loyalty and passion is intact.
I had the chance to meet and work with many great minds and people. I see my role as a facilitator. Making sure that the right people connect and work in harmony. Easier said than done! Snowboarding is made of strongly opinionated people and so is our team… That's what makes it so rewarding when things go well. I feel both grateful and proud to see where Salomon snowboards is at now, what we've achieved over the past decade. Salomon snowboards is arguably on the podium of snowboard equipment manufacturers in the world today. It took us patience and dedication to get there, and I know that humility and authenticity have something to do with it too.
What have been Salomon's best performing markets (product categories and regions) over the past two years?
Over the course of the past two years, it's been quite difficult to evaluate performance in a classical way! Too many interferences…  to many outside parameters. The most striking news is our outstanding growth in North America in 2022. As a French based company, we've always had to fight twice as hard to make a mark in USA. That's the reason why part of the international team is based in Portland, OR. Having this double headed team has been a tremendous help to our recent success. We've been steadily focusing on the brand legitimacy in North America and it's paying off now on a worldwide scale.
In terms of product line, the board line is leading the charge. We are happy to see boards like the Huck Knife or the Assassin become meaningful names in the industry and look at the Sleepwalker or the Abstract (our first unisex freestyle board) turn into classics in street snowboarding.
On the steeper side of the spectrum the fruitful collaboration with our long-time friend Wolle Nyvelt on powder and freeride shapes is continuously bringing great ideas to life in the Hillside collection. Not to mention the Dancehaul that quickly became our rider's secret pleasure toy… Long story short – we're killing it on boards and that feels great!
Bindings are also in good shape from high end Shadow Fit models to more affordable price points. The boot business on the other hand has been a struggle for the past 2 seasons. Factory closure due to Covid, supply issues, transportation nightmare, material cost increases have been impacting our capacity to properly serve our shops and partners. Despite great efforts in product development and design our boot program is still not where it should be… the future definitely looks better!
Another area of focus for us has been China. Not the best timing you might say, not the most original idea either, maybe not the most sustainable resort ecosystem, but still. We now have a local dedicated organisation, and we are seriously investing in what is vastly considered to be the next big growth potential in snowboarding. Beyond the top athletes results and recognition, a true rider culture is developing, incentivised by government initiatives encouraging people to experience outdoor sports. Amer Sports being Chinese owned also gives us precious insights on consumer behaviours and local cultural trends. We still need to figure out a lot but we've being steadily growing both in cities and resort areas.
What was the best business decision you have made during your time at Salomon and why?
I wouldn't name one decision, but I think I've been able to navigate quite nicely the internal Salomon context. It's all about keeping the snowboard group core and independent while maintaining a healthy relationship with the Salomon mother brand. We are 100% focused on snowboarding while respecting the values and overall ambition of the Salomon brand. Continuously maintaining that balance allowed us to always be true to snowboarding and take free decisions about our team, our rider choices, product development, brand positioning, investments, projects and creative direction.
What are your views on the rapidly evolving trade show/onsnow demo/company demo environment?
The snowboard sell-in process has gone through a lot of mutations lately. Big names have left big trade shows half a decade ago and continental trade fairs such as OR or ISPO are no longer part of snowboard brand calendars. I personally regret it from an industry networking and social perspective. The good side is that most of the alternative smaller events are more intimate and usually include on snow demos. It's also more local which is not bad for the environment.
I wonder though. With more and more single brand launches, on snow invitationals, brand demos etc…retailers might realize that bringing more staff to one-time gatherings is not the worst option. Time will tell.
Anyway, if big trade shows want to come back in the game, they will need to attract brands and retailers with more creative hybrid formats.
Ordering seasons have moved earlier and earlier, what do you see as the best way to forecast for pre-orders, while actually allowing retailers to sell current season products as a guide?
It's indeed a fact that ordering season is reaching record deadlines… in my opinion that's the result of a high demand context. Retailers have experienced scarcity and brands have gone through frustrating shortage situations. The consequence is everything being pulled forward, which makes the assortment tactics more difficult to implement for both brands and retailers.
Due to a material shortage situation and high demand, factories are now dictating their rules which logically leads to flatter production curves and thus difficulties to meet our highly seasonal business.
That creates a way more uncertain environment for everyone. Less indicators, low visibility and more time pressure: risk management is now part of our daily lives. Forecasting is now a more difficult exercise relying more and more on trust, commitment and stronger partnerships between brands and retailers. 
Can we talk pricing and how they've been taken on the chin by Salomon and at what point you'll need to pass on to retailers?
I think every brand is searching for the fairest way to share the pain between brands, retailers and consumers. Timing and scale can slightly vary though. We will take our share of the hit and our moto is to limit the increase as much as we can to end users and retailers. Indeed, it's rather key for the future of our sport to keep accessible price points alive. On the other hand, snowboard equipment prices have been incredibly stable for the past 20 years (in comparison with lift tickets for example!) and I am afraid an adjustment is indeed necessary.
For a snowboard co, what's the perfect match of D2C and wholesale now and how do you see this changing in 5 years?
The D2C debate has been going on for some years now. I look at salomon.com as a component of our omnichannel strategy. We are happy to see traffic increasing but we don't intend to overwhelmingly invest in conversion rate and for sure not with aggressive commercial weapons (pricing, bundles…etc). We know snowboarding will always rely on experts and specialty partners and that's clearly the direction we are supporting.
What opportunities do you currently see in the market?
There are still a lot of opportunities in snowboarding. Youth is clearly back on boards. Creativity in content creation has never been greater. Social media reach is somehow limitless. New event formats are blooming. Female snowboarding is reaching new heights. Snowboarding is attracting newcomers in China… etc. But the biggest opportunity and responsibility that we all share is to make snowboarding more sustainable overall.