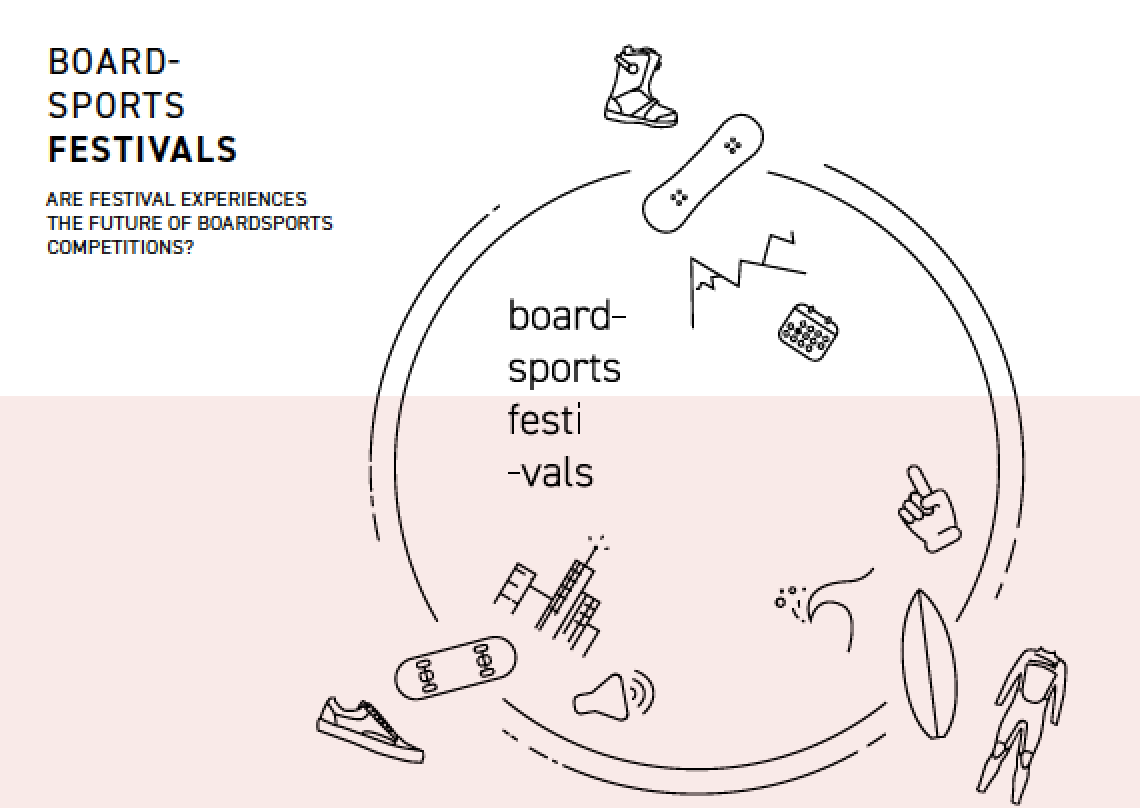 Action Sports Industry Embracing Festival Hype
A growing number of surf, skate, and snow competitions are rebranding as 'festivals' to boost the stoke with a mix of boardsports, music and subculture. How can brands and retailers benefit? Report by Boardsport SOURCE Skateboarding Editor Dirk Vogel.
Let's face it: The average boardsports competition – even on a national championship level – will draw a modest crowd, composed mostly of core practitioners. Several hundred spectators, perhaps slightly over one thousand. Certainly no stadium crowd. For contrast, consider the Summer X Games, the world's premier action sports event started in 1995 and now broadcast into 500 million households across the globe in 192 countries and territories. Last summer, X Games Minneapolis attracted over 119,000 spectators to U.S. Bank Stadium in downtown Minneapolis. Now that is a stadium-level crowd.
A major ingredient in the secret sauce is that the X Games distil a full package of the world's best athletes across skate, BMX, and motocross disciplines into a single, four-day spectacle. More importantly, spectators are treated to a fully immersive experience, including the X Fest village featuring concessions, brand activations, product samplings, skate circuits, and athlete meet-and-greets. Rounding out the action, every night at X Games concludes in musical performances from headliners such as Diplo, Ice Cube, and Wu-Tang Clan. It's the same heady mixture of boardsports, music and subculture originally concocted by the Vans Warped Tour, currently on a final run across America for its 25th anniversary celebration. In the words of tour founder Kevin Lyman: "The enduring spirit of the Vans Warped Tour remains as bright as ever, continuing to inspire creativity and ambition in new and exciting ways."
The spirit is indeed as bright as ever. In 2019, several major boardsports competition events are rebranding as 'festivals' to bring the stoke not only to core audiences, but also those with ambition. In late September, the WSL Freshwater Pro is going down at Kelly Slater's Wave Pool facility in Lemoore, California, featuring the world elite of wave riders but also DJs, food trucks, cocktails, and famous rock band The Raconteurs. The event is also co-presented by Slater's clothing label Outerknown because festivals, they're all about synergies, bro. Over in Europe, the UK Ski & Snowboard Show rebranded in 2018 as the Telegraph Ski & Snow Festival for its 45th anniversary, offering family entertainment, product clinics, après events, and the latest gear. Every summer, the world's best BMXers, skateboarders, streets artists, hip-hop and dancehall acts throw down in front of 30,000 spectators at the raging NASS festival near Bristol, part of a growing number of culture festivals across Europe.
RISE OF THE EXPERIENCE ECONOMY
In the bigger picture, the festivals trend is driven by a shift in consumer behaviour: Today's consumers rather spend money on experiences than possessions. Over the past few years, personal-consumption expenditures (PCE) on experience-related services such as concerts, festivals, travel, and dining out have grown 1.5 times faster than overall PCE, and a whopping 4.0 times faster than spending on goods (McKinsey & Company). Young consumers are major drivers in the rise of the experience economy, as 72 percent of millennials – now the biggest spending cohort (in terms of combined disposable income) – would rather spend money on experiences than material items (Harris Group).
A surprising reason for this experiential shift was revealed by a current Cornell University study: Consumers' evaluations of their material goods tend to decline after initial purchase, but evaluations of their experiences increase over time. The study concluded that experiences, "are more open to positive reinterpretation, they tend to become more meaningful parts of one's identity, and they do more to foster social relationships." Aside from using events to seek out social connections in real life, social media and the continuous quest for 'likes' are major motivators. Experiences translate into shareable stories – hashtag #weouthere – and imagery reinforcing personal identities cultivated via social media. And what's more, attending buzz-worthy or hard-to-access events is the antidote to the increasing fear of missing out, or FOMO, experienced by 7 out of 10 millennials (Eventbrite).
CREATING THE FORMULA
In light of this research, boardsports festivals have nailed the formula for providing experiences that translate into shareable stories and – depending on their star-studded athlete and entertainment rosters – also FOMO-worthy experiences. But while their lineups are exclusive, these culture-driven events are highly inclusive by nature, welcoming not only die-hard boardsports practitioners but all those who can relate to the overall vibe. Vans understands this better than most and connects to a vast array of youth cultures with the slogan 'Off the Wall'. As Doug Palladini, Vans Global Brand President explained in an interview with Adweek: "We're open to anybody, but we're not for everybody." After its audience grew beyond just skateboarders and surfers, Vans evolved into a brand that now stands for enabling creative expression, whether it's through music, art or boardsports.
These learnings stem from the fact that Vans has sponsored the Warped Tour music festival series that single-handedly created the blueprint for boardsports-meet-culture festivals since its beginnings in the mid-1990s. Music has also played a major role in the rise of the X Games, which released the popular Music From the X Games series of CDs in the 1990s and has since showcased artists such as Metallica, Lil Wayne and Kanye West. Travis Pastrana's traveling spectacle, the Nitro Circus created in 2003, has also been filling stadiums across the globe by mixing core action sports disciplines like FMX, BMX, and skateboarding. Speaking of filling stadiums, Red Bull Air & Style with roots in Innsbruck, Austria, has been stoking out major crowds with big air stunts and headline musical performances since 1994.
Fast-forward to today and the formula is alive and well in surf festival events like Stab High, Boardmasters (unfortunately cancelled in 2019 due to high winds), and the Quiksilver Pro France. Skateboarding mingles with DJs, rock and hip-hop performances at outings such as Woo Hah festival in The Netherlands, Roskilde in Denmark, and Red Bull's new Rollercoaster skate happening, now in its second year, in Munich. But the festival trend is most visible in the astonishing influx of Alpine festivals mixing snowsports and entertainment: Leading the charge, the time-honored BRITS in Laax have been bringing the British Freestyle Ski and Snowboard Championships – and heavy-hitting rock bands/DJs – to high altitudes for 25 years. Not to forget Live in Tignes, Snowbombing in Mayrhofen, Rise Festival in Les Deux Alpes, and Top of the Mountain in Ischgl; all really just the tip of the iceberg.
SYNERGISTIC POTENTIAL
The festival trend has officially gone viral, but what are the benefits for boardsports brands and retailers? It's simple: Most of all, boardsports festivals create massive synergies – just ask Kelly Slater – far greater than the sum of their individual parts. They achieve this in three ways: First, by providing a shared platform with massive (media) exposure for all participating enterprises – large or small – to tap into. NASS, Boardmasters and Wheels & Fins festivals are textbook examples by blending boardsports championships across several disciplines with live music and retailer stalls under a single banner. Participants can leverage the festival hashtag, directly reach a massive on-site audience and rally for social causes such as Surfers Against Sewage and SkatePal.
Second, festivals bring outside sponsors with deep pockets to the table, including beverage brands, hotel groups, travel companies and resorts. Aside from direct investments into events, these players are often open to collaborating with endemic brands from within the boardsports scene. The San Diego area is a prime example with its vast craft brewing industry and close ties into skateboarding that recently spawned the Chris Cole Gnarlytown fest featuring musical acts such as Rancid and NoFX.
Third, core shops and brands benefit from direct touchpoints with non-boardsports audiences. They can use this access to obtain marketing opt-in from aspirational consumers or provide beginner classes to make sure the first experience on board is a positive one. It's a major reason why OutDoor by ISPO is targeting end consumers through the OutDays festival to carry the outdoor mindset to the city of Munich via public performances, autograph sessions, and plenty of product showcases. Plus, in the era of ad blockers and GDPR, face-to-face consumer interactions go a long way.
OUTLOOK
In closing, the most important takeaway from this article is that the tried-and-true boardsports festival formula still works in 2019. Perhaps better than ever. Most importantly, size doesn't matter. No need to throw a major shebang headlined by Wu-Tang and Metallica. Retailers stand to reap tremendous benefits by either hosting their own local festivals, bringing regional breweries, restaurateurs and musical talent into the mix while asking brands to help by setting up pro demos, autograph sessions, and product tryouts. Or they can take the fast route by joining forces with concert organizers to bring a dose of boardsports flavor into existing festival events. If they ask what's in it for them, just throw them one door-opening word: Synergies! It's all about synergies, bro.