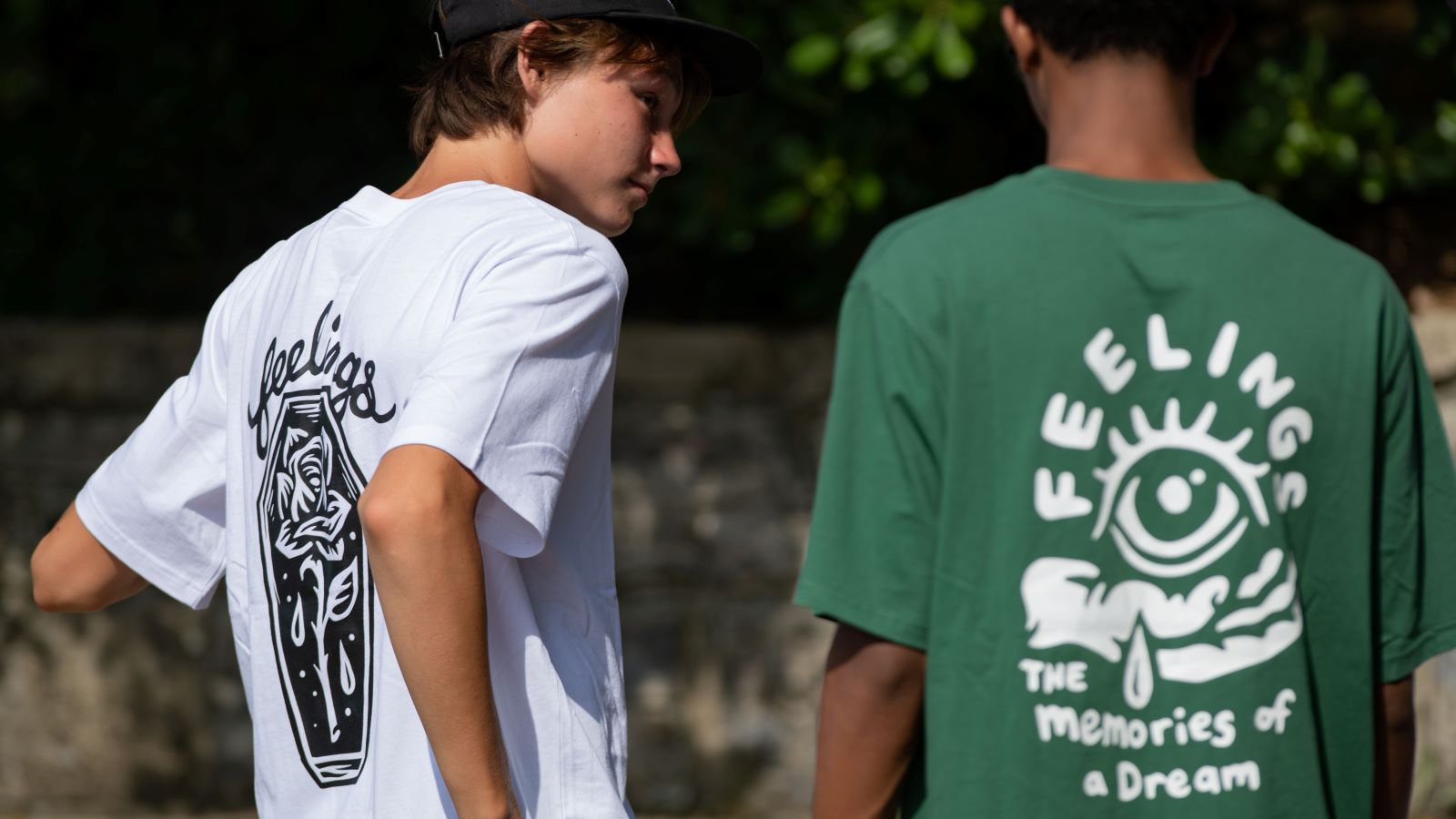 And Feelings on Artwork & Strengthening European Presence
Newcomer to the European market is And Feelings – an American apparel brand championing skate and art culture. After 2 seasons, and a 3rd prebook season, under their belt, we got in touch with the brand's President – and all-round man – Julien Duval to find out what their next move is.
Can you tell us how And Feelings got started, and what was the idea behind the brand?
And Feelings is the brainchild of Los Angeles based artist Chad Eaton, he created And Feelings to relive memories from his life in a new, visual way. Most graphics simplify metaphors based on moments that stuck in his mind and mementos he has collected on his shelf.
While And Feelings is anchored in skateboarding & art culture, the brand aims to celebrate the creative spirits embedded in all sorts of subcultures, not just one. Culture and experience before products.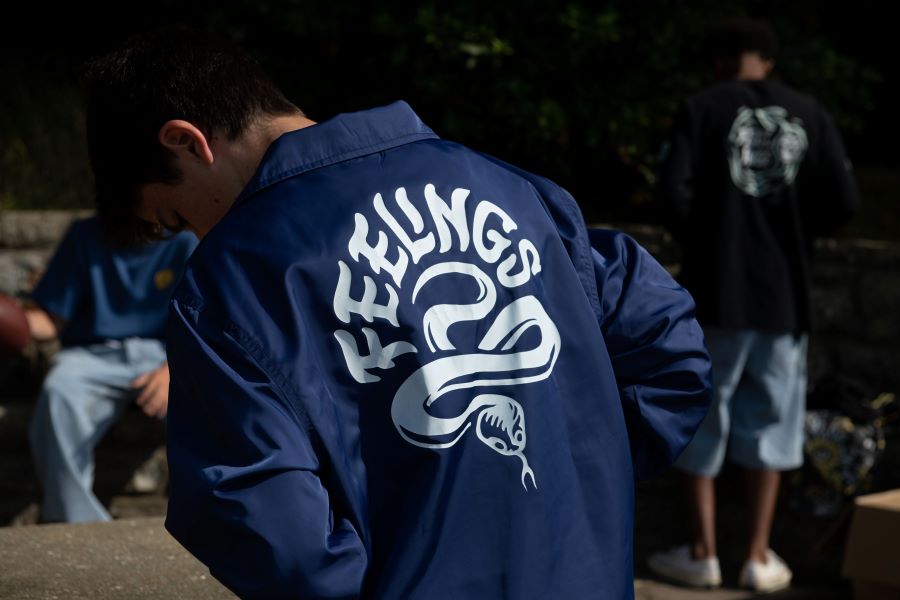 Who are the people involved and what are their backgrounds?
Chad Eaton and I both come from an extensive skateboarding background – from young skateboarders in the 90's to brand founders and business partners now. We first met as skateboarders in San Clemente, California in the early 2000s.
Chad Eaton is a self-made artist from Los Angeles California. After creating his own art and freelancing for action sport and consumer good brands, he created the Timber! label in 2006 and in 2018, he created a second experimental label named And Feelings, keeping it low key until recently…
With regards to me, I have been a skateboarder since my early teens and a business leader for the past 20 years with an extensive knowledge of global brand management and a network grounded in the action sports, footwear, and urban fashion spaces. I started my career in California by pure luck and hard work during the early 2000s skateboarding and snowboarding boom. I went on to manage one of the leading global skateboard & apparel brands until 2021.
Now, Chad and I are both partners within The Happy Bodega SAS, a French registered company to develop the And Feelings brand globally.
And Feeling is independently run by 2 skateboarders. Just Chad and I, nobody else.
Please tell us about your successful launch last year
We launched the first And Feelings collection in Spring 22 with a prebooked program based on a simple catalog pdf file – 1 photo sample line in a box, garage style, shooting a lookbook with local skater kids. We successfully connected with established agents and distributors and ended up establishing the brand in 13 European countries right off the back. We managed to open in around 100 specialty stores rooted in skateboarding & action sports throughout Europe. This first season was well received by retailers and consumers alike with tee shirts selling out rapidly. Some of them such as the Pablo and Ghosts tees sold out in less than a month after delivery. We could not meet the demand, I guess a good problem to have… This early success is due to our legit sales force, the high quality of our garment, our logistic partner who offers a fast order turnaround service, our 2.5 wholesale mark up, and last but not least the appealing graphics created by Chad.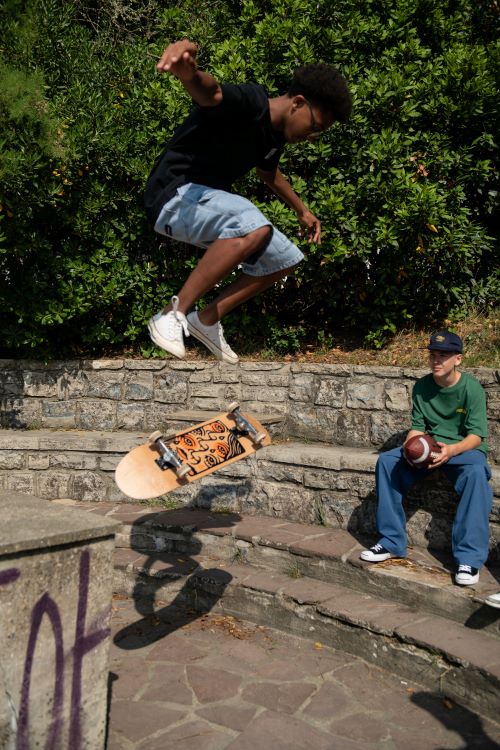 Can you tell us about your product design process?
Right after our first Spring 22 season, we were able to catch up on a standard Go-To-Market calendar which spans over 18 months from ideation to in-store delivery.
As far as creative direction, Chad has total freedom, and we work with 2 freelance designers. One of them focuses on cut&sew and the second one on printables and creative marketing assets. Our sourcing is through an established agent with a local office in Hossegor France (where the company is based) and a central office in Hong Kong. They have a fully dedicated team of merchandisers working with us and the factories on daily basis.
What sets And Feelings aside from other clothing brands in the boardsports space?
Our goal is to go beyond skateboarding and celebrate the subcultures and creative minds who are part of it. From skateboarding to art to food to music, you name it… And Feelings aims to be a platform for creativity and while Chad's art will have a prominent spot in future collections, he will invite creative friends to collaborate.
Which is your top selling European market and why?
So far, we are 3 prebooking seasons deep as we just closed the Spring 23 round and Belgium has been the most supportive market so far. Our sales team backs the brand hard and so do Belgian retailers. Following closely are Italy and France. We are also getting traction in the UK and Germany/Austria.
How is your distribution organised in Europe?
We have 2 distributors covering 4 countries and direct sales agents covering the rest.
Our distribution strategy is to offer the And Feelings brand to skateboarding specialty stores and chains first.
In the future our aim is to reach consumers all over the globe, through wholesale and direct to consumer channels.
What can we expect to see from the S23 line?
The Spring 23 line is our 3rd season and the 2nd with a full product line including cut&sew, printables, accessories, and skateboard decks. While our line is focused on sku count, we bring interesting and highly qualitative pieces at a competitive pricing. That's our product north star – affordable quality. Key pieces include:
The Wallows shirt – a Hawaiian button shirt featuring Chad's flower AOP
The Maker pants – a heavy denim washed skate pants with a wide fit
The Clemente jacket – a varsity crew jacket reminiscent of the old school bike crew jacket.