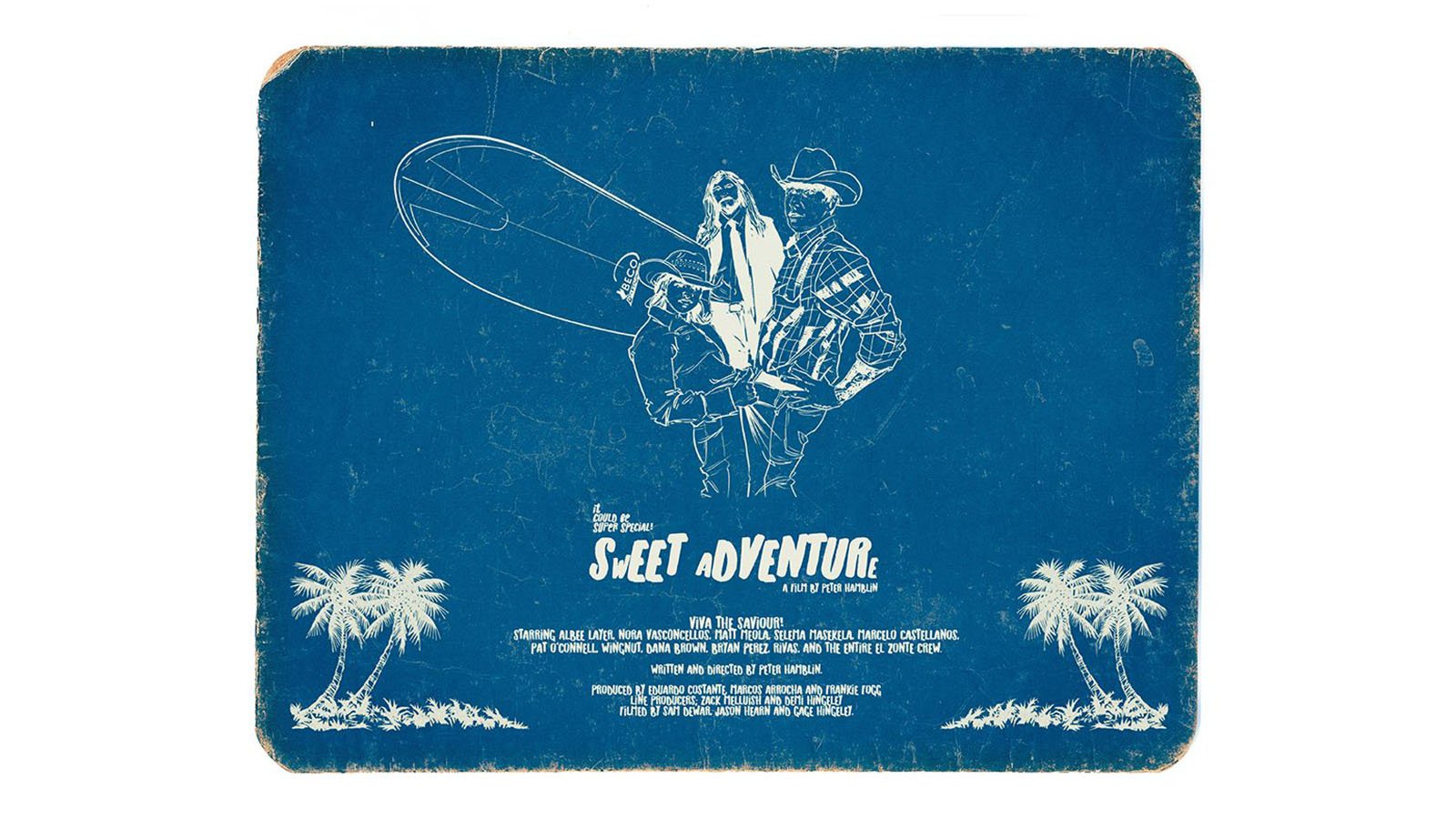 Award Winning Surf Film 'Sweet Adventure' Goes on Tour
'Best Film' and 'Best Soundtrack' winner at the London Surf Film Festival is off on a world tour. Sweet Adventure – the surf adventure film starring Albee Layer, Matt Meola, Nora Vasconcellos and narrated by Selema Masekela  – starts its tour in Hollywood's home-state, L.A.. 
Press Release:
There are those movies that come along and capture the moment, the magic, the zeitgeist and Sweet Adventure, the latest offering from multi award winning filmmaker Peter Hamblin, is one of those rare gems.
Combining jaw dropping surfing, stunning cinematography, secret spots, new discoveries, good times and more, Sweet Adventure follows ground breaking surfers Albee Layer and Matt Meola, plus skate megastar Nora Vasconcellos, from the thumping waves of Maui to the jungle point breaks and empty beaches of El Salvador in search of the perfect wave. And it's all tied together by the grand, all-seeing, all-knowing narrator, Selema Masekela.
Innovative South African Director Peter Hamblin, who brought us Let's Be Frank and Riss, has once again lent his trademark blend of Hollywood flair and witty irreverence to the surf film genre. At its very core this is a movie about adventure, but it's about more than that; it's about travel and friendship and great waves – it's about the things we've been missing, the things that matter.
Sweet Adventure wears its heart on its sleeve, it has the soul of a surf-travel classic. For many Endless Summer 2 is a landmark of the genre, imprinted on their grommet-hood, and it isn't long before legends Pat O'Connell and Wingnut appear. Their timeless chemistry sets the hook – through bowl riding, barrel riding… helicopter riding… in fact on this trip, nothing is off the table. There's a certain sprinkling of magic dust that's hard to describe. It's like turning the dial up to 11. Before the end credits even roll you'll be inspired to assemble your crew and pack your bags, ready for your own Sweet Adventure…
Sweet Adventure Dir. Peter Hamblin has scooped awards at festivals from London to Australia and is now headed off on a world tour with stops in USA, South Africa, Europe and Australia coming up… You're not going to want to miss this!
Sweet Adventure World Premiere Tour
DATES INCLUDE:
14th July – Brain Dead Theatre, Los Angeles – TICKETS
21st July – Syndicated Theatre, New York – TICKETS
26th August – Labia Theatre, South Africa
24th September – San Sebastian