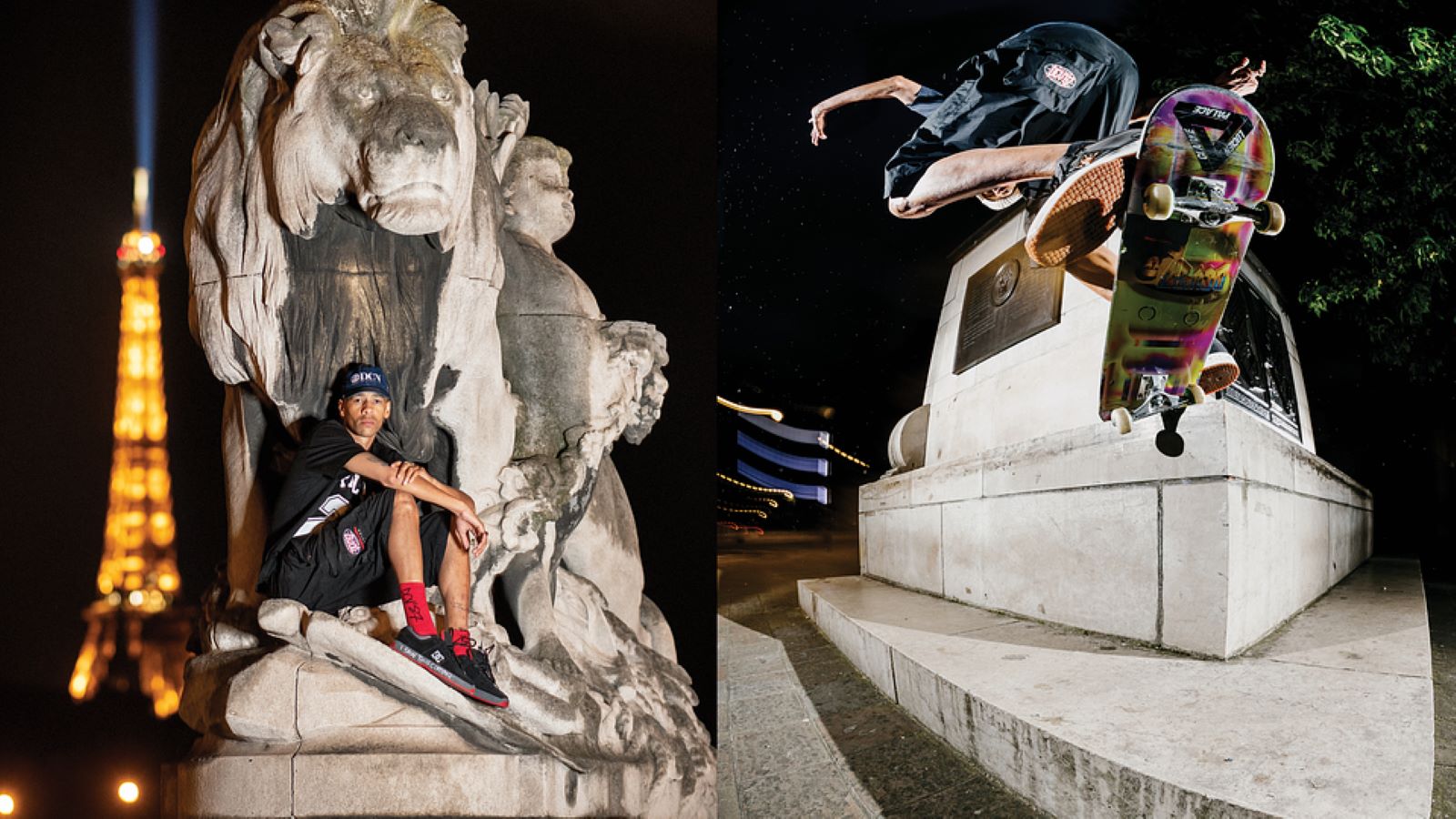 DC Recruits Lucien Clarke As Creative Director & Skate Team Member
Not just repping DC in London, Lucien Clarke – the newest member of the DC skate team – will also take on the role of Creative Director. In this position, he'll work on expanding DC's position in the Asian market.
Press Release:
DC WELCOMES NEW TEAM RIDER LUCIEN CLARKE TO SKATE TEAM
Legacy skateboarding brand DC Shoes welcomes Jamaican-born, London-based skateboarder Lucien Clarke to its pro skate team.
Clarke joins fellow team riders John Shanahan, Wes Kremer, Evan Smith, Josh Kalis, and many more.
The first skateboarder in history formally sponsored by a luxury fashion house switches it up for heritage skate brand DC.
Clarke is well-recognized for his undeniable influence on fashion and streetwear, and his fellow sponsors include Palace, Venture Trucks, Reup Wheels, and Shake Junt. His graceful style is one-of-a-kind, bringing an inimitable offering to the eclectic mix of team riders that make up the DC skate team.
Off the board, Clarke is a photographer and creative director.
Clarke has been spotted everywhere, from Palace X Calvin Klein billboards and buses to European runways and underground art galleries.
Lucien is a close collaborator of former Louis Vuitton Creative Director Virgil Abloh (RIP). The two famously designed the first-ever pro skate shoe offered by a French fashion house. This collaboration spawned an ongoing creative partnership for the years before Abloh's untimely passing.
Clarke continues his work with Louis Vuitton, most recently walking the Spring 22/23 Menswear show at Paris Fashion Week.
"Lucien represents a compelling connection between skateboarding and fashion. He is a truly unique talent and we look forward to his creativity, both on and off-board, becoming a great asset for the Brand. His undeniable style comfortably links DC's heritage to DC's future. It's just a great fit."
– Michael Minter, Global Head of Marketing, DC Shoes.
As DC heats up in Europe and the UK, Clarke joins DC Skateboarding as a testament to the company's commitment to the region.
He will also take on a Creative Director role for DC's further expansion into Asia, where skateboarding is experiencing rapid adoption in a world where streetwear, luxury fashion, and skateboarding effortlessly coexist.
Being in touch with the global creative underground comes naturally to professional skateboarders like Clarke as they travel the world for a living, making connections with counter-culture creatives in cities across the globe.
"Before, it was skateboarding to luxury. Now, it's luxury to skateboarding. I'm excited to keep pushing the envelope and narrative… all in the name of V."
– Lucien Clarke, Pro Skateboarder
DC Skateboarding looks forward to pushing skateboarding further, signing the best riders, making the best content, and continuing to actively support the community and culture that DC has been instrumental in creating.
From 1994 till forever.
To learn more check out dcshoes.com/blog
HEADER CREDIT 📸 –  @alexbrpires & @samuelashley