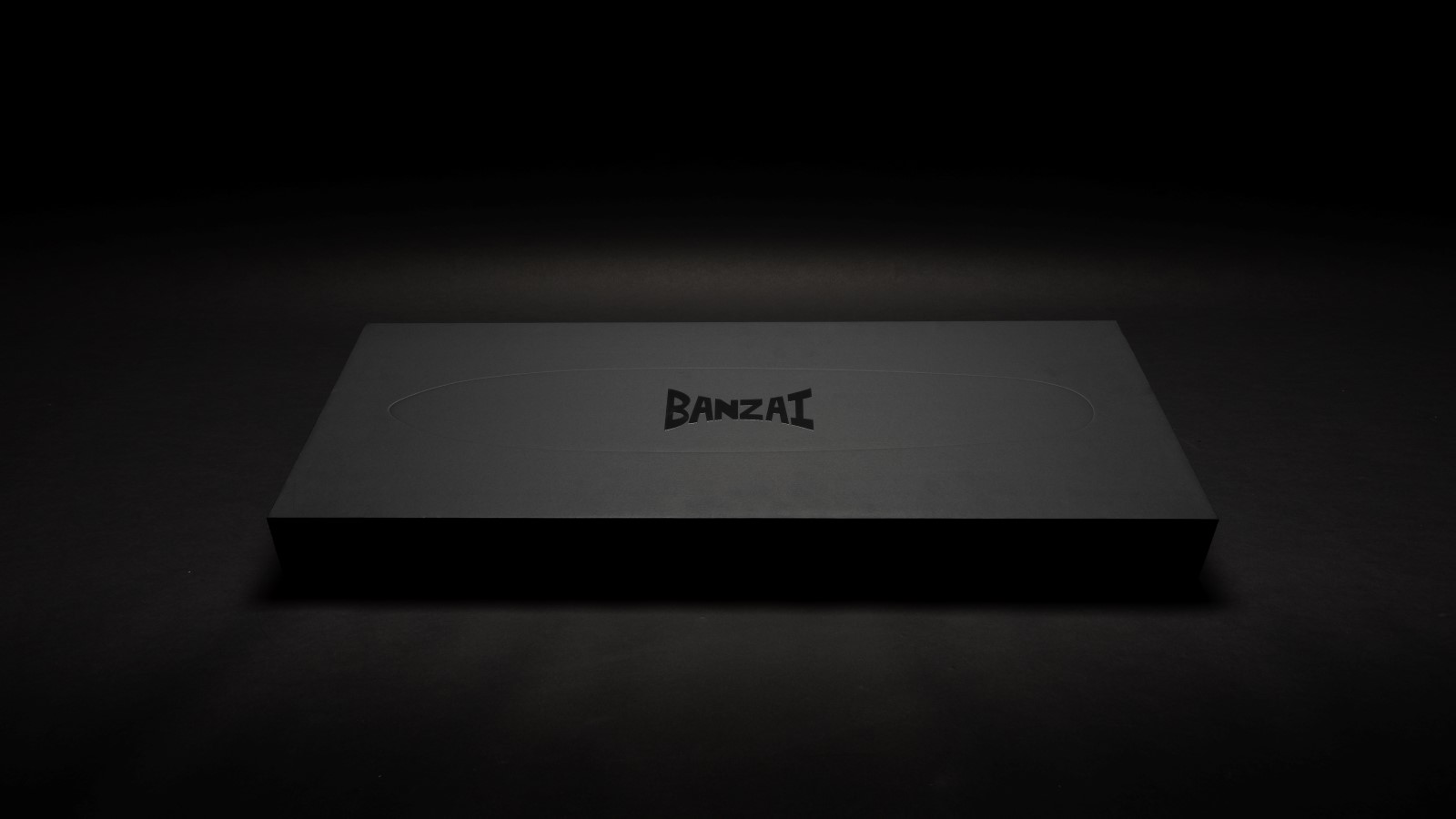 Banzai Re-Issue Limited Edition Iconic Skateboards
Banzai releases a limited-edition collection of Banzai's 1976 iconic double-kicktail skateboard, 43 years later. The collection will feature 50 boards of each colour (and size), each sold in a collector's box containing a signed art print from one of five artists. The aim being to revive Banzai into today's skate culture.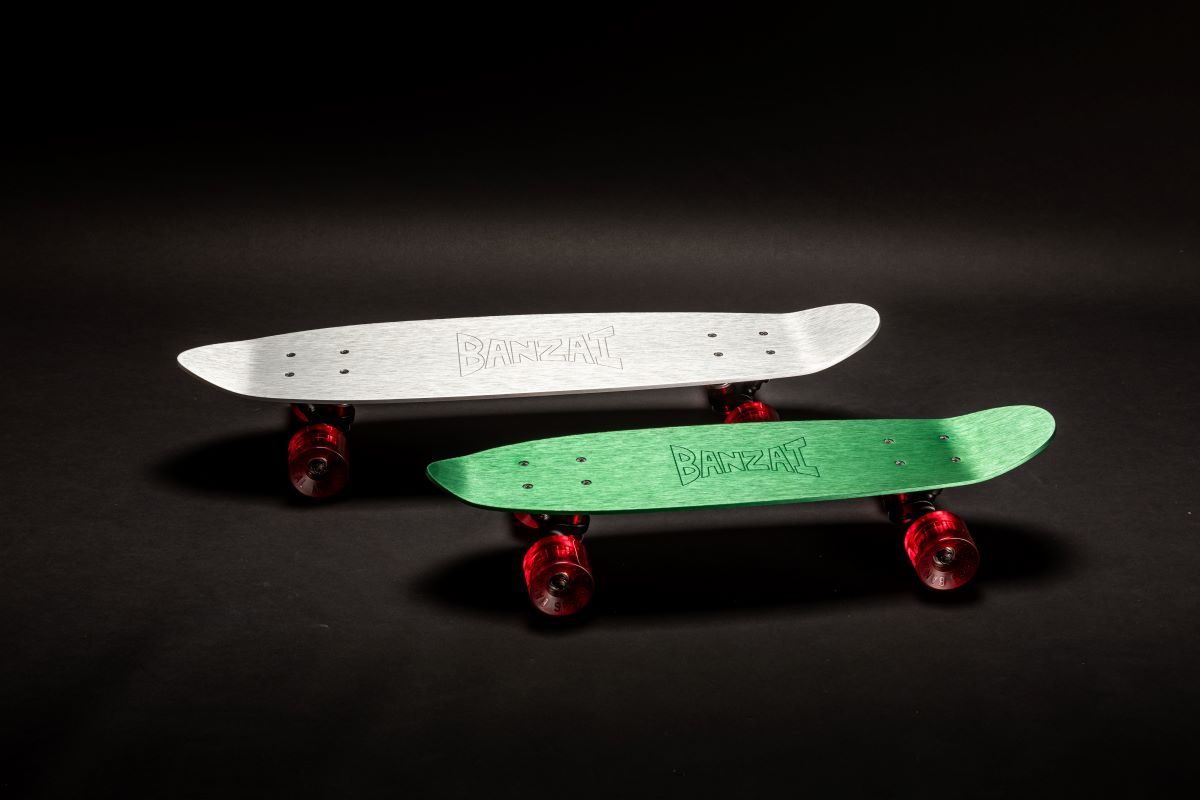 Press Release:
An exclusive reissue celebrating one of the most famous skateboard designs of the 1970s- Banzai Aluminium Skateboards
In 1976, Banzai Inc. released one of the most timeless skateboard designs in the culture's history.  Made entirely from anodised aluminium and featuring one of the world's first double kicktails, it went on to become an icon of sidewalk surfing. With its colourful, high grain varnish and Space-Age design elements, Banzai embodied an aesthetic much closer to the era's zeitgeist than other skateboards of its time, leaving a short-lived but memorable imprint in the culture of cruising concrete and early pool skating.
We spent decades preserving one of the largest collections of original vintage Banzai skateboards. The more boards we gathered, the greater the urge became to actually bring this classic icon back on the streets.
43 years later we are celebrating its legacy by releasing a reissue of the brand's most original shapes.
Limited to an edition of 50 boards per colour & size, each Banzai skateboard comes in a high-grade collector's box featuring a signed art print by one of the following artists: David Carson, Jay Nelson, Nathaniel Russell, Todd Glaser, and Cole Barash.
Our vision is to re-establish Banzai as an authentic skateboard, lifestyle and accessory brand for a global community of sophisticated design enthusiasts. The heritage of the brand, which is deeply rooted in the California skateboarding and surfing culture of the 1970s, has never been lost sight of.
Product Description
Two of the legendary board shapes were reproduced in collaboration with the rights holder of the Banzai trademark. A classic design upgraded with modern production techniques and high-end materials for maximising the joy of surfing sidewalks. Hand-brushed and made entirely from anodised aluminium, the boards come with grippy urethane wheels, ceramic bearings, lightweight trucks, and stainless mounting parts, preparing them for a long life in harsh beach conditions. A custom-designed tool in a classy leather case is part of every Banzai skateboard.
The unique brushing technique of Banzai's aluminium decks actually provides a rather grippy surface and does not necessarily require a traditional grip tap
No matter which surface, the translucent, ultra-grippy Banzai Speed Seal wheels never lose track. With a softness of 85a and a diameter of 59mm, you will almost be unstoppable.
One of the biggest improvements over the original 70's Banzai setup are our newly developed low-friction custom ceramic bearings.
For maximum control and stability, we have brought back the original Banzai x-calibre truck. The foundation of this truck is a weight-saving aluminium hanger and a robust, non-bendable carbon steel axle.
Medium 23,5′′499 EURO
This aluminium board is probably the closest you will ever get to the original 70s slalom vibe. We have deleted the shaky behaviour of its ancestors but preserved the nimble and quick spirit of a short wheelbase. Lower to the ground and with a narrow shape it demands a more controlled riding technique.
Large 28,5′′579 EURO
Equipped with thicker, shock-absorbing riser pads and a wheelbase nearer modern skateboards, hovering through the city becomes a new sensation. We are able to carry out the transformation to a modern form of transport. The specially heat-treated aluminium alloy allows stability and power transmission at any speed.