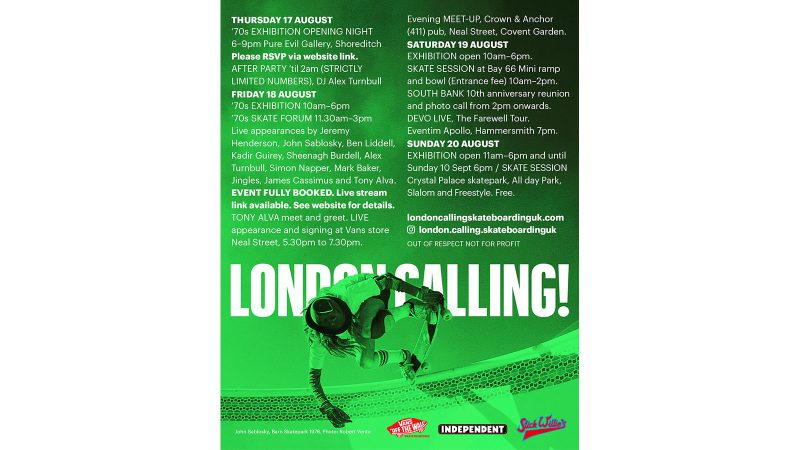 Event Recap: Steve Douglas Talks London Calling!
It's now been just over 3 weeks since, under the orchestration of Steve Douglas, skateboarders that lit the fire for British skateboarding were once again rubbing shoulders on the Southbank.
'London Calling!': A 4-day event packed to the brim with happenings across the city saw the UK's 1970's skate legends, fans, and ex-pats a'plenty flying in from all over the globe to remember and celebrate those who helped pioneer and shape British skateboarding.
We caught up with Steve for a little recap interview, in which he spoke highly of those in attendance and how these people paved the way for the British skateboarding scene we know and love today.
How did the event pan out?
On the opening night, we had the exhibit fully open to the public from 6pm and it was packed inside and out! We had a VIP opening beforehand and at 6PM, several of us went over to the afterparty venue – which we hadn't yet announced – and had a surprise birthday for 70's UK skate legend Marc Sinclair's 60th. We made a cake with his famous fakie ollie photo (Jeff Grosso's – RIP – favourite photo) printed on top. It was amazing and Bod Boyle gave a great speech before proceeding to give Marc the cake. That was a highlight for me – the 80's generation thanking the 70's generation, this what it was all about in a nutshell.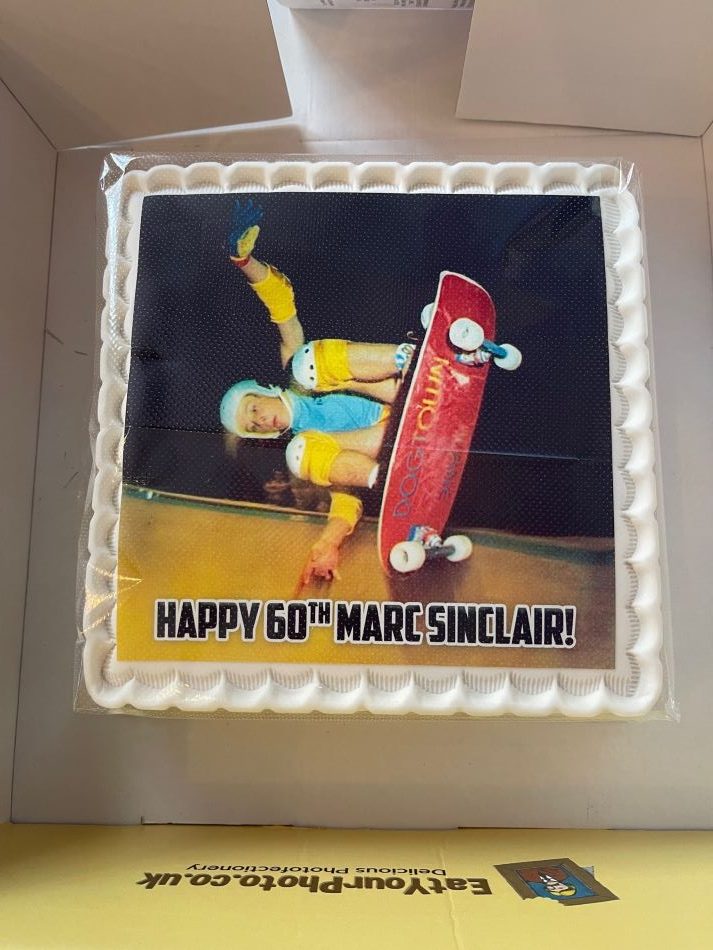 Alongside the exhibition at Pure Evil Gallery, you also produced a zine with the help of Neil MacDonald (@scienceversuslife) and Dan Adams from the Read and Destroy Archive.
The 76-page zine is probably the best thing we did as it contains photos that have never been seen before and words, only captured a month or two ago by the amazing Neil, so we have new words with all these old skaters. It turned up from the printers literally hours before, so it helped everything go seamlessly. It will be available at Slick Willies and now online, along with limited edition signed prints, the shoes and event tees.
The forum looked to be the highlight of the weekend for a lot of people, bringing together a panel of legendary skaters.
The forum was great: 2 panels with guests managing to ask, and also hear the stories, from these skaters and photographers. The one glitch we did have was due to technical difficulties, the livestream failed to function for the forum on Friday. Luckily though, Winstan was filming the whole thing with 4 different cameras and that will make it online soon. Those who missed it will be able watch it properly through this video. The best thing about the forum was that everyone there was a lifer, and it was such an important thing for them to sit there. Sean Goff shouted from the back of the room – thanking those up there for everything they'd done and that was a really powerful moment. The skateboarders up there influenced British guys like me – making us realise we could make it out in America, and if it wasn't for them, we wouldn't have known it was possible.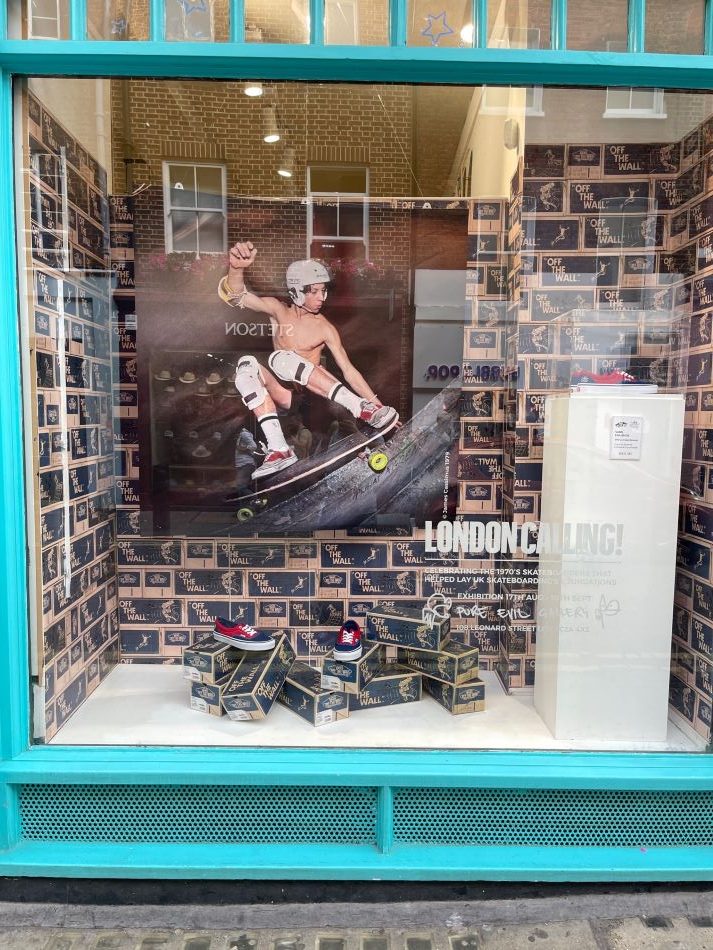 After a skate session at Southbank with Tony Alva and others getting stuck into the undercroft, the masses descended upon the Hammersmith Apollo to continue the nostalgia. By brilliant coincidence, the mighty Devo just so happened to be ending their European 50th tour on the Saturday of the event, and Steve rustled a surprise for a chosen few skaters.
We managed to get 9 of us into the Apollo early on in the day for their [Devo's] soundcheck and that was something special. Mark (Mothersbaugh) even encouraged the lucky few in attendance to have a skate whilst they sound-checked, so we had Devo playing and these guys skating around the empty venue. That was really just amazing. After the show, we got 40+ skaters from the event into the afterparty too, with them all getting photos with the band. On Monday, we took Mark, and his wife Anita and daughter, from Devo around the exhibition. There was an issue of Skateboarder mag with Devo on the cover, which had photos of the Rolling Thunder Park in it. Devo were one of the first bands to connect with skateboarding in it, so it's incredibly important to skate culture you know?
Freedom of choice:
Sunday wrapped up with a session at the recently built Crystal Palace skatepark, with all forms of skateboarding taking place. From slalom to freestyle, everyone was getting stuck in.
We were able to get a photo of everyone under the bridge where the vert ramp used to be, which was where I used to skate before I went to America in '84. It honestly couldn't have gone any better. I'm still getting emails and messages thanking us for putting this together. To me, this is the group that really deserved this. This was to thank these guys from the 70's that sadly have been forgotten about, and now, hopefully that will change. Hint, hint to the SHOF (Skateboarder Hall of Fame). As Joey Tershay (Ace Trucks) said to me, "Steve, I had no idea the UK had such a rad 70's history, great job".
Many skaters from the 80's onwards have pretty much remained within skateboarding, but the generation before kind of splintered off, so to have the opportunity to celebrate these people was the main reason we made this happen and why we all worked so hard to make them have a long weekend they won't forget, we did that.
—
As part of London Calling, limited edition Vans eras were produced, sold still at Slam City Skates, Route one and Slick Willies skate store in London. Keep an eye out for the video/photo documentation that will in no doubt, be in the public domain real soon.
Thanks to Steve, Dan Adams, Bod Boyle, Don Brown, Neil MacDonald, Winstan Whittier and Juergen from the skateboard museum and everyone else that helped to make this special gathering happen, and especially to those skaters that kicked things off under a London flyover some 50 years ago!