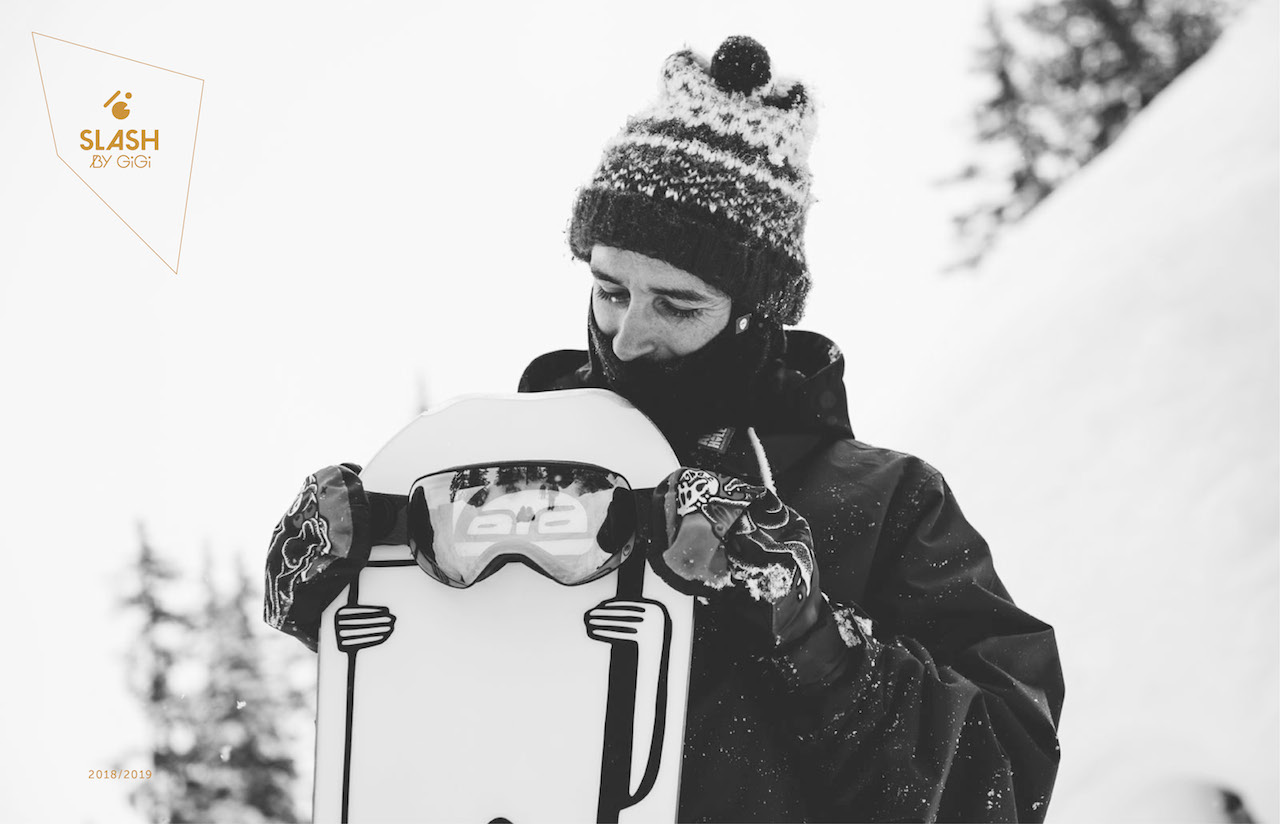 Gigi Rüf Takes Back Control Of Slash By GiGi
Gigi's one of the finest snowboarders to have graced the planet and he has a new path set for his snowboard brand, Slash by Gigi as well as a fresh new outerwear deal with 686. Originally under the Nidecker umbrella, Gigi talks openly with us about why this relationship amicably broke down, leading Gigi to use Spacecraft as the licensee, to deal with the "business" side of things.
Fast forward two years and Gigi has now started his own trading company, meaning he is now 100% in control of the brand. Gigi's also just penned a deal with 686 – his first apparel deal since leaving Nike – so we thought it high time we sat down with Mr Rüf to talk business. Interview by Harry Mitchell Thompson.
Gigi, how's it going? What's new with you?
All is good. Summer was a smasher, autumn too. Now with the first good snowfalls we are not far off peak season and family life is also reaching its peak with the holidays unfolding.
We hear there's some interesting news on the Slash front – can you explain all? Including the transition from Nidecker to Spacecraft and the new path for the future.
Being an active snowboarder who participates in the general aspects of the sport, it doesn't always go hand in hand with being a day-to-day business guy. Indeed it was Nidecker in Switzerland who helped me accommodate my ideas I had conceived for creating a snowboard line for Volcom. Two years ago I left the Nidecker group because Slash by GiGi wasn't profitable for them. Since then I have owned Slash 100%. I had licensed the sales of the boards I created to Spacecraft. That took care of the business side that conflicts the most with my active snowboarder lifestyle during winter. This agreement has now ended. I've set up my own company called SbG GmbH, gathered enough base knowledge and workflow to run Slash by GiGi from an operational stand point together with the extension of my distribution network throughout the world. It's quite exciting again, like it always has been with Slash by GiGi.
Where are you manufacturing Slash and who will be working on the management team with you?
I produce with Meditec in Tunesia, Africa. They have played a supportive role in this whole start up phase for Slash. I always followed the process of product development from the very beginning and it's my heartfelt affair. For management help I tap into the steam #atribecalledslash brings. The call for action is to help out with regional stuff in their zones in whatever capacity. No requirements, but solid ways to help. I know each and every one has the right vibes and energy out on the hill. Little things can go a long way though. If you see a solo shredder out there don't be afraid to invite them to ride or share a chairlift.
And we hear you've signed a deal with 686 – great news! Could you tell us how that came about?
The offer came with a phone call during the summer. I was helping out my parents with the farm that day. I haven't had an outerwear sponsor for several years now and I really welcomed a brand showing interest in what I do in snowboarding.
What are your ambitions and goals with 686? We hear there's a movie project in the pipeline…
It's true that I do have ambitions and goals not only with 686, my own snowboard brand Slash or my association with Pirate Movie Production – I keep up with all things snowboarding that are relevant to me for keeping an inspiring forward motion for this Industry.
You're in the unique position of currently being pro rider and brand owner. How can brands and retailers better leverage pro riders to sell products?
It's not that unique. Take each and every pro rider and inspect the path they have made. Maybe they are your retailer? It's impressive what you will find between the circled lines of boardsports. There is a very underestimated degree of entrepreneurship coming out of snowboarding.
Why is this? It may be the appeal to part take in something that leaves the job description or the future open. The inner strive for independence and the role to create is nowadays the same as it ever was, if you just take away the agents and federations.
Regarding how to leverage pro riders, I think agencies could do well by using models and market research to make snowboarding fashionable again. But it's not easy to just start snowboarding, and we'd soon see models laying in the snow with all their gear but no idea. It's the same with skating and surfing, where models pose with skateboards or stand on the beach looking out at the surf and not getting in amongst the sharks, just hijacking the image to look cool. Nothing will be replaced by the healthy doze of anarchy that standing sideways brings.
What are your plans for this winter? Any film projects or more FWT plans?
I am qualified for the Freeride World Tour and will participate it since it's a fitting schedule that takes me to where the snow season reaches is best. The only detail is that for the upcoming season we are starting a two year movie project and I hope these projects will run smoothly next to each other.