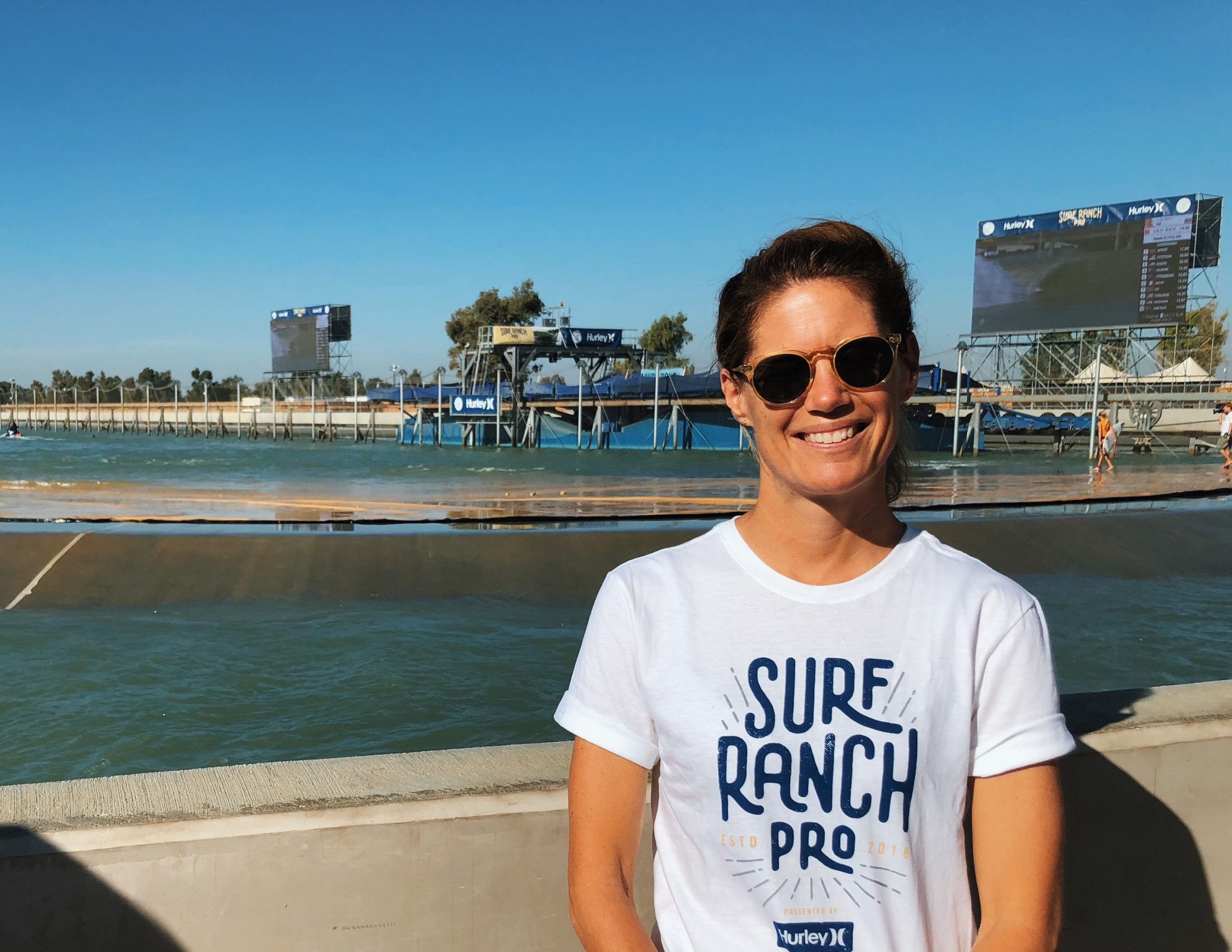 Industry Exclusive: WSL CEO Discusses Evolution Of Pro Surfing
Championship Tour event contested on a man-made wave, $30 million Facebook deal and the shiny new announcement of equal pay for men and women in professional surfing. It's been quite the first year for the World Surf League's CEO, Sophie Goldschmidt and SOURCE editor, Harry Mitchell Thompson travelled to the Surf Ranch Pro in Lemoore, California to dig deeper. Goldschmidt addressed the points above and also discussed details of the Hawaiian Pipeline Pro scheduling issue (and how tour sponsorship is up in 2019 vs. 2018) and we hear more on the WSL's ambitious rollout plans with Kelly Slater Wave Co.
Please tell us about you background pre-WSL.
I went to university at Baylor University (Waco, Texas) and after graduating I started working for Adidas in sports marketing and then for the WTA (Women's Tennis Association). I then worked for the NBA, and ran a chunk of their international business, based out of New York. From there I moved to London as they moved a lot of their international operations to London.
Tennis was my obsession growing up and after the NBA (National Basketball Association) I went to the RFU (Rugby Football Union), in the UK and served as the Chief Commercial Marketing Officer and served on the board. Before this role I was at CSM, which is a holding company for a number of different sports marketing and entertainment agencies, and I was the group MD there. And from there I came to the world of surfing and the WSL.
But you are English?
Yes, I am. My family is English and I grew up there. I just moved to America for college on a tennis scholarship.
And how has the first year been?
It's been amazing. It's been a very steep learning curve. I've been a fan of surfing for quite a long time and knew a bit about the professional sport, but not a huge amount. I'd never been to a professional event and didn't really know the surfers and about the brands involved, so I had a lot to learn. But it's been the best job I've ever had and it's exceeded expectations. It's been pretty full on – I've never worked so hard, and I'm used to working pretty hard. But I've loved it. A big reason why I took the job was because I loved the sport and how exciting it is, and what an exciting time it is for the sport. It's at a tipping point for so many reasons – some within the WSL's control, and some not. I've just been blown away by the number of opportunities. Everything seems to be lining up – I mean we've got plenty of challenges and still have a long way to go, but I'm excited about what we've achieved, and yes, more to come!
Could you talk me through the WSL recruitment process?
I was approached by a recruiter who the WSL had appointed to hire someone for this role. When they first approached me, I didn't really believe that a job like this existed. I'd actually verbally agreed to go and do something else, but they said to come and at least meet the board and hear about what their vision is. So I was scheduled to have an hour-long video conference call, and three hours later I came off the call, and thought, wow!, that's not what I thought it was going to be at all. And I was just blown away by their vision and commitment and the chance to build the sport in a really sustainable and strategic way, which is an opportunity that doesn't usually really exist in sports. Usually sports are tied down to different committees, or even just making change is pretty hard. And these guys really just have surfing's best interests at heart. So that really intrigued me, and then I went through a pretty intense interview period over a couple of weeks, where I decided if it was really the right move for me.
So I came over here (to California) and I met with them all individually, did a lot of research and met with any people I could that were connected with the sport.
What did your research involve?
Just talking to a lot of people and trying to tap into anyone I knew that knew about the sport and the organization of it – anyone that could give me an unbiased view of the opportunity – could this really be true?! But also just looking into the people who run the sport, and finding out that they're really just incredible people who have great integrity and a real passion and enthusiasm for the sport, which is unrivalled. And I decided that it was really just a very unique opportunity, so I jumped at the chance. I had a list of boxes, and this literally ticked all of them.
What have been the biggest surprises and lessons learnt since taking on the job?
The biggest surprise is that there's even more opportunities than I imagined. I think that one thing that really struck me in the first couple of months, was realizing the whole ocean conservation area is massive. It's so important to who surfers are and the whole organization really cares about it. And now the whole world has become obsessed with it too. This has been so timely for us, because – quite rightly so – everyone has a CSR (corporate social responsibility) mission, but ours is just a no brainer, as the ocean is our playing field. I think the world's fascination with this is a great opportunity for us. We are hoping to be a really very inclusive leader in this space. I remember in my first couple of months on the job that Blue Planet was being screened on TV in the UK and came up against X Factor on ITV on the other channel, and it rated just as well. If before you'd have told me an ocean conservation program would rate against X Factor, I'd have told you that you were bonkers.
I think the athletes and stakeholders have really embraced our evolving vision and our willingness to be open minded to change. And it's still early days, but they've all also been really welcoming of me. I've never been made to feel like an outsider.
In terms of the biggest challenges, it's got to just be the sheer amount of things we have to do. Prioritizing the number of opportunities is really hard. We have some very ambitious plans. It's all about staying really disciplined on what can make the best difference.
Equal pay – congratulations on this groundbreaking announcement – you're bringing women's prize money up to the same amount as the men.
Yes, we haven't actually announced what the prize money will be for next year yet, but it will be at least the same as for the men this year. There are only still 18 surfers on the women's CT, 36 on the men's – the depth just isn't there yet on the women's side, because they haven't had as many chances. But this will happen in due course. And the equal pay isn't just limited to the CT, it also goes through the Big Wave Tour, Longboarding and Juniors as well. It's a really proud moment for the sport and it's been in the pipeline for a long time, even a long time before I arrived, since the new ownership took over in 2013. This is the next step and there's more to come. For the men and the women. We really want to take things to the next level and share the sport with many more people, who aren't familiar with it today.
Were you involved in the Facebook deal and how this came about?
Yes, but Facebook has been a long term partner of the WSL, so I was really involved with extending that and expanding that significantly. And it's a really great moment for us having a company like Facebook want to back us. Really for us, the main reason why we did that deal was because; 1) to partner with one of the most innovative companies in the world – which is something we pride ourselves on, pushing the boundaries – and 2) when you want a great audience, their platform is extremely important. So it just made a lot of sense. But we also have some other really important distribution partners. We still have a lot of content that we push out on our channels and we also have linear distribution in over 100 countries. So there's a lot of different ways to access the WSL. The Facebook deal is for our live CT content, but we have lots of different layers from conservation to lifestyle, so we have a really broad range we can offer to all sorts of different distribution channels.
Talking partners and events – good to see that Pipeline is still there in the calendar after the scheduling issue.
In the end we got the permitting we wanted, we just decided that the calendar is going to change a lot in the next couple of years. We wanted to have the flexibility for our athletes, but we also want multi-year approval because we have to go through this process, which sometimes goes down to weeks before, which just isn't fair on the other promoters and athletes. So thankfully we have a really good relationship with our partners, allowing us to get some of these changes through, but with the Olympics in 2020 and the wave systems coming online, the schedule is going to change a lot.
What do you mean by the "wave systems coming online"?
Well, we are planning to build more of these (KS Wave Co facilitates), and we want to host more events. We'll still have the majority in the ocean, and the ocean will always be at the heart of what we do. But with quite a few changes and the Olympics in 2020, we felt for 2019 that extending the off season by starting a month later and then sequencing the events so there's more natural breaks, makes it better for the athletes and the fans to follow.
Can you talk more about your rollout plans for these wave pools?
We've talked a bit about it. So we are hoping to build one in Tokyo, we've announced we are going to be building one in Florida. We're also looking at Australia and Brazil and Europe, with a real focus on Paris and France. But there are other markets in Europe as well. We have a lot of demand. This has really captured the surfing world, but also the broader sports world's attention. So we have a lot of interesting developments with partners, governments etc.
We are still learning a lot about this, so we are being quite cautious – we don't want to run before we can walk. They are big infrastructures and aren't cheap to build, so we are being careful with the rollout. But I am confident there will be many more of these in the next few years.
I noticed that fewer brands are sponsoring CT events next season.
Because we've announced the calendar much earlier than we have in the past – normally the calendar is only announced in November / December – we are in the process of renewing a number of deals. So a lot more of the events on the calendar will be sponsored, we just haven't finalized those deals yet. But it was really important for planning purposes to get ahead with releasing the schedule. So another four or five titles will be announced in the next month or so and actually we're in a much better shape than we were for this year's tour.
Which league or sport do you most admire in terms of setup and structure, with regards to everything from TV rights, to equality and media coverage?
I think we learn from a lot of different leagues. I think sports – and not just sports, but entertainment – especially surfing, crosses over into lifestyle better than any other sport, looking at how we run music here and fashion with some of our licensee brands, gives that broader experience. So yes, we are very keen to learn from all sorts of different industries and I think we are right in the middle of it. I think there are a few sports that stand out for different reasons; I think the NBA do a fantastic job, I think their broadcasting and social media is very transparent and forward thinking, and they really push the boundaries there. Their structure is very different to ours as their league is owned by the teams, and then they have a deal with the union. So ours is a very different model, in that we are centralized and run by a membership group. But I think as far as their business profile, they do a great job and really stand out, but there are also a lot of other sports who do a great job.
Does the WSL look after its athletes in terms of pensions and health care etc?
We have surf insurance plans and now have a pension plan for them, so they are actually a stakeholder in the business. And that articulates itself in a pension plan – that's how we invest back in them. We want to do more, but we provide them with a lot of different resources and have a lot of different departments internally. It's a good relationship and it's getting stronger.
Talking about the management company – how much interaction do you have with the Ziffs and ZoSea?
Dirk and Natasha Ziff are the principal owners (of ZoSea) and then Terry Hardy (Kelly Slater's Manager) and Jeff Bizack (Kelly Slater's business partner) are ZoSea shareholders but quite involved in different aspects. [Editor's note: WSL acquired majority shares of Kelly Slater's KS Wave Co. in 2016]. So they have all been hugely helpful to me as they have all had very different experiences, contacts and skillsets, so they've been fantastic to work with. They are involved in some things, but not in others. It's a very free flowing relationship and I've definitely tapped into them a lot over my first year here. They care a lot and are very passionate and they've invested in this significantly and are in this for the long-term.
Do they have a plan as to how long they will be invested for?
It's long term. 5-10+ years. Most importantly they want to leave the sport in a better place than they found it, but they bought it for business reasons. And I think they have already significantly increased the value of the company and the profile of surfing. And hopefully this will continue.
Stay tuned to BoardSport SOURCE Magazine for more interviews from the WSL Surf Ranch Pro presented by Hurley.