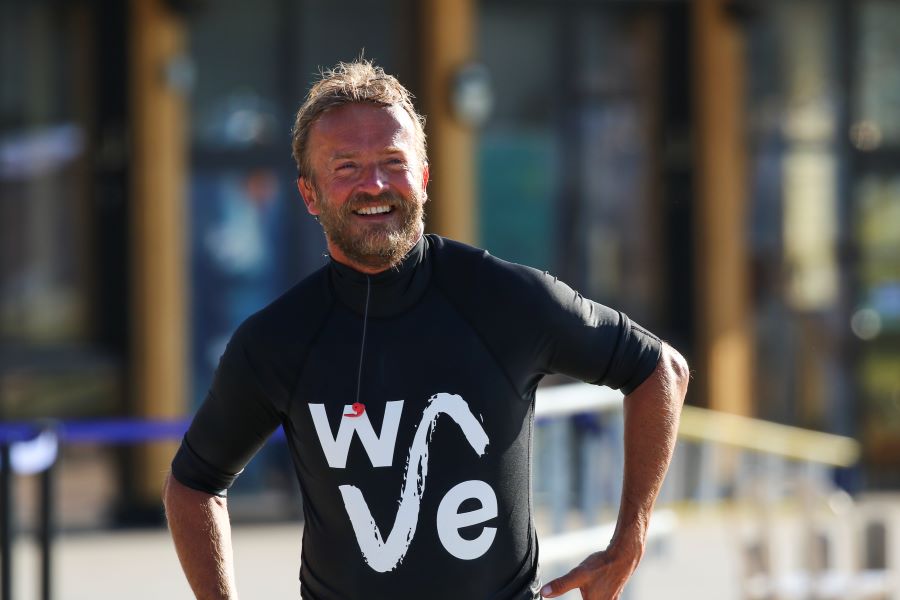 Making Waves & Recovering From A Stroke: The Wave's Nick Hounsfield On A Whirlwind 1st Year
Nick Hounsfield, founder of The Wave Bristol (and cover boy of this very issue) has a 2020 story that rivals even the most shocking of this year's tales. Having finally opened the doors to his 10-year passion project, the Wavegarden Cove's first UK facility in November 2019, Nick suffered from multiple strokes in February, which took away his ability to communicate. This was just a couple of weeks before they had to close their doors for COVID lockdown.
Fast forward several months and SOURCE took our maiden voyage to The Wave, where Editor Harry Mitchell Thompson caught up with Wave Maker Nick who's made a strong recovery from his illness earlier this year. We're pleased to report the facility not only churns out epic waves but was also incredibly busy even for a Wednesday afternoon in late September. We talked through Nick's journey to funding the £28 million project, lessons learnt and how working from home now includes waves for some lucky folk. We also touch on how Nick and his crew are using the facility as therapy for mental health issues and how Nick is using his liquid gold creation to help with his own recovery process.
Nick, congrats on producing an awesome facility. Please give us a brief overview of how far you've come, from planning to opening and now re-opening after COVID?
I started 10 years ago with just £500 and a strong vision on what The Wave could look and feel like as an experience. I knew I wanted to create a place that would get people outside, in nature, encourage them to be active and to connect with themselves and each other. As an osteopath I was frustrated that I could only help one person at a time and wanted to build a space that could have a bigger impact on peoples' lives. As a surfer I also knew how being in water and waves makes a massive difference to my health and wellbeing. When I saw a video of the original Wavegarden technology it was a eureka moment – I knew that this had to be at the heart of what I wanted to deliver.
The journey from vision to making it a reality had many ups and downs. I built a team around me to develop the planning application, gain planning permission, and secure the £28 million investment needed to build The Wave. We went through the process of considering various wave-making technology options, before settling on the Wavegarden Cove. Finally, in November 2019 the build was complete, and we opened to the public. It felt like the culmination of 10 years' work – but in many ways that was just the beginning!
We opened in winter and spent the first few months learning about the often-difficult reality of running an inland surfing destination. We were just coming through the winter season when COVID struck – and just like that we had to shut for almost 5 months. As a new start-up there was very little financial support available to us. We worked hard to secure the investment needed to reopen and to develop a 'COVID safe' operating model. On August 1, we opened for the second time and the last couple of months have been incredible. We have really seen what a busy summer and autumn is like and have also managed to start to deliver a lot of my original vision, in terms of bringing the benefits of surfing to people of all ages, backgrounds and abilities.
Nick, you fell ill earlier this year… great to see you back and surfing. What happened? Anything you're doing differently now?
In February, my life changed dramatically. With no warning at all I suddenly suffered multiple strokes, which took away my ability to communicate. When it happened, I couldn't talk, read or write at all. Over the last 6 months I have been on the long road to recovery and with lots of rehab and perseverance I have managed to regain my voice. It is still hard work and often exhausting – there are times when I feel like I've spent the day speaking a foreign language – but I'm getting there.
As part of the recovery process I have tried to spend as much time as I can by and in the water. As soon as I felt physically able to, I got back on my surfboard and the act of riding waves has truly become my medicine. Being in the flow state on the waves really seems to have helped reset my slightly broken brain. If I'm having a bad day and the words won't come out or I'm struggling to process things, then a surfing session helps. I come out of the water clearer and able to communicate again.
The stroke has changed my life in many ways. It has challenged me to consider what is really important and it has also shown me, first-hand, the very real impact blue spaces can have on our health. It is even greater than I ever realised and I'm more passionate than ever about sharing this with people. 
Can you talk us through any trends in different demographics you've spotted since re-opening from COVID?
I think the big thing we've noticed since we reopened is that people are desperate to get outside and into nature. We are lucky to have a large site that feels spacious and also very safe, thanks to the many COVID systems and precautions we have put in place. People feel very reassured when they visit.
Obviously during the summer holidays, we had a large number of families visiting and we found beginner lessons sold out quickly – however this has continued into the autumn with weekends being particularly popular with beginner and intermediate level surfers. Mid-week we do get more advanced surfers – with the Advanced + and Expert sessions being a real hit – and there are definitely a few people who look like they are juggling remote working with mid-week surf sessions!
You're always fine tuning the tech – please talk us through the waves currently on offer and ones you plan to intro in the future?
We currently have 7 different surf options that people can book, starting with a beginner lesson and going right up to our expert session. We are focused on developing a pathway that can help people progress their surfing. For example, we have recently introduced a new Waikiki setting – a session that is great for improvers looking to catch their first green waves, but also brilliant for those looking for a fun, mellow session. We are always looking to understand where the gaps are and also respond to feedback from our visitors before we introduce anything new.
What have been the biggest lessons you've learnt since opening?
You're never going to get it right all the time! We are not perfect, but we always try to learn and improve from the times when we fall down. It's not been an easy first year and we have had our fair share of challenges, not least a global pandemic that shut us down days before Easter and our first high season! However, we strive to be agile as a business and we are still here and still pushing forward our vision of bringing the joy of surfing to as many different people as possible.
What are the biggest opportunities for the surf industry at present?
I think the industry as a whole can be a driver for positive change, especially around areas such as environmental sustainability, gender equality and diversity in surfing. There are lots of great organisations doing brilliant work in these areas, but everyone in the surf industry should be doing their part and actively looking to make changes. An exciting area we are involved in is the development of surfing therapy for mental health and wellbeing. We are keen to build the evidence and knowledge bank around the impact that surfing can have on people's mental health.