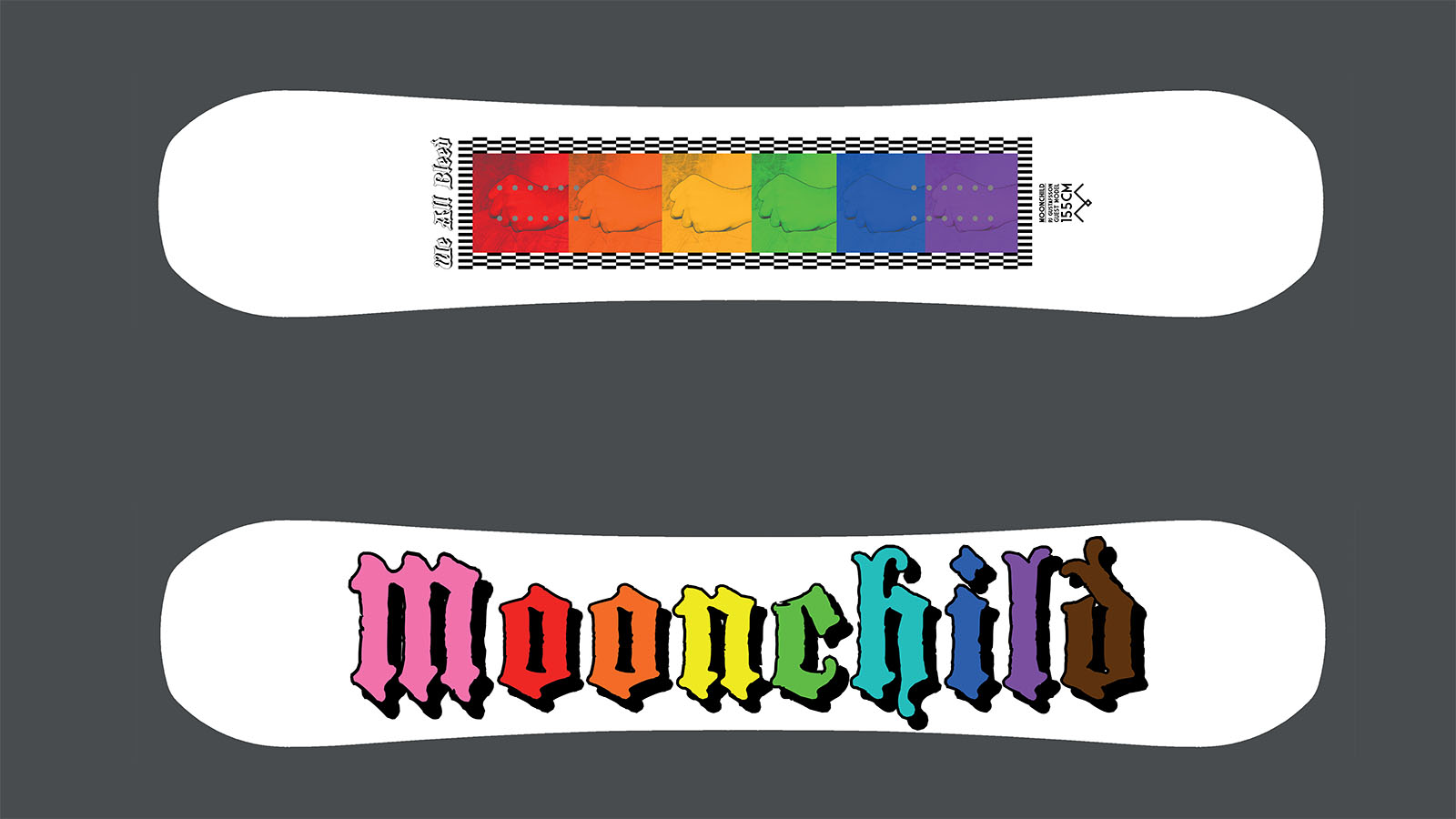 Moonchild Snowboards Drops PJ Gustafsson Guest Model
Released during Pride Month, Moonchild Snowboards drops a guest model in collaboration with PJ Gustafsson. The 155cm true twin board features artwork in pride colours to show support for the LGBTQ+ community within the snowboard and wider boardsports communities. 
Press Release:
Moonchild snowboards, is a European rider-owned brand started by Jure Sodja and Marcus Montgomery in 2015.
Our goal from the beginning was to build unique powder boards and experimental shapes but since the interest of our brand has increased during the last 2 seasons, so has the demand for freestyle boards, hence we have added various Twin shape lengths during the ride.
We made our first collaboration tribute model with the legendary Tarquin Robbins last season. The graphic was based on two of his iconic pro-models for Aggression snowboards from the early 90's.
We both grew up in the 90's freestyle scene, so collaborations with our heroes from that era gets us extra excited even if we have chosen more of a freeride path ourselves these days.
For the 2021-2022 season we are very happy and excited to present the PJ Gustafsson Guest Model!
PJ is a great snowboarder but also an artist. His controversial and provoking graphics for Death Label, Smokin snowboards and his own brand Kaleidoscope skateboard co has been very appreciated by the snowboard and skateboard community and we knew that PJ would be the perfect match for our next collaboration model.
PJ is all about supporting the small rider-owned companies and he was happy to do this collaboration with us as a "guest model", like many skateboard brands are doing these days.
PJ rides for Death Label snowboards, they are his extended family and they support him in any projects he gets involved in.
PJ is a strong believer in equality and he came up with the graphic for this board to show his full support for the LGBTQ+ community in (but not limited to) the snowboard and skateboard scene.
As a snowboard company and as supporters of the LGBTQ+ community and equality we are very happy and proud to represent the PRIDE colors on PJ's guest model.
The board comes in 155cm, true Twin, camber profile with an early rise rocker.
Thinner Triax-glass, carbon stringers for extra pop, sintered IS 7200 base with an advanced side-cut radius and woodcore profile.
This model has been fully designed and developed by us and tested by our team.
More lengths will be added soon.