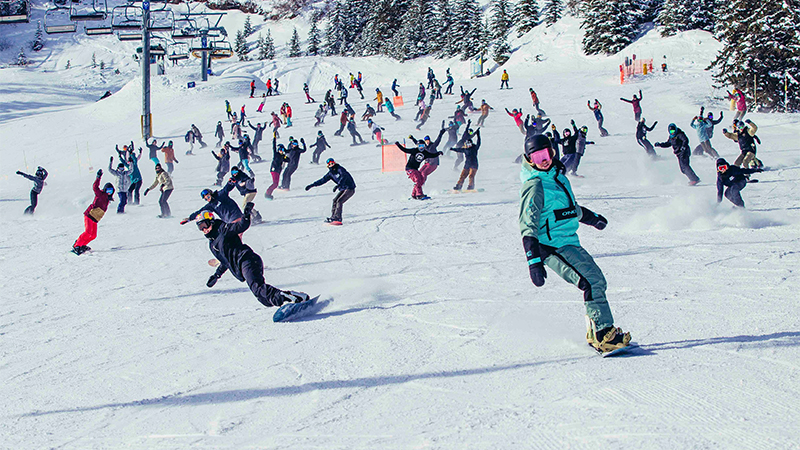 Nitro Snowboards' Andreas Aurhammer Explains Concept Behind 'Offline' Movie
The Seattle-based snowboarding company has released its new snowboard movie entitled 'Offline', featuring top Nitro team riders. Having premiered over 50 times at more than 25 locations around the globe, the film is now available online. The importance of taking a break from the chaotic online world to live in the moment and create memories "Offline" is what this movie strives to convey. We spoke with Nitro Snowboards' Managing Director for Development Andi Aurhammer about their latest release.
Please tell us about the movie.
Have you ever thought about just dropping everything, getting off your phone, closing your computer, and just living in the moment, offline? Just leaving the screens and creating real memories from your daily daydreams. The real world is out there, not inside the screen. Getting offline allows you to create memories with friends worth remembering until the end. Life is too short to let these moments pass you by.
This is the inspiration for our new movie Offline. Our current team of world-class snowboarders and ourselves personally are online more than most, and we know how important this is in today's world. Which is why we have realized over the last few years how beautiful it is to disconnect and just go snowboarding and forgetting about the bills you have to pay, the e-mails you need to send, the hours you have to clock in, or the feeds you need to scroll and double-tap through, and just focus on what literally is in front of you.
For us, snowboarding is our escape and one of the few things we do that truly allows us to be offline, focusing only on the next turn, side hit, tweak, airtime, carve, pow slash, or high five. Through this video, we wanted to address this issue and offer our solution through snowboarding and having fun with friends no matter where you are in the world. We had one goal in mind – to snowboard around the world and motivate people to have as much fun as possible in the moment, no matter the conditions. 'Offline' features road trips through the USA, the streets of Eastern Europe, powder in the Alps, a team splitboard vacation to Lofoten, Norway, Austin Smith's firetruck adventure to Alaska, a road trip through the uncharted Balkan Mountains, and of course plenty of good old fashion resort snowboarding with friends.
Who are the riders and who filmed and produced the film?
Offline showcases Nitro team riders Eero Ettala, Sam Taxwood, Austin Smith, Bryan Fox, Sven Thorgren, Elias Elhardt, Benny Urban, Nils Arvidsson, Dominik Wagner, Griffin Siebert, Jared Elston, Zeb Powell, Zoi Synnott, Laurie Blouin, Marc Swoboda, Torgeir Bergrem, Ludvig Billtoft, Marcus Kleveland, Knut Eliassen, and many more.
With this project we wanted to break away a little bit more from the standard format and to highlight our 'Offline' statement so we also worked and filmed together with Director and Youtube Creator Dan Mace, the musician Yves Ardelt, and Volcom´s cinematographer Seth Hout who created an entire Nitro x Volcom section in the movie. These people brought in new ideas and positivity into our crew, which helped us expand our horizons even further. It was Knut Eliassen and myself who helped produce this movie for Nitro, while Karsten Boysen filmed and edited the film.
We worked again closely together with our friends over at Red Bull Media House (Florian Moser and Michael Putz) to produce this film and to use their amazing video platform to hopefully reach more people than we currently do through our own established platforms. We are lucky enough to have a nice and open relationship with Media House, they trust in our abilities to make motivating videos and we can work openly with them and promote snowboarding and the message of being 'Offline' to even more people where this message will resonate. Media House has been a great partner for us over the last videos we have made and we are forever grateful for them and their belief in our message (from The BadSeeds, Boom, 28 Winters, and now Offline). We were also lucky enough to get the support from Audi and Swiss Airlines to allow us to travel even further and safer than ever this winter.
What's the meaning behind the name of the movie?
On the surface, Offline means something different to everyone, but at the core, it means the same thing to everyone a break from your daily routine or stress kind of a zen state. For us, Offline is an escape from today's hectic online world that we live in through good old fashion good times snowboarding. We hope to motivate people to get Offline and do something worth remembering with their friends – no matter what it is.
Please tell us about the premiere schedule; where it's been and where it's going.
We have just wrapped up our worldwide premiere tour where we visited over 25 locations with our international team in Germany, Netherlands, France, Italy, Canada, Austria, Switzerland, Australia, New Zealand, Salt Lake City, Portland, Bend, China to name a few, and had over 50 local premieres, plus too many in-store premieres to count. Now the film is available online for everyone to see. The goal with this is to get people to watch Offline online to hopefully motivate them to get Offline with some good old fashion snowboarding.
Even though the movie is available for people to see online we are still staying true to the fact that we want this movie to bring people together so we are still pushing in store premieres around the world – to help bring snowboarders back to the key places that hold the snowboard communities together – "The Snowboard Shop". For example, we are hosting premieres at Wave Rave in Mammoth, CA (Nov 9th), Milo Auburn, CA (Nov 9th), Shanghai, China (Nov 9th), and more to come around the world. This is so important to us.
How important is it to get out on the road and meet fans with these movie premieres?
As stated above it is so important to us to use our platform of a movie as a tool to bring people together in their local snowboard communities. When we decided to make a movie, doing a proper premiere tour was an important factor. Not necessarily, a huge budget global massively promoted movie tour, but a realistic and effective one. We wanted to have global premieres with our international involvement, then we wanted our distributions to create their own Offline premieres ones that were more intimate and curated to their snowboard community, and lastly we wanted Offline to be a tool for snowboard stores to use as a reason to invite their local snowboard community members together for a fun gathering. To us that is what 'Offline' is, the snowboard community, this is why we all snowboard to take a break from reality and be with others who enjoy living!
So far, the tour has been a great success. We have had some amazing events, nights, and screenings with snowboarders all around the world, plus received a lot of positive feedback from retailers from the movie and the events they have created. Through this tour and going out and meeting people we can say snowboarding is in a strong place and people are willing to make the extra effort to experience snowboarding and the community of snowboarding – especially in today's online world. Real-life experiences are missing from people's lives right now everyone is so disconnected by being connected, so for us, we see any chance we can meet people in real life as something of an opportunity – As we all know "One high-five is worth more than a 1000 likes".
How important are movies to the image of snowboarding?
For us, snowboard movies are our way of being transparent and hopefully inspiring. We use our snowboarding movies (Hyped!, The Bad Seeds, Boom, 28 Winters, and now Offline) to share our way of snowboarding, which is to just go out and have fun – not to be cooler than others, or better than others, but to just push ourselves individually and have fun collectively.
Snowboarding is snowboarding and we use our movies to contribute back to the global snowboard community that allowed us to get here with "go snowboarding content" and to give our team riders a platform to inspire and just have fun on.
Our goal is to always motivate people to just go snowboarding, I mean we just made a movie that says get 'Offline' and go snowboarding instead – the teaser we released on Instagram told you to "put your phone away" while the teaser was playing.