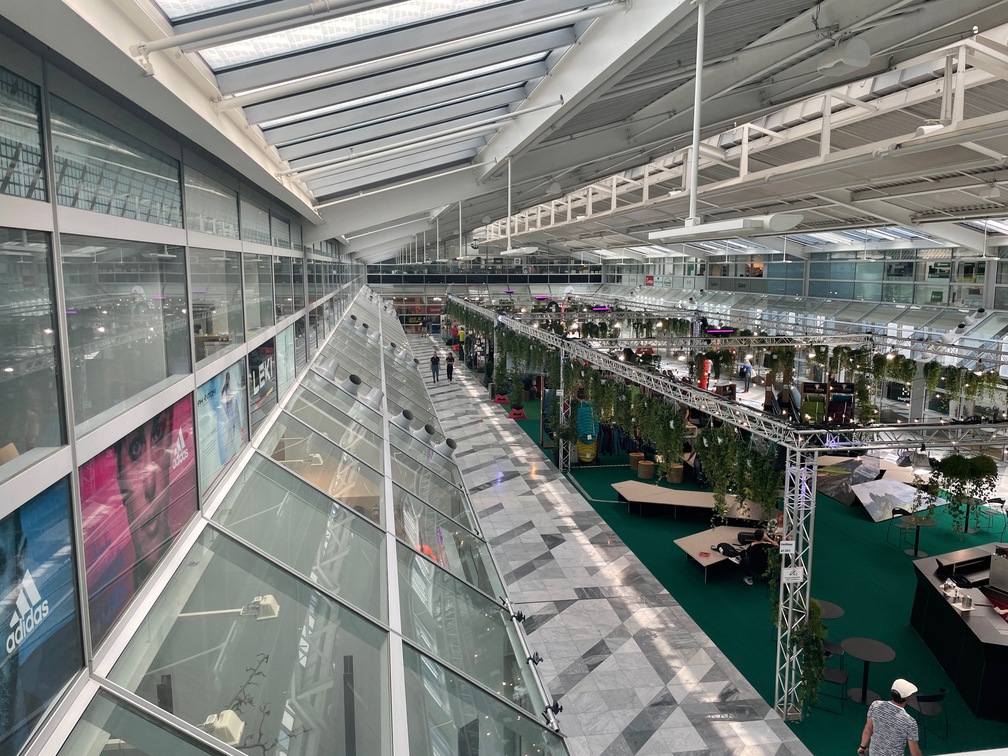 OutDoor By ISPO 2023 Preview
The international outdoor industry will descend once again on the Munich Order and Event Centre (MOC) in the northern suburbs of Munich for 3 days of exhibitions, workshops, conferences, parties, and dinners from 4 – 6 June.
After its restart last summer, OutDoor by ISPO has continued its success story into 2023 with exhibitors filling twice as much exhibition space. This year there will be over 600 brands, double the amount of new exhibitors, and an impressive display of product innovations. The whole outdoor business community with its movers and shakers, decision-makers and pioneers will meet in Munich to celebrate their outdoor passion together.
The event will show product innovations from Mountaineering, Trekking, Hiking, Climbing, Bouldering, Sportswear and Urban Outdoor, Camping & Outdoor Lifestyle, and Adventure. Everyone can expect a colourful programme full of product highlights and services, as well as unique open-air areas, parties, and side events. As we saw in 2022, the earlier date will enable all market participants to gain an advance overview of what's happening in sporting goods, therefore interrelating more affectively with their prebook programmes.
Most of the brands involved will be spread across the halls, but more brands will be upstairs exhibiting from their showrooms. Booths will be smaller and therefore more approachable, like last year when the show was at Messe Munchen. We will see many companies from the major European outdoor markets, such as Scandinavia, Italy and Germany but additionally, international exhibitors from Australia, Korea, the USA, and Canada.
Program of Events
Day 1
From 11AM on Sunday morning, in Conference Room K3, events begin with an OutDoor by ISPO Press Conference which will present the current trends in the outdoor industry and will be led by Stefan Rummel, CEO Messe München; Matt Gowar, President EOG and Managing Director of Equip Outdoor Technologies UK Ltd.; Arne Strate, General Secretary, EOG; and Lena Haushofer, Exhibition Director OutDoor by ISPO.
After lunch, from 2PM – 3PM, there will be a curated and guided Press Tour of Innovative Brands and Products around the OutDoor by ISPO exhibition halls (meeting point is at the information desk between hall 2&3).
From 5PM – 6PM will be the the ISPO Award, The Gathering Vol 1. This presentation of the award-winning products of the ISPO Award at OutDoor by ISPO will be held at the ISPO Award Exhibition Area outside. The day ends with the first OutDoor by ISPO Party from 6PM to midnight.
Day 2
On the second day the schedule of events starts on Monday morning with the EOG Industry Breakfast from 7:30AM – 9AM in the Sustainability Hub in Atrium 3. Next up is the Sustainability Hub Guided Tour from 11AM – 12PM, a guided tour of the sustainability exhibition and presentation of the outdoor industry initiatives in the Sustainability Hub in Atrium 3.
This is followed by ISPO Textrends from 12:10PM – 12:30PM, this is a presentation of relevant trends in textile material development by Louis Smith, International Textile Trend Consultant, at the Speakers Corner in Atrium 3. From 1PM – 2PM the Scandinavian Outdoor Group Press Conference will take place in the Outside Area. The focus then moves at 2PM to a Press Tour of the ISPO Award Exhibition & ISPO Brand New Areas with its presentation of the award-winning and innovative products.
From 4PM – 4:45PM at the same location, the E-Commerce Experience Report will move the spotlight onto a close look at the top 20 German sports and outdoor stores. This is followed by the Consumer Insights Report Q2/2023 by ISPO in partnership with Veja from 4:45PM – 5PM, also at the ISPO Award Exhibition Area.
Finally, at 5PM the ISPO Award, The Gathering Vol. 2 will see presentation of the award-winning products of the ISPO Award at OutDoor by ISPO. The day wraps up with a second OutDoor by ISPO official party in the evening from 6PM to midnight.
Day 3
On Tuesday, programs of talks and seminars starts at 7.30AM at the Sustainability Hub Atrium 3 with Navigating the Future of Sports, a Masterclass of the ISPO Innovation Labs in cooperation with Now, partners Merijn Dols, Hunter Lovins and Laura Santucci, Chief of Staff of Political Operations in the Obama White House. This is followed from 11AM – 12PM with a Sustainability Hub Guided Tour around the sustainability exhibition and presentations of the outdoor industry initiatives.
Last but not least, Outdoor Cooking with Kieran Creevy from 12:10PM to 13PM will demonstrate the latest trends in outdoor cooking.
OutDoor by ISPO is a unique opportunity for retailers to gain an overview of the latest innovative developments and trends in the outdoor segment and an opportunity to engage in industry-wide discussions on every aspect of the outdoor market. See you there.