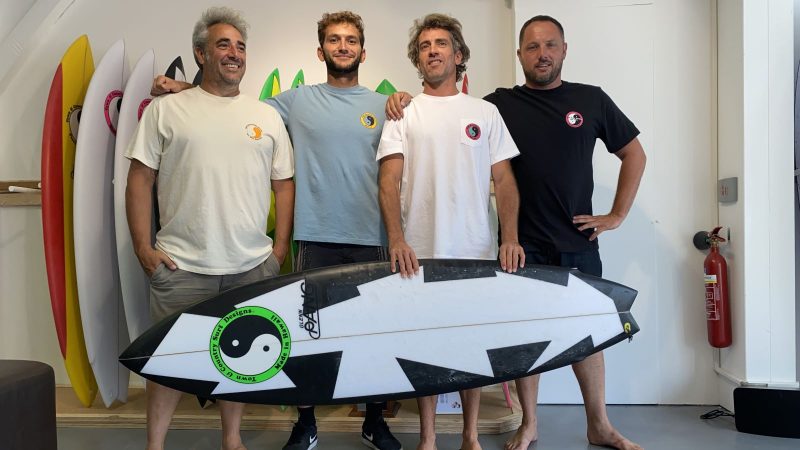 Big Wig: Wilco Prins, Co-Founder Of Town & Country Surfboard Designs, Europe
Wilco Prins has been one of the key faces in the European surf industry for the past couple of decades. Since departing his roles as Rip Curl Europe's President CEO & President of EuroSIMA, Wilco has now (re)started Town & Country Surf Designs in Europe and they've hit the ground running. Securing the European license from global and with boards made by legendary European shapers Mikel Agote and Johnny Cabianca, T&C has three stores in SW France and is on a great upward trajectory. Big Wig Interview by SOURCE Editor Harry Mitchell Thompson.
Wilco, tell us about your background in the surf industry and what led you to your current position with Town & Country.
I started working in the surf industry in 1996 and after finishing my studies I spent a great number of years at Rip Curl throughout several marketing, product, sales, and management positions. I had the great opportunity to work with the wetsuit product manager and to set up what we called the Core Division which focused on the brand's technical products and the position of the brand in core surf shops. From there, I was asked to lead the brand as their President CEO. During this time, we managed to strengthen the brand as the number 1 wetsuit brand and take the company from losing money in Europe to a nice level of profitability. It was a great mission we had, basically to keep the brand as clean as possible for a potential sale. In 2016, Fred Basse proposed me to succeed him as the president of EuroSIMA, which I accepted and did for three years.
In 2019, I was made redundant at Rip Curl and a few months later Rip Curl was sold. Over the years I noted several ideas, and it was the right time to action them. I partnered up with my good friend, Stephan Moretti and we decided to contact T&C. From the beginning there was a mutual good feeling between the T&C management team and us.
Explain the details behind starting T&C in Europe.
The crew at T&C was confident with the experience we brought to the table. Stephan Moretti's experience in product and design and my experience were completed with the arrival of Arnaud Touix, who has a strong background in the sales of hardgoods.
We came to a licensee agreement with T&C for all products and started from there. We developed our own product range, as we wanted a strong focus on quality and sustainability. We work with the best materials and factories for all products. For example, all our cotton is made of 100% non-brushed GOTS compact cotton. We believe sustainability goes through durability and therefore making qualitative products is key.
We were very privileged that Mikel Agote and Johnny Cabianca agreed to make our surfboards in Europe. Surfboards are bit of an addiction to me, so seeing the Glenn Pang and Tommy Tanaka boards come through with such an amazing shape and finish is very satisfying.
How has the launch / re-launch been received in Europe? Can you explain key milestones and highlights.
The positive reaction to the return of T&C in Europe is beyond our expectations. There are two groups of people. Some people are excited to see the brand back in Europe, others are stoked to discover the brand. The kids, who discover T&C are attracted by a mix between a brand with real story, strong heritage and a fresh cool look on quality products.
A great job was done by the brothers Lacomare and their team on building up the brand throughout the years. From the outside, it feels like that the brand disappeared in Europe from one day to another and the legacy stayed alive in the people's minds.
Our first milestone was being able to open a first store in Hossegor and have product arrive with all the doom and gloom of Covid in 2020. Seeing the first people come in and buy the product was incredible. We had the opportunity to open a smaller store in the centre of Hossegor and from the beginning it was the highest turnover per m2, I have seen for a store in our space.
On a wholesale level, we tested with a few stores in 2021 and in 2022. The brand performed well in all countries and areas. We had similar results in France, Spain, the Canary Islands and in the UK. Going forward, we believe that we can be at a certain size, without chasing growth at any price.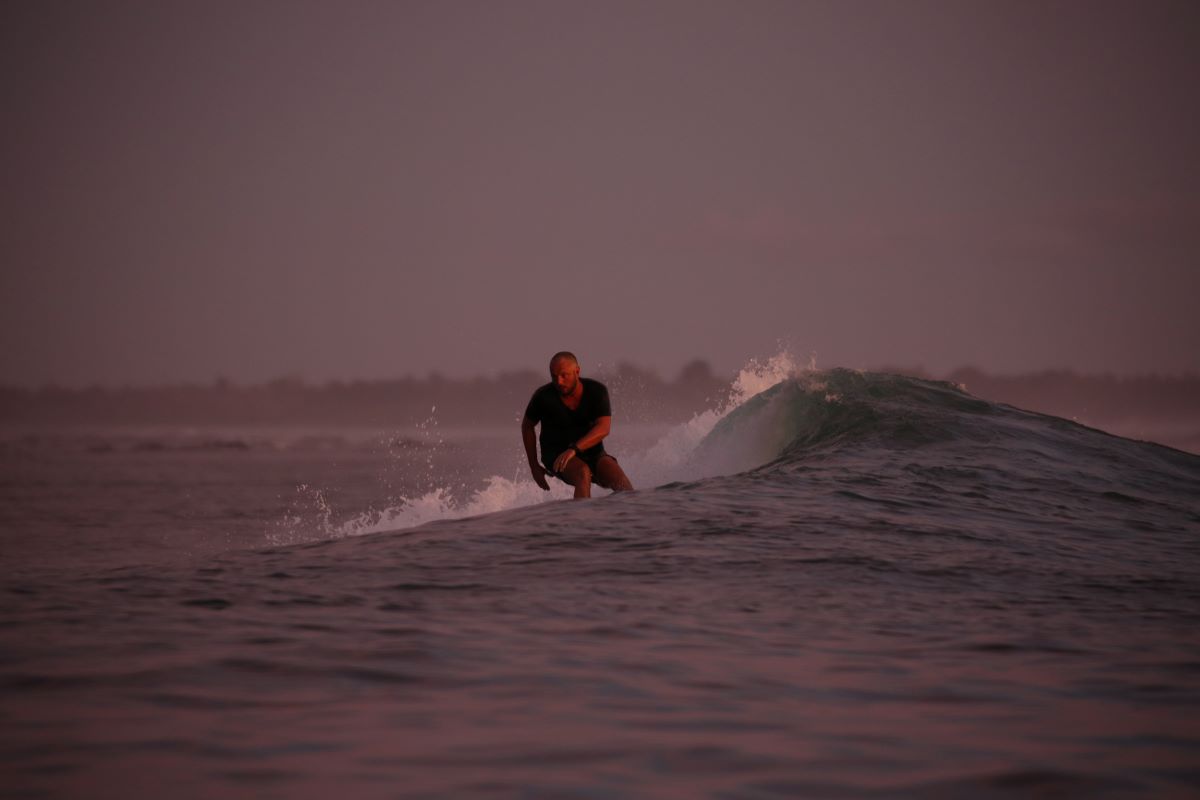 How successful has the Hossegor shop been in your relaunch? Is there a plan for more T&C retail in Europe?
The best way to showcase the positioning of T&C, as a premium core Hawaiian surf brand, was to open a flagship store. In 2020, we opened a tech store in Hossegor, in 2021 a seasonal store in the centre of Hossegor and in 2022 we opened the Biarritz store. These stores helped us to showcase the brand both on a DTC and on a B2B level. They are doing great on a business level, and they opened the door to several business opportunities.
We do not have any specific plans to open any other stores in areas where we can work properly with existing core surf shops. We look at a certain area and we prefer to work with established stores that have a core legacy in that area.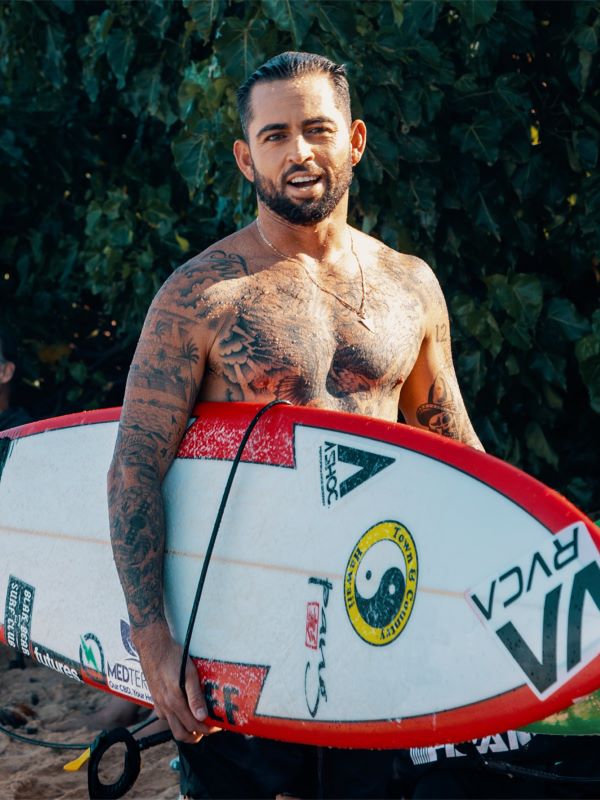 How are you working across Europe with distributors and agents?
For the moment, we handle France and a part of Spain direct. Our most successful territory outside of France are the Canary Islands where we work with Seis, who owns Inprocess, as an agent. In the UK, we work with Cool by the Pool as our agents. Our distributor in Italy is Holy Sport and we started working with Boardtech in Greece this year as well.
We are currently looking for agents and distributors for other parts in Europe.
How does today's surf market compare with the market before Covid?
There are similarities and differences. People have a lot more surfboards in their shed now than before Covid. Stores are full of technical products. The combination of pushy sales reps, shops that based their future purchasing on unrealistic Covid sales and the late arrival of outstanding orders created the high levels of inventory in surfboards and wetsuits we see today in a lot of stores.
It is a fact that there are more people surfing. The nomad working or home office model that became a norm during Covid is obviously very well adapted for surfing. As a surfer myself, you obviously hope that some of them will move onto activities such as fishing, but on a business level, it is good.
As an overall trend, I believe people are happy to go back into store now they can, instead of buying things just online. Our online sales are great, but we see that most of our online sales come from areas where the brand has no physical presence yet.
Which have been the best-selling product categories to date and what trends to do you foresee for this summer?
Surfboards are doing great, but we limit ourselves on the number of boards we want to bring to the market. Our key categories are tees, fleece and boardshorts. We are sticking to our game plan, which is to bring back fun to surf wear through colours and graphics. We work with different artists such as Tortuga, Jon Horner or Kentaro Yoshida.
What opportunities are on the market right now?
There is room for a premium brand with great heritage and strong USP's. In today's world of Instagram influencers and TikTok dancers it is a lot easier to create something that looks real, but without any real foundation or content. There are a lot of brands out there that benefit from the image of surfing, without contributing to the growth of surfing as a lifestyle and as a sport. T&C Surf Designs has invested in surfing since its creation in 1971.
T&C has a great legacy in surfing, but also in skateboarding since the Dogtown days. We believe we can have our spot on the map in both skateboarding and surfing.
We are currently in a market that faces a lot of uncertainties. Both on a macro level, but also within the industry itself. These uncertainties possibly weaken the industry, but at the same time they create opportunities for T&C Surf Designs.