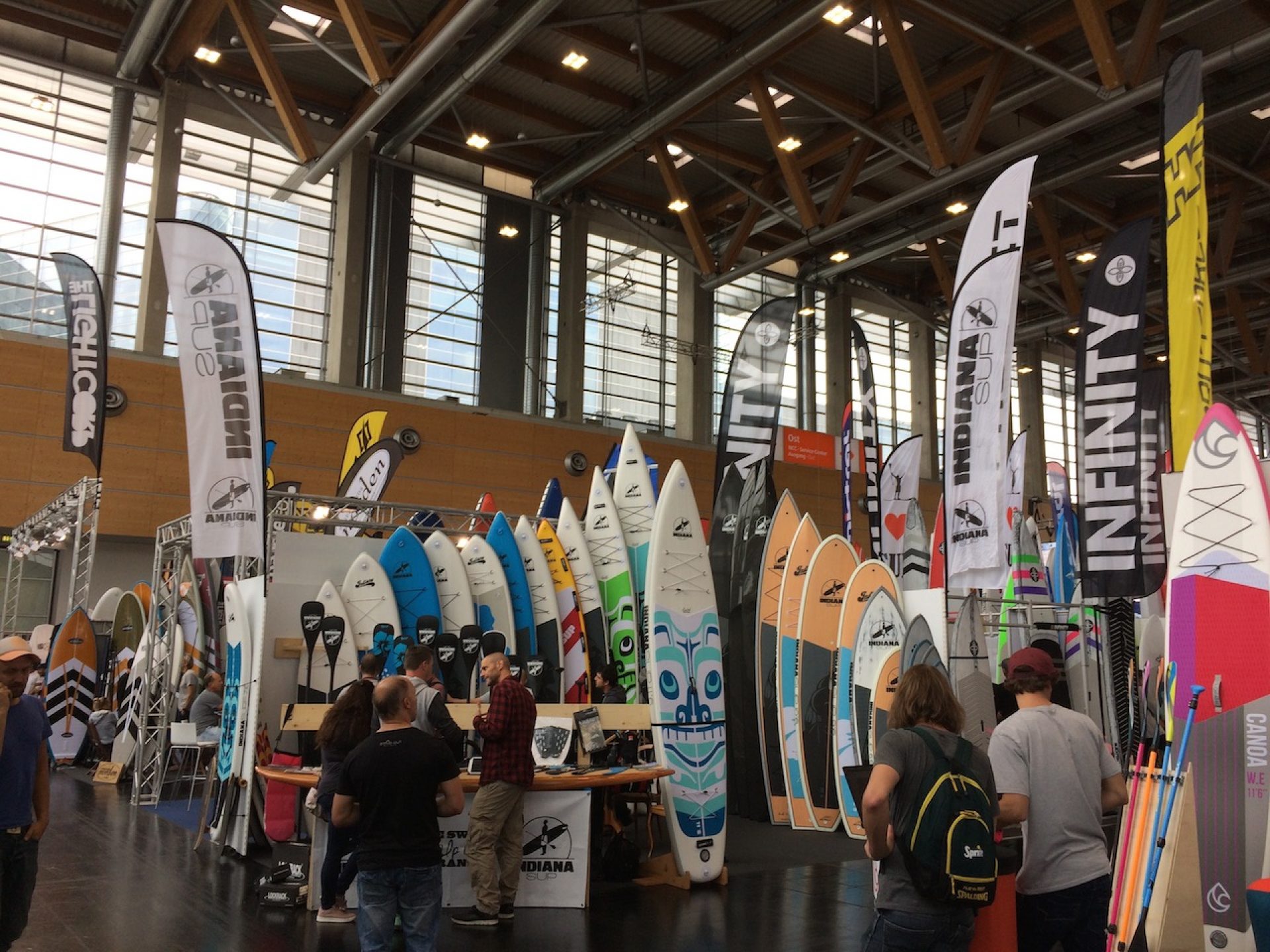 PADDLEexpo Show Preview, October 5-7, 2018
PADDLEexpo opens its doors in Hall 7A of the Nuremberg Exhibition Centre and it's back to the traditional Friday-Sunday slot. This year the date has also moved back to the first week of October from last year's slot in the third week of September. Last year 294 brands including most of the key players in these industries exhibited on 148 booths, with the hall sold out. Attendance saw 1408 visitors from 47 nations with international visitors making up around half of the total with most coming from Switzerland, Italy, Czech Republic, UK and France. For 2018 there are more exhibitors and brands than ever before with 158 exhibitor stands and 309 brands spread across 5088 sq metres of booths. This includes all the key players such as Starboard, BIC, Boardworks, Red Paddle, Naish, RRD, Mistral, Fanatic, JP-Australia, NSP, Focus, Indiana, Lokahi, Aquaglide, Aquadesign and many more. This is the 16th edition of Europe's only specialist paddle sports tradeshow, attracting brands from SUP, kayaking and canoeing. The three-day event brings together retailers from all over Europe to Nurnberg who gather to see the latest product and technologies on offer. Additionally many specialist SUP accessories, clothing and wetsuit brands can also be found. Founder Horst Fürsattel says for retailers, Paddleexpo is a one-stop-shop window for all they will need to buy in the paddle business and it's all under one roof in a single hall, simplifying the selection and buying process for retailers and this is a significant advantage for all visiting shops.
In the evenings there will be live music at the after-work stand parties on the first night, and the industry dinner will take place on the second night. The industry dinner is open to all attendees and last year over 2,000 people sat down for the biggest get-together of the SUP community you will ever see under one roof in Europe. The free buffet is followed by live presentations, the annual 'Coolest Products of the Show' awards, presented by KS Publishing and Rai Puig, expedition paddler and Sea Kayak Guide will also present his new film Solo in Papua. Around the show highlights include the visit of Sebastian Brendel, Olympic champion and 8-time World Champion who will this year be at the FOCUS SUP HAWAII stand for talks and an autograph session on Saturday from 2pm to 3pm.
So all action sports retailers should take the time to visit the show and look at this market as it's a product category that many of their customers are interested in, whether it be inflatables for lakes and rivers, or hardboards for the ocean. And with this long hot summer, consumer demand has been high, so the opportunity should not be missed. All industry professionals and retailers can attend the fair at no cost, you just need to register in advance on the website. Opening hours are Friday and Saturday 9am to 7pm and on the final day from 9am to 4pm.
www.paddleexpo.com