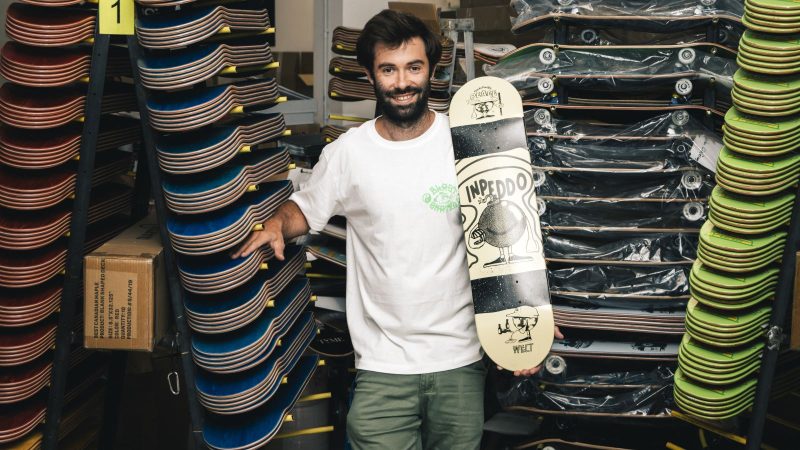 Quarter Distribution's CEO Max Ritter Talks German Skate Market, Brand Portfolio, & Manufacturing
As both skateboard distributors and manufactures in Berlin, Quarter Distribution gets to be a part of more than one aspect of Germany's skate market. We caught up with their CEO and owner (and Chairman of the Berlin Skate Association) Max Ritter to learn more about how Quarter Distribution operates and his perspective on the changing German skate scene. 
Please give us a brief introduction about your company.
Quarter Distribution is a Berlin based skateboard distribution and manufacturing business founded in late 2014. Initially, the main focus was on distributing our own brand, Inpeddo Skateboards (est. 2008), which has since grown to be Germany's biggest independent skateboard brand. In 2017, we moved from the north of Germany to Berlin, where we bought a new facility close to the Tesla Gigafactory. It's here that we are based today, with a 2000m2 space and 15-20 employees. We have welcomed a lot of brands into our portfolio since then and we also cater to third party brands' production needs.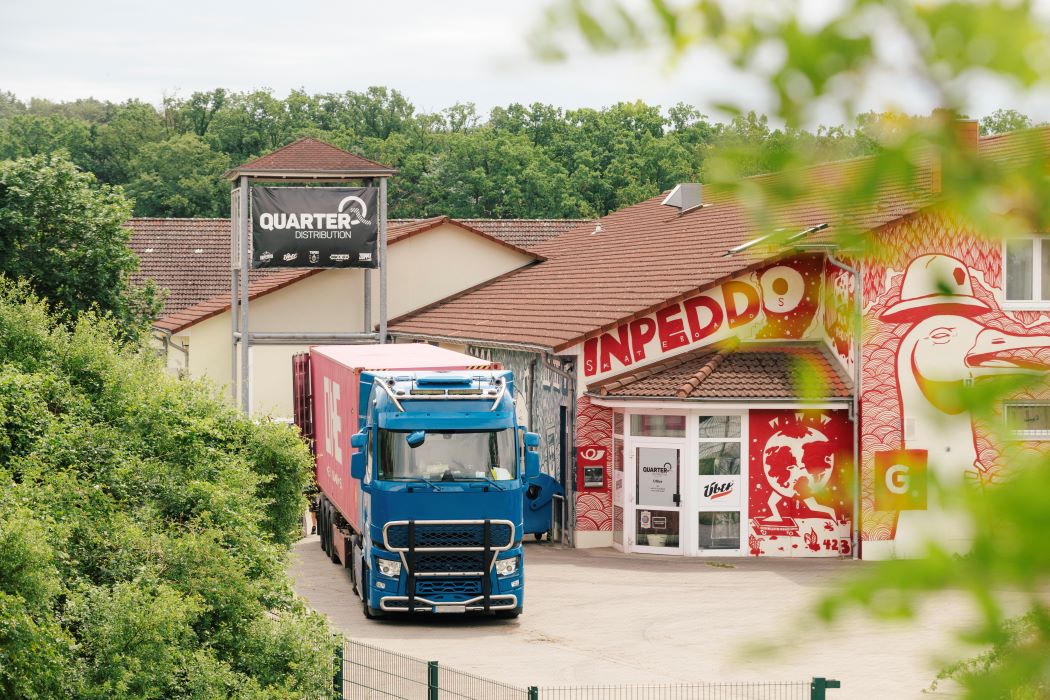 Who are the biggest brands in your stable?
Poetic Collective, Inpeddo Skateboards, Blast Skates, Haze Wheels, and Jessup Grip are some of the most known brands in our portfolio. 
How are you dealing with the current overstock situation?
It's challenging but fortunately we have a very solid customer base which makes it somewhat easier to get through these tough times. On top of this, our worldwide sales network also gives us the option to sell to clients all over the world. Thankfully this helps to relieve some of the stress from the whole situation.  
What skate categories are currently doing best and why? 
The overstock situation concerns mainly the hardware section, but there are still products like kids' boards, longboards, and also our private label section which are doing well. Clothing is also selling well which helps, especially since there is no overstock situation.  
You also produce skateboards inhouse right? Tell us about this process.
We are producing around 100,000 decks / completes per year from small brands through to large, well-known ones. We offer a full service: designing graphics, checking print files, colour management, and then also offering and catering to whatever further customisations the customer might want. For example, working closely with our clients to develop new, custom shapes. This is where having our own in-house board-science department really comes in handy. The printing, scratching, and packing are also done in-house, whilst the deck pressing itself is undertaken by a long-term partner of ours. All of our decks are single pressed, high quality Canadian maple and glued with epoxy resin. This makes our boards very durable and long-living, and also prevents them from twisting. To help create a smooth service we hold a stock of 40,000 decks (different Popsicles, Special Shapes, etc…) and the current average lead time for orders is around 4-6 weeks after the whole preparation process is finished.  
How do you see the skate scene developing in Germany over the next few years?
As we've been seeing in recent years, I am pretty sure the scene will keep growing rapidly year by year. We've seen many new decent skateparks being built all over the place over the past few years. I feel like this has really helped to introduce all kinds of people to skating and we're slowly leaving the niche that skateboarding has become known for. The general acceptance of skating in society is increasing which helps a lot. Being the first chairman of the Berlin Skateboard Association, I can tell that the support from the city has steadily improved over the past few years. Hopefully this applies throughout the whole of Germany, and Europe as well. 
What do you think will be the key drivers of the skate business going forward?
From my point of view the scene needs to be more open for new people. Whether you like it or not, skateboarding is becoming more and more of a regular activity for all kinds of people. I've seen so many associations and skate schools growing in the past which introduce a whole range of people to skateboarding. Instead of football or music lessons, parents are now sending their kids to a skateboard school. I also see a lot of potential in female skateboarding which has received a big push in the last few years. All of together this will help to grow the business.  
How do you support the retailers you work with?
We're supporting them in many different ways. Classics are longer payments terms, solid discounts for good customers, and for sure, proper margins. It's also very important to listen to their needs in general and regularly dropping new and interesting products in cooperation with them.