RE ZRO: Impact Protection That Doesn't Hurt The Earth
Boasting 100% biodegradability and incredible flexibility even in minus temperatures, RE ZRO® have a product that sells itself. We caught up with the team there to find out more about this innovative new brand.  
What was the thinking behind the launch of RE ZRO®?
We wanted to design body armour with sustainability at the forefront of what we do. Part of this was ensuring that our products could be easily recycled but it didn't take too much scratching under the surface to realise that recycling alone was not the answer to the end-of-life waste problem.
Who are the people behind the business?
RE ZRO® was founded by a group of like-minded individuals: Wil Marschall, Marcus Hoenig and Alex Yellowley who were looking to change the impact protection sector for the better.
Leaning on a wealth of product and material design experience, Wil was instrumental in setting the company apart by introducing the products biodegradable qualities. Combining with the 20+ years in commercialising technology that Marcus and Alex bring to the table. The trio looked to expand their team with the experience of Toby Glyn leading Business Development and Jake Tindall as their newly appointed Head of Marketing.
Please walk us through your new technology.
RE ZRO® is the world's first 100% biodegradable* and 100% recyclable impact protection. For us, it was really important when we started RE ZRO® that sustainability didn't come at the cost of performance. At the end of the day, these are performance products that need to protect! They have standards that they must meet, and ultimately, how comfortable and wearable they are is important to the end users. So we tried to focus on building a range that was as lightweight, comfortable, breathable and flexible as we could achieve, whilst also maintaining the performance requirements that we needed for the CE standard.
When a RE ZRO® part hits a landfill, our technology is a catalyst for microbes to colonise and consume the plastic allowing the microbes to enjoy the taste of plastic and use the carbon in the plastic as its food source. Because of that, microbes continue to colonise the plastic and consume it much quicker. So through third party testing that we've done, our parts will biodegrade fully in three to five years.
*Biodegradability as determined by the standard test method ASTM D5511 & ISO 15985-2014
How is RE ZRO® an improvement on existing protection materials?
Not only are RE ZRO® products 100% biodegradable, we wanted to think about sustainability as a whole. Our products don't produce harmful gases or toxic waste, in fact a lot of the flashing (offcuts) from our production are collected, reground and reused in our own products. Furthermore, our materials offer incredible flexibility even in minus temperatures, something that other products on the market struggle with.
Why is sustainability such a key focus of the brand?
Recycling rates globally are very low. So the sad truth is more often than not products that are destined for recycling all end up in the landfill and that wasn't good enough for us. The consumer so often gets blamed for what happens at the end of life of a product when the truth is, they often don't have much choice at all. So it's our responsibility as designers to do better, creating products that are not only better to use but also better for the environment.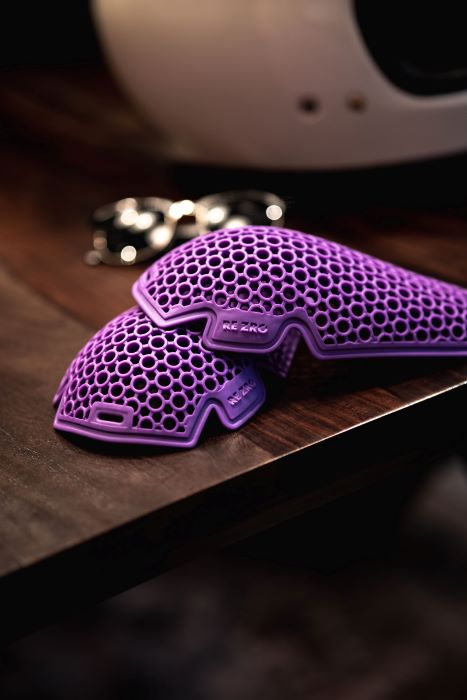 How and when will you be launching the brand into the market?
We're excited to be working with key brand partners to bring RE ZRO® to the consumer market across Wintersports, Mountain Biking, Motorcycle and Team Sport sectors, bringing product to market in 2023.
How do you see the protection market developing over the next few years?
We've already noticed a lot of brands are turning their attention to sustainability, which we're very excited to see. We expect to see more and more of our competitors looking to improve their processes but it's important that the end-of-life of these products is considered from the start. Whilst we want to lead the charge for sustainability in impact protection, ultimately we want to see a change of process and a change of thought leadership, and champion making positive changes for the benefit of everyone.
What other action sports will you be targeting and why?
The applications for RE ZRO® technology are vast, whilst we're initially looking to take on the Wintersports, Mountain Biking, Motorcycle and Team Sport sectors, we're also in talks with potential equestrian, sailing, skateboarding, industrial, and military brand partners.