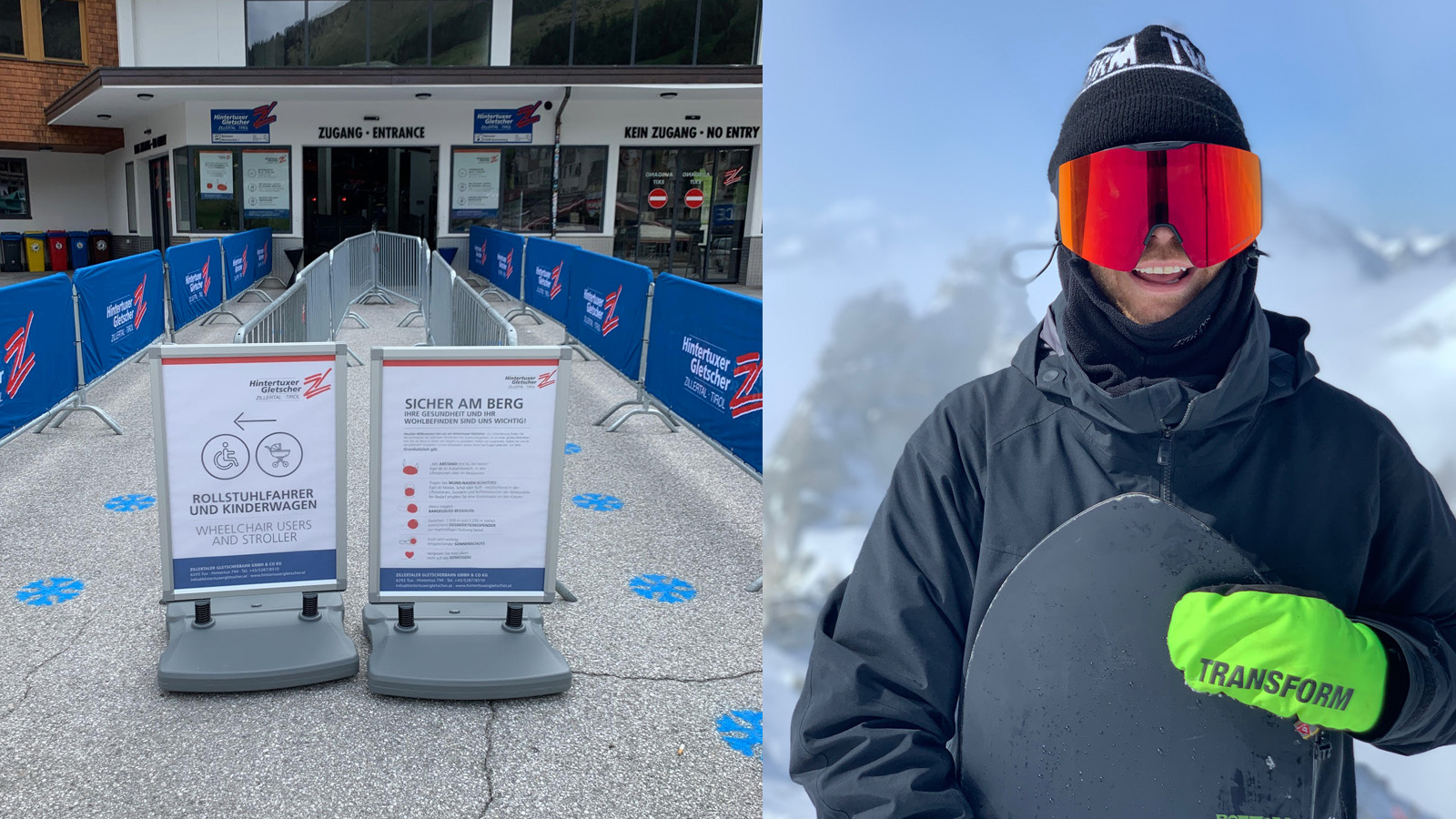 Snowboarding Returns To Hintertux May 29: Transform Gloves' Tom Kingsnorth Gives Insight + Talks Biz
When scrolling Instagram this morning, we noticed glove guru Tom Kingsnorth of Transform Gloves was going snowboarding. We've seen plenty of people hiking lines and jibbing side country, but it seemed as if Tom was actually heading up the gondola to Hintertux's glacier. So we gave Tom a shout once he'd returned from his shred to get insight into what snowboarding looks like in the 'new normal' and to catch up on how COVID's affected his business. Interview by SOURCE Editor, Harry Mitchell Thompson. 
Hey Tom, how's lockdown been for you? You said you're almost sure you had a mild form of COVID?
Lockdown for me has actually been a very positive experience. Initially, for the first few days I was hating it, the lifts all shut, borders closed and all shops closed everywhere, including all of our Transform stockists. The early days had a very doomsday feel to it and then most of my friends started getting struck down with COVID. I had all the symptoms such as migraines, no energy, bad cough and lost my sense of smell and taste which was the most bizarre feeling. I didn't get tested as the testing kits were limited and my symptoms were overall extremely mild, so I wanted to save it for someone who needed a test kit more than me. I just self-isolated for a few weeks and read a lot of books. Since then life has been returning to normal so I've been running a lot, chatting to friends and colleagues on zoom and as of today, snowboarding.
More on the shred in a moment… What have been the biggest things your business has experienced since the lockdown? (loss of orders, slow internet sales etc)
All of those things you mentioned I experienced, I think all snowboard brands were in the same boat this winter but the main one was a lower pre-order for next season than the previous season. I do think that the bad snow we had almost globally did the majority of damage to sales and the COVID just made it even worse. The internet sales stopped for a while but have grown back over the past few weeks. We will just have to see how much of a knock-on effect this has with next season's sales because a lot of stores will be sitting on a ton of product that they couldn't sell at the end of the season.
I know you were careful with not wanting to cannibalize your retail partners… how did you do this?
I saw a lot of brands pushing huge sales on their web stores and that didn't sit right with me, I'd like our retailers to have a chance to sell what they have ordered from us as a priority. I also didn't feel like it was the time to make a lot of social media adverts encouraging people to go out and buy snowboarding products, yet again the timing didn't seem right at all. I love snowboarding but at a time like that I think we could all need a pause from it to focus on bigger pressing concerns.
Now – to your shred today. How was it? Was it busy?
Today was glorious, freshly groomed pistes, virtually deserted with no lift lines, a little dust on crust in places and blue sky. It was like being back in 2019 again!
Were the pistes in good shape?
The pistes were perfect today, no ice, freshly groomed with corduroy. I should be telling you that they were rubbish so everyone stays at home and we get it all to ourselves, haha! But full credit to Hintertux, it's amazing up there.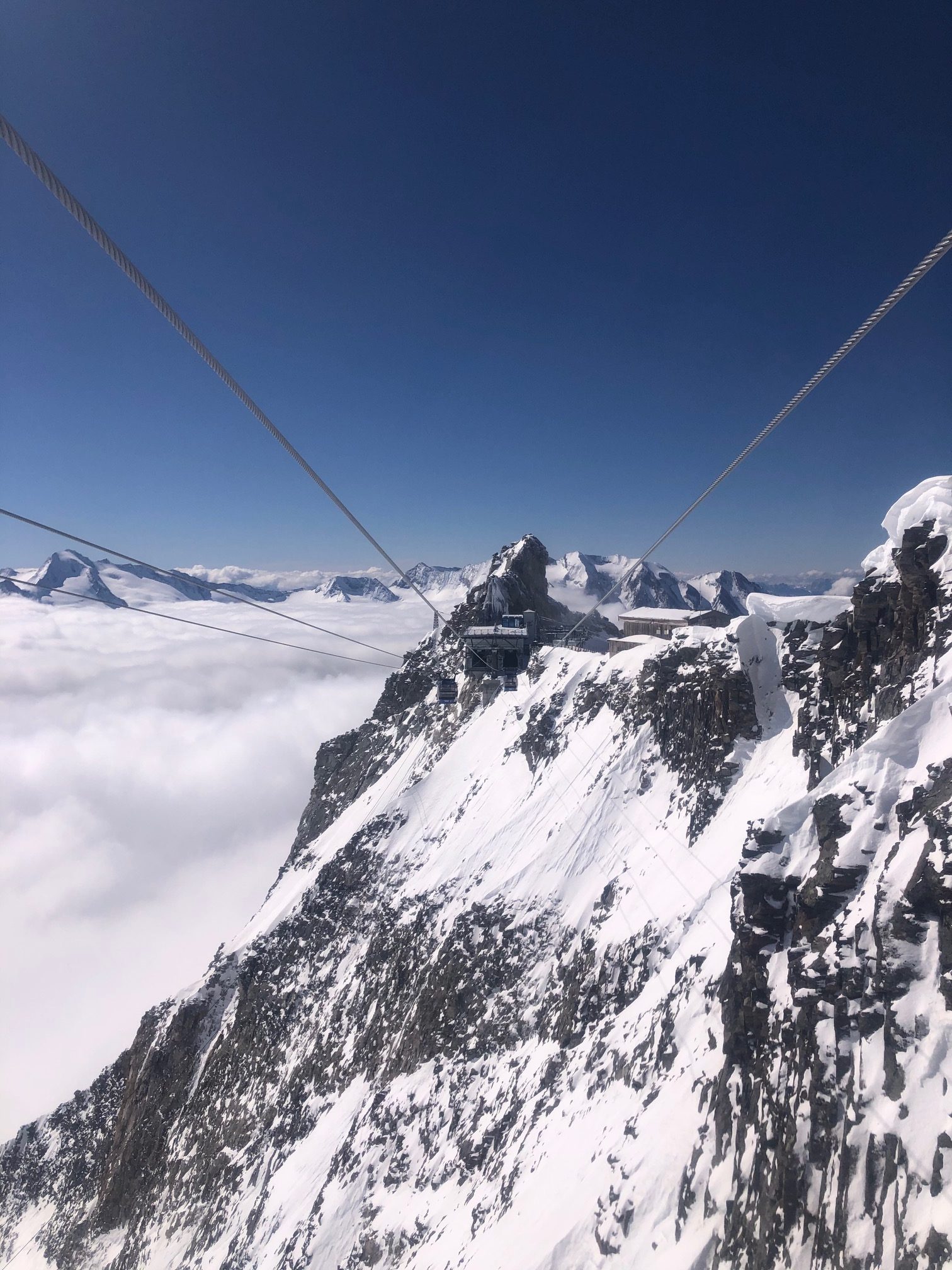 How did you find out the glacier was opening today? Was there a lot of marketing done?
I just found out from someone sending me a link to Hintertux's Facebook post about it last week and since then word of mouth has traveled like wildfire. I don't think anyone really expected that the resorts would open at all until October at the earliest. I'd come to accept that I was done riding for this year. Then the Tirol Card announced that not only the Tiroleon resorts were open, but with the added bonus that we could use our Tirol cards (that would have run out in mid-May) until the first week of August. This is to make up for the time we missed with them closing early, but to be honest I wasn't expecting that and I plan to make the most of it!
And talk us through the procedures you saw – sanitation devices etc. Social distancing measures.
Yes, so there are a few measures in place now. There are hand sanitiser machines at the entrance of all gondola stations and also inside, you have to wear masks on the gondola but they were okay with us wearing neck warmers pulled over our nose and mouth. There are also barriers to keep your distance from each other on the main gondola.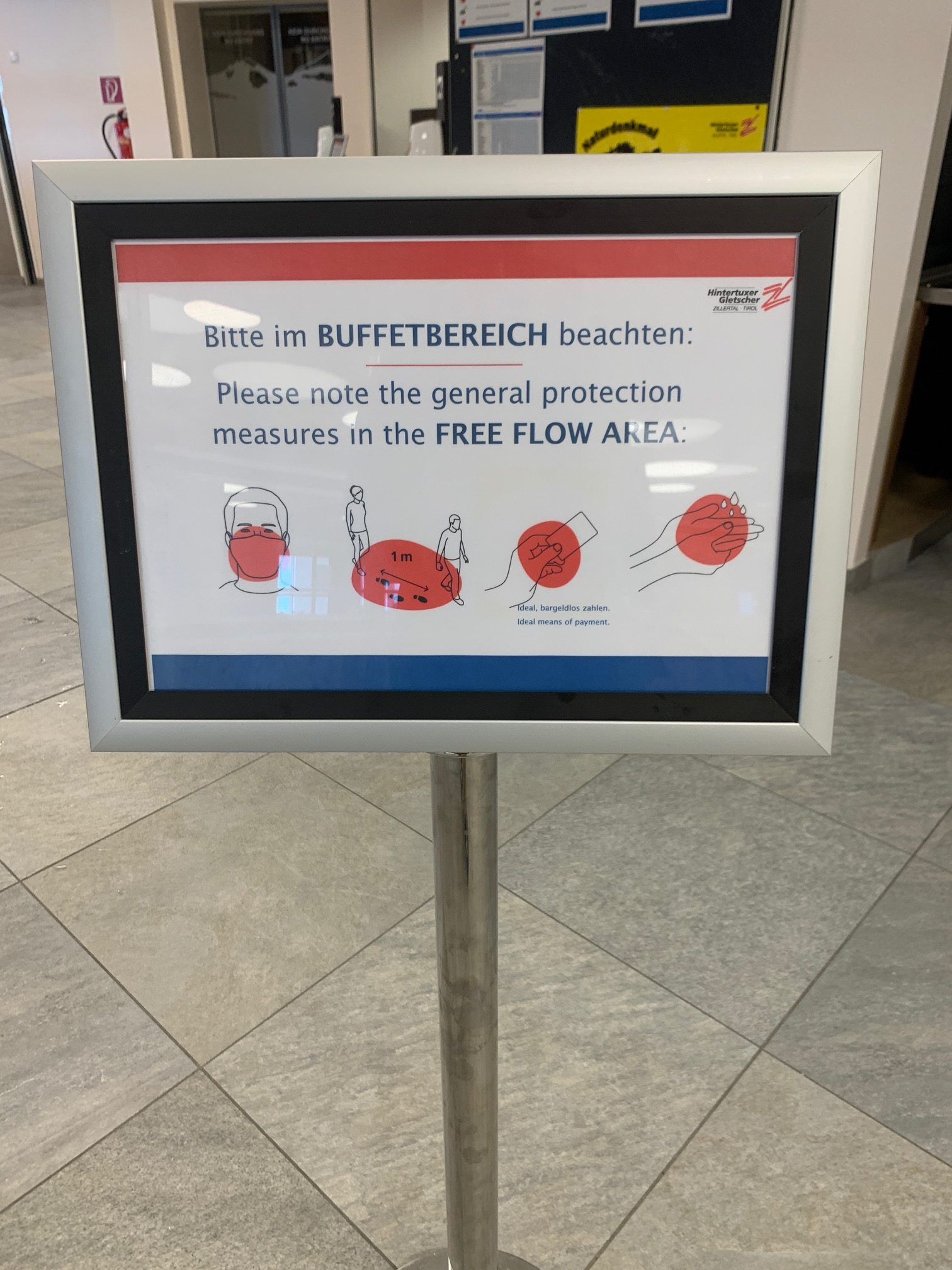 Were there any food or drink facilities available on the hill?
The main restaurant was open as normal but you had to wear a mask when ordering / paying. Yet again a neckwarmer was fine for this too.
Do you know for how long they plan to keep the glacier open now?
I'm not 100% but I believe that they are now open as normal. Usually Hintertux is open for 365 days a year and it appears to be business like normal.