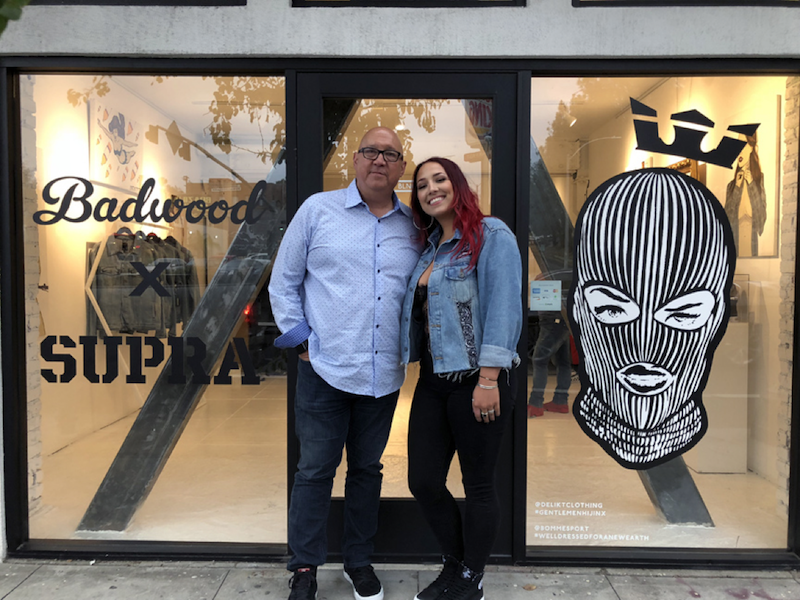 SUPRA x BADWOOD VIP Pop-Up Shop And Collection Launch
Following a successful first collaboration between SUPRA and BADWOOD (which sold out in just 20 minutes) the two brands worked together for a second time launching their new collection at a VIP launch party and pop-up shop in Echo Park (LA, California) last Friday. 
Press Release: SUPRA and BADWOOD kicked-off the weekend and packed out its VIP launch party and pop-up shop in Echo Park last Friday with several hundred attendees. The event showcased the limited-edition denim jacket and SUPRA Belmont High shoe from the collection and supporters enjoyed the works of an on-site tattoo artist, tooth gems from ToothKandy and free-flowing beer sponsored by Heineken.
"It's surreal to have had the first collection sell-out in a matter of 20 minutes so I'm stoked to rekindle this collab for a second run with SUPRA," said BADWOOD founder, Natalie Wood.
The event kicked-off at 7:00 p.m. and went well into the night as VIP guests enjoyed music from DJ EB and custom, admire hand-painted art from Natalie, buy exclusive pieces from the collaboration and mingle with influencers. Guests also took time to congratulate Natalie on her popular, second collection with SUPRA.
With a limited product run, SUPRA held a pop-up shop for event attendees to view and purchase items at the party. One of the two jackets, customized by Natalie was available for auction on Suprafootwear.com and at the end of auction on Friday, the jacket closed for $750. One-hundred percent of the proceeds from the bid is set to go directly to URB Sub Pet Palace. URB Sub Pet Palace is a non-profit team that shelters, rehabilitates and ultimately adopt out local homeless pets to loving families.
SUPRA and Natalie Wood would like to thank the following sponsors for their support: Delikt, Heneiken, Loco J, Tooth Kandy and The Snap Bar.
The Los Angeles native, Natalie "Badwood" Wood is a streetwear designer and fine artist who started from humble beginnings in her parent's garage and launched her streetwear brand, Badwood in 2013. Since starting her brand, Natalie has expanded from her one-woman-operations yet still manages to personally screen-print limited edition flannels and collections.
THE SUPRA x BADWOOD BELMONT HIGH retails for $120 and is available on Suprafootwear.com.