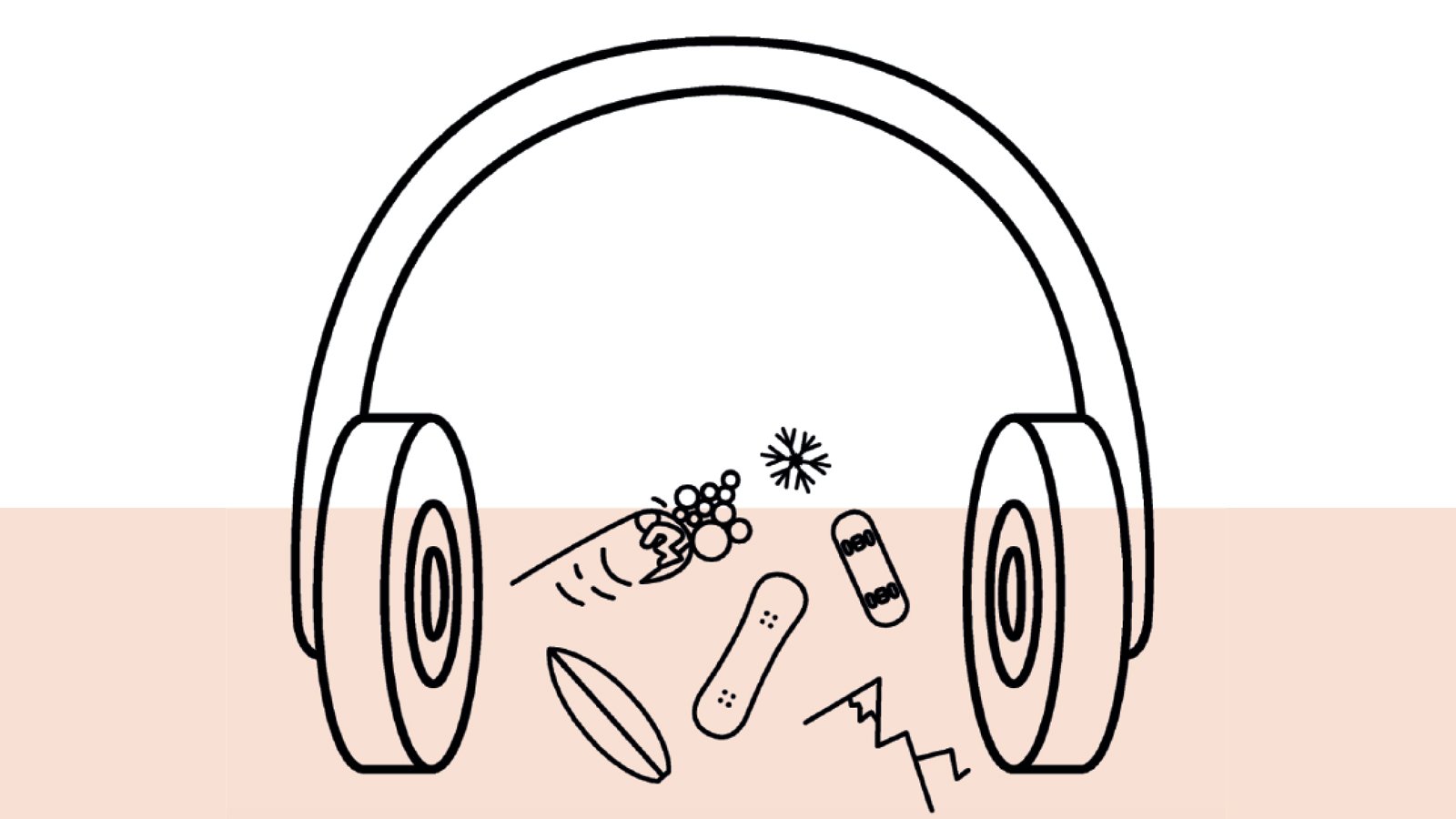 The Rise Of The Action Sports Podcast
In a crowded media landscape the humble action sports podcast is seeing rapid growth. Where printed media outlets are in decline, online article lengths shortening and attention spans dwindling, the mighty podcast can be consumed like no other media today. When connected to the internet we're responding to emails, scrolling our Instagram feed, chatting on Whatsapp – information is constantly flowing two ways. But what about the times when we're driving, commuting, are underground, at the gym, doing DIY or walking the dog? Podcasts have filled a time of day when we are alone and hungry for content, but without the ability to fully engage in our smart phone. A study on the rise of the action sports podcast by Harry Mitchell Thompson.
Five years ago, the beauty of social media feeds meant that the user could curate their news intake by simply following accounts and sources they trusted. Now, cunning social media algorithms spew out ads and posts in an order to suit the platform's business model, spelling disaster for media outlets who hedged their bets on one particular platform. However, at present, the podcast has slipped into the media landscape relatively unnoticed and yet fills a niche perfectly. Want a weekly news show that discusses all relevant subjects from that topic? Easy. Want long form interviews and in depth exposes? No problem. Barriers to entry? Low.
As with any new media platform, there comes a gold rush and the action sports podcast world has seen many new players in the past 12 months, but SOURCE has spoken to some of the industry's early adopters to find out more about the medium and to explore the different business models available. We spoke with three podcasters all with different offerings. Chris Cote runs the Monday M.A.S.S. (The Monday Action Sports Show), a fast pace, co-presented weekly news show. Matt Barr's Looking Sideways podcast features long form interviews with luminaries of the action sports world and David Lee Scales runs Surf Splendor, a podcast platform encompassing six different shows including a bi-weekly surf news show, a surf gossip show, an in depth interview podcast and David also produces shows for two other podcasters.
While the podcast is a new hyped form of disseminating content, with relatively low barriers to entry, it must be noted that each of these podcasters are already professionals in the action sports industry: Matt Barr from Looking Sideways is the co-owner of ACM, a well established pan European action sports marketing agency. M.A.S.S's Chris Cote is one of the action sports industry's best-respected commentators and Surf Splendor's David Lee-Scales is Creative Director for surfboard foam company, US Blanks. Looking Sideways' guest highlights include three-time world surfing champion, Mick Fanning, snowboarding legend Bryan Iguchi, surf pioneer Tom Carroll and a slew of other "interesting stories in action sports and other related endeavours." Chris Cote hosts his M.A.S.S with NBC Olympic snowboard commentator, Todd Richards while Scales co-hosts a show with published author, and Beach Grit provocateur, Chas Smith and also hosts another show with long-time surf reporter and producer of The Boardroom Show, Scott Bass.
FILLING A NICHE
So just why has the podcast exploded in recent years? Looking Sideways' Matt has run his agency for a decade and before that edited UK snowboard magazine, Whitelines for even longer, and feels the new format simply "offers a way into the stories and the individuals that other media didn't previously offer. When podcasts work well, and people relax, they're more themselves, they're more honest and more truthful. It's people not filtered through a traditional media lens." David from Surf Splendor says that the podcast is a departure from social media's instant gratification: "In the digital age, everything has become so curated and fake and your Instagram feed is just the best version of your life. I think that regardless of what technology does and how it changes our lives, the one common denominator that will always translate is humans wanting to connect with other humans and also feel validated by other humans. The podcast medium is great at that, especially unedited, because you can hear inflections in people's voices that you don't get when something goes to print."
An avid podcast fan himself, David's concocted a pretty interesting theory, which goes a step further in unpacking the podcast's rise to success. David suggests that if the podcast is consumed through in-ear headphones, then "they're literally in your orifice. My voice is inside of you. There's an element of physical intrusion there that forces an intimacy that I don't think can really be overlooked or overanalysed. That's real and I'm a part of you. But if you go beyond that, and you're in the car listening, that's still very intimate. We're doing a long car ride together and I know it from being a podcast listener, that I feel like I know the host. For people who I have listened to for years, I feel like I know those guys and if I saw them at a bar I could walk up very casually and jump right into a conversation as if they're my friends."
A journalist at heart, Matt Barr's Looking Sideways endeavour has given him a resourceful output, in a media landscape where he was told by one editor that long stories nowadays are "like eating greens and there's only so much eating greens we can make people do!" Ironic considering his podcast was established in January 2017 and has already featured over 75 interviewees, all of which run for at least an hour, emphasising the punch that the podcast packs.
THE BUSINESS MODEL
Until now podcasts in action sports have remained largely unpaid and have worked either as supplements to a business model (Surfer Mag, Surf Europe) or have allowed the likes of Scales, Barr and Cote to forge their very own media platforms. But just how are these podcasters justifying the time spent in producing and distributing a podcast? A labour of love, a canny ancillary product for their day job, or is there a fruitful business model on the horizon?
For Chris Cote it's straight forward: "my day job is play-by-play for surf, skate, and snow broadcasts so I originally started doing the M.A.S.S just to keep the tools sharp between events as well as to force myself to keep on top of the latest news in all three sports." Chris operates his podcast on a sponsorship model, where he works with a number of brands and shops who pay to be associated with different sections of the show. Although Cote says he's not in it for the profit, "this is just a cool way of making the show pay for itself."
Barr's upfront about the connection between his marketing agency and his foray into the podcast world. "I think ultimately as a marketing agency we sell brands creatively. And I made up a brand that has been really successful. I think most people would see this as a demonstration of ACM. On quite a shallow level it's a demonstration of reach and net worth. I see the podcast and ACM as really complementary. If you want to work with a PR and marketing agency you want to see that they're well connected."
Tackling the revenue model head-on, Barr has openly engaged with his audience on social media throughout every step of his journey, polling for support and critique on his involvement with brands in the space. After a hefty case of due diligence, Matt's finally come down on his preferred business model and it comes in the form of a partnership with Patagonia that allows him to keep doing his Looking Sideways podcast as normal, but introducing a new show called Type 2, paid for by Patagonia, focusing on issues of activism in action sports and the outdoor world. The Type 2 show will appear in the Looking Sideways podcast feed, but will be branded accordingly and include an ident at the start, but Matt assures it "won't be a procession of interviews with Patagonia ambassadors and will be more of a spotlight on the people and issues in that world. Giving my listeners more free content and keeping the original Looking Sideways format ad-free." A format borrowed from famed skate podcast, The Nine Club.
Scales is continually re-evaluating his thoughts on podcast revenues, but his current thoughts are that it "should always be available for free, but I want to at least empower people to throw some change in the tip jar if they want to. I also want to take the power out of the traditional surf media model, where if I was solely funded by brands, you then become just somewhat indebted to them and you start crafting content for the brand." Having been in the space for almost six years, David's explored a number of various payment models, from contribution to subscription and advertising models.
David worked with Hurley successfully at the Surf Ranch Pro 2018. "Hurley understands the podcast medium well enough to tell me, "we don't want it to feel like it's branded content. So by all means, be critical, ask Felipe (Toledo) if he's comfortable at Teahupoo (the pro surfer had been given stick for not having his big wave chops about him). We want you to ask the hard questions." Scales has also established a partnership series with Vissla, resulting in his Creators & Innovators podcast, where they told him "you know your space better than anybody. Do what you want to do and we'll give you cart blanche to do it. You don't have to interview our athletes if you don't want to."
It's important to note that despite the low barriers of entry to the podcast world, what we mustn't underestimate is the part these three podcasters' notoriety has played in their successes. From printed mags to online news stories and podcasts; you can have the best content in the world, but if the distribution vehicle isn't right, that story's never going to reach its potential audience. David Lee Scales has worked hard at it for years and also used the experience and notoriety gained by Scott Bass (co-presenter of Spit!) to leverage the platform and more recently has used Chas Smith's Beach Grit connection to really grow his numbers. And Matt Barr, a very well connected UK journalist who has worked in action sports media for 25 years has a well established network and Cote's reputation combined with Olympic commentator Todd Richards speaks for itself.
Against a backdrop of large action sports social media channels falling victim to algorithms promoting paid content – large audience numbers but low engagement figures – it's taken real journalism, hard work, quality and long established networks and relationships for these podcasts to grow legs.
Surfer Mag and Surf Europe used their podcasts for a number of years simply as additional content for their audience, but speaking on the rise of the podcast at a seminar during the recent edition of Surf Expo, David gave reference to the New York Times' introduction of its 20 minute news recap pod, The Daily in 2017, which added to their 540K print readership with a colossal 3.8 million daily downloads within a few months. Interestingly, the NY Times managed to actually convert those listeners into paid subscribers and have even seen a surge in subscriptions, which they attribute to the popularity of their podcast.
It'll be interesting to see not just how the podcasters interviewed here progress and potentially monetize their endeavours, but we also look forward to seeing how action sports media will embrace the platform. It would seem that while the gold rush has been strong in the last couple of years, making money from the platform is far from straight forward.
Subscribe to David, Chris and Matt's podcasts here:
Monday M.A.S.S. – Chris Cote
Looking Sideways – Matt Barr
Surf Splendor – David Lee Scales
Spit! – David Lee Scales
The Grit – David Lee Scales
Creators & Innovators – David Lee Scales