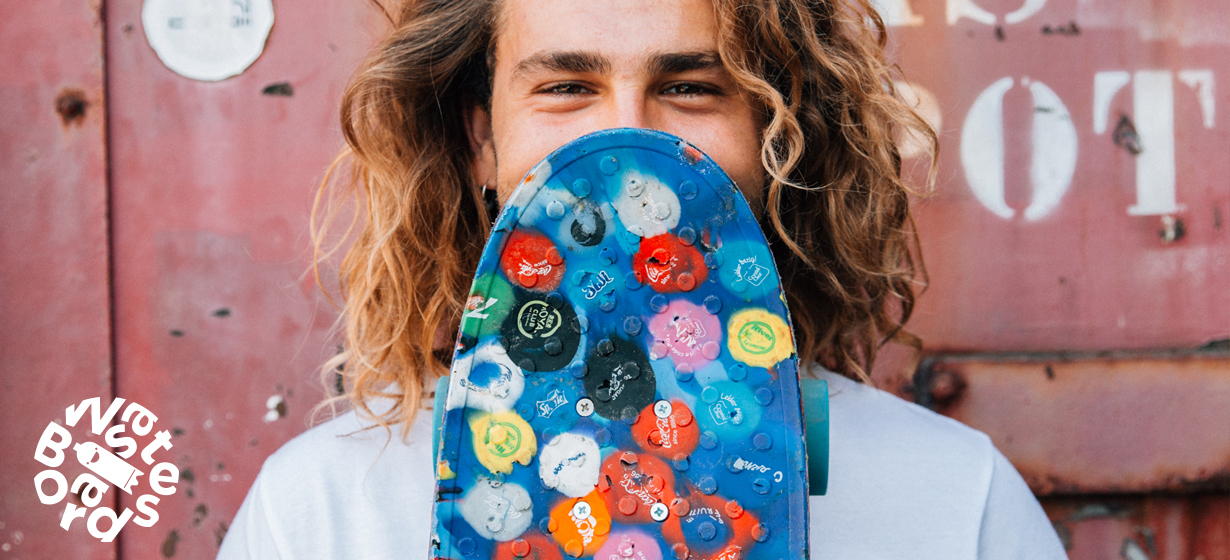 WasteBoards Brand Profile: Recycled Plastic Bottle Cap Skateboards
'The Squid' was the first prototype made in WasteBoards' very own bakery in Amsterdam in 2016. After entering in to partnership with The Amsterdam School of Applied Sciences the recycled plastic cap skateboard was invented. With a distinctive trademark such as plastics caps, WasteBoard Skateboards might just be the new wave to ride for the future of skateboarding. Full interview below with Jonathon Morisson from WasteBoards.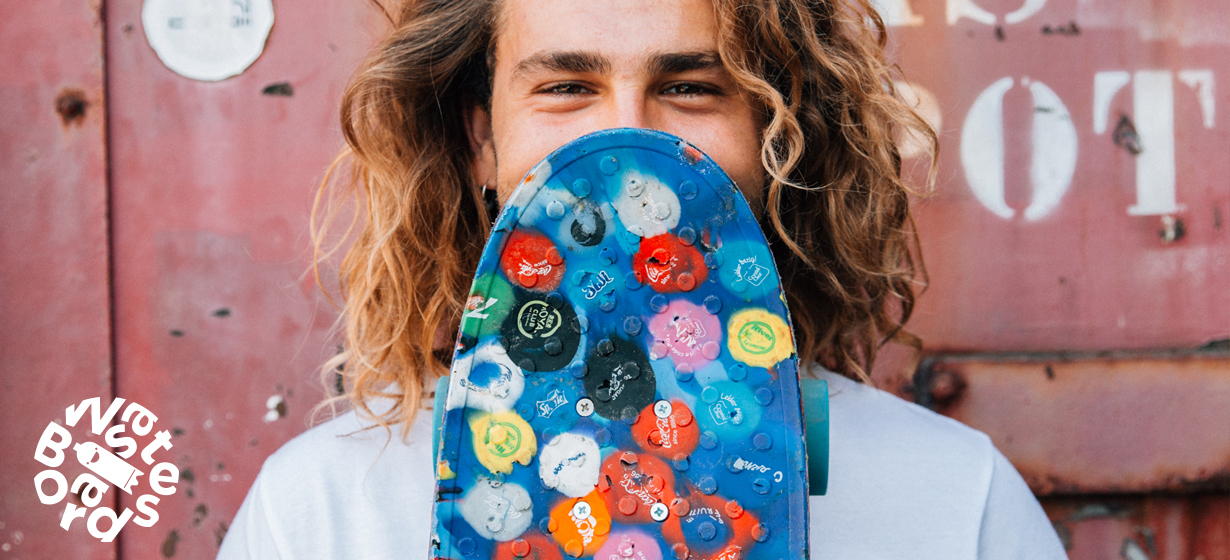 WasteBoards Skateboards
Please give an overview of how and why the company began?
We would like to contribute to a cleaner world without plastic waste. We do this by showing that waste is a valuable raw material for cool products.
In 2016 we entered into a partnership with The Amsterdam School of Applied Sciences and we developed the first prototype skateboard of recycled plastic caps. After many tests, we made our first WasteBoards model 'the Squid' at the end of 2016 in our own WasteBoards Bakery in Amsterdam.
Halfway through 2017, we launched our second model 'the Star'. This board is made for the skateboarder who wants to do some more tricks. The board has been extensively developed with advanced skaters.
Who is on the management team, and what are their backgrounds?
The founders are Aernout Zappey, a partner at a law firm in Amsterdam and an enthusiastic skateboarder. Aernout's interest lies mainly in the sustainability aspect of WasteBoards and the technical possibilities of recycled plastic waste. Rogier Heijning is Creative Director at an advertising agency in Amsterdam. His interest lies in establishing sustainable brands through marketing and communication. Jonathan Morisson is skater and head board baker at WasteBoards. He is responsible for the daily operation and production.
What is the company ethos?
We want to show that waste is a valuable raw material for cool products. By making high qualitatively good products that are better for the world, people no longer have to buy the polluting products. So that's why, above all, we made sure our boards skate super fine because that is for skaters still the most important reason to buy our skateboards.
What sets you apart from your competitors?
We are the first circular plastic skateboard brand in the world. We do not use any additives in our production process. Our boards have a great combination of being extremely strong and the right stiffness. Therefore it skates fantastic. With our skateboards, we open the discussion about how we should deal with waste in our streets and in the ocean. The recycled plastic caps (with logo's) are still visible on the deck of our skateboards. The caps-pattern is WasteBoards distinctive trademark. Every design we make is unique because every skateboard is made by hand.
How did you come up with the idea to use wasted bottle caps?
We thought it would be a great idea to make the skateboard from the waste material you can find on the street: plastic caps. When we saw the effect of those melted plastic caps in a colourful pattern we were immediately sold. You can make so many unique designs with it. And you see the problem (plastic waste) and the solution (skateboard) at once.
Please explain how you build your boards
First, we melt a layer of granules (small parts of plastic caps) in the oven. On this molten layer, we make a design of whole caps. Then this goes back into the oven. When the plastic is melted, we squeeze it into a mold. After pressing, it takes a while to wait and then the skateboard can be removed, cut clean and provided with truck and wheels.
How do you support athletes and boardsports?
Our boards are popular with skaters and surfers who can relate to our story and want to do something about waste on the streets or in the ocean. There are a number of influencers who spread this story while riding their own designed WasteBoard. And we are willing to create a WasteBoard for every influencer that has a massive reach and wants to 'join the ride'.
Why should retailers sell your brand?
Firstly because WasteBoards are just very good skateboards. Skateboarders love to ride them. But the unique thing is the story that you carry out. That you show that you look beyond your own street but also want to show people in a positive way that waste can actually be very valuable and does not belong in the street or in nature.
What do you see for the future of your company?
We are on our way to becoming the most sustainable skateboard brand in the world. That is why we sell not only skateboards but also t-shirts and bags. In the end, it seems fantastic to have our WasteBoards made all over the world. Especially in places where there is to much plastic waste and too few jobs.