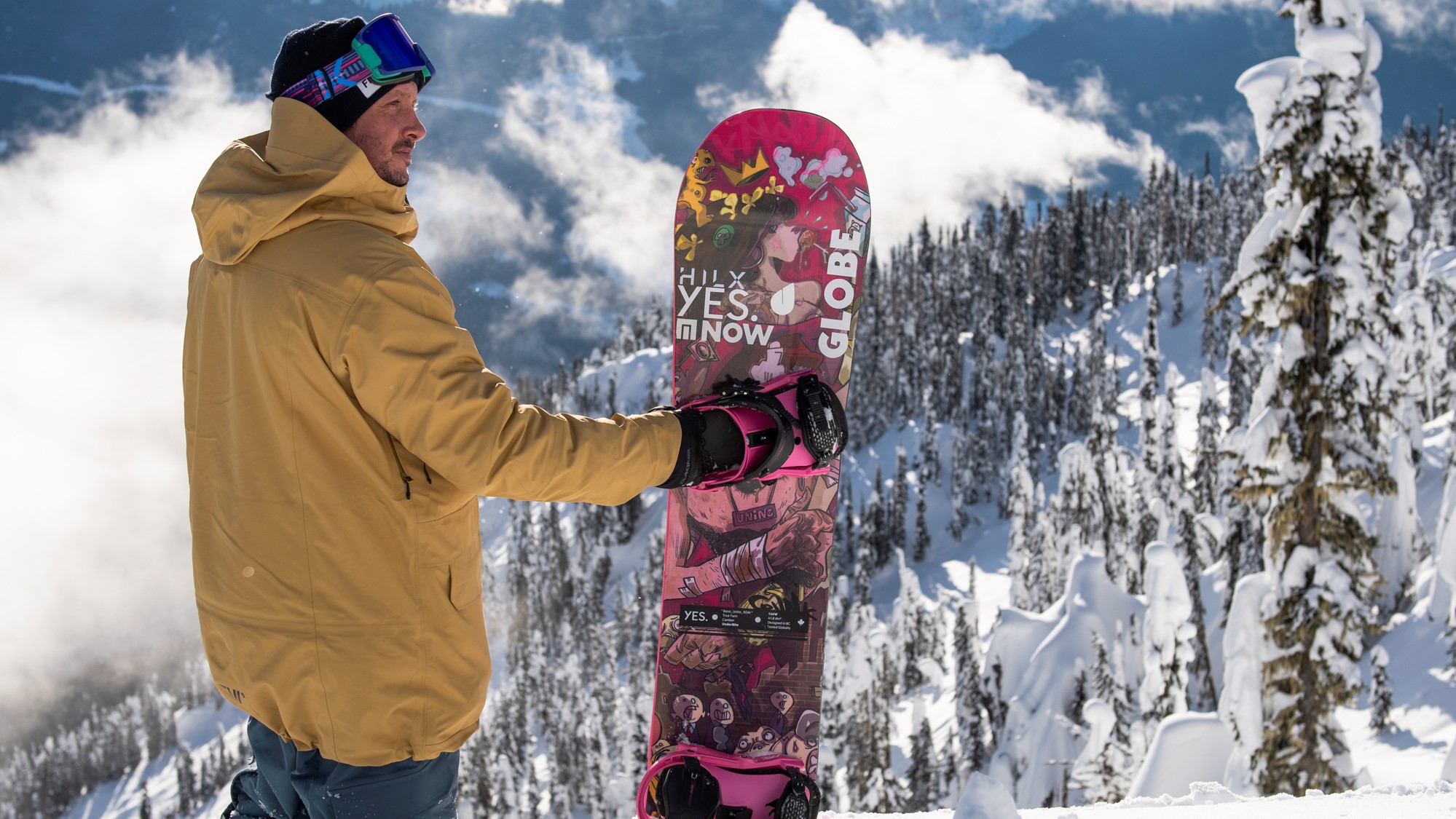 YES. Snowboards Widens UnInc Line & Strengthens Women's Offerings For 21/22
Launched in 2008 YES. has become a household name in snowboarding. We caught up with David Pitschi from YES. to see how they dealt with what is arguably the worst winter in history and what we can expect from them in the upcoming season.
Please bring us up to date on the brand.
It all started in 2008. Romain de Marchi (RDM) was the most explosive rider on the planet, he had mastered Chad's gap and was bringing big freestyle tricks into the backcountry. Jan Petter Solberg (JPS) was pushing the limits of freestyle in the backcountry and David Carrier Porcheron (DCP) was opening new hits and lines across the British Columbia backcountry.
Those 3 boys were changing snowboarding and influencing all generations of riders. They were the golden children of snowboarding. But at the top of their game the global crisis of 2008 hit hard. They had to get creative.
That year Obama was running for president and his motto was YES WE CAN.
They thought exactly that when they proposed to build a new snowboard brand. Everyone was saying "it's not possible", "you can't pull it off", but Barack Obama's words came in too strongly. They reached out to the Nidecker brothers and pressed their first boards. The boards were hand painted and YES. was founded.
Today YES. is a thriving snowboard brand distributed around the world with a growing number of riders getting on the boards for both their quality and the authenticity that YES. brings to snowboarding.
What is the brand's USP?
"YES WE CAN"
YES: Is a statement of positivity, an answer to naysayers. It's the most powerful word in all languages. As with the question "should I go riding?", the answer is always Yes.
WE: Us as a group, as a crew, we ride together. We are an industry, a community, a family of like-minded people that can achieve anything when we put our energy together.
CAN: The possibilities are endless; we can do anything. It's in our ability to elevate snowboarding and to deliver a better riding experience to everyone. The essence of YES. is that it's all possible when you combine passion with will.
YES. is a collective effort, we are all in this together to make it better on our own terms. Snowboarding is built on people doing things they were told they couldn't. From resorts not allowing snowboarding to parents saying you can't go riding.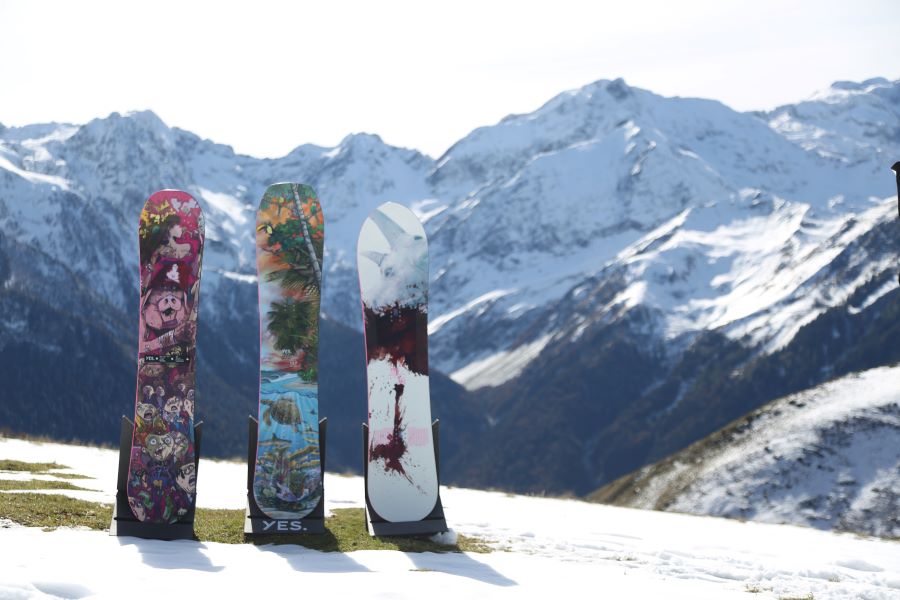 What are your best sellers in the current line and why?
The current best sellers are the Basic, the Greats UnInc and the Standard.
The Basic is the board that started it all, it's a twin all mountain board that everybody loves. It's a great board that features some key technologies such as the UnderBite edge profile that gives you better edge hold and easier turns. Redistributing rider weight and input power, UnderBite enhances turning ease and edge hold. By having the edge pulled-in a couple of millimetres at the binding area it acts like a gas pedal or a serrated knife, enhancing the cutting power of the edge. While turning on hard packed snow you will need an insertion point to ease the edge. Once you've engaged your edge you are driving your turn, from nose to tail having better edge control and a smoother drive.
The Standard is a Directional Volume Twin shape with a wide platform underfoot and Slamback inserts for those unexpected pow days. MidBite outline brings out the kind of response and edge hold that will shatter preconceived notions of what a mid-wide board can do. MidBite blends the response of a narrow waist width with the stability of a wider nose & tail. The design steps a single section of each sidecut inward between the insert packs. This single long disruption of the sidecut between the bindings creates a narrower waist width, providing quicker edge-to-edge response. Meanwhile, with bindings out to the end of the sidecut we maintain a wider board width that improves float in pow and is a stable platform for popping, spinning, and landing on any snow type.
The Greats UnInc: The best carving twin you'll ever lay an edge on. The Greats UnInc has an ever-growing legion of followers. It is an asymmetrical twin with asym-flex, with added asymmetrical MidBite to the opposing side-cut specs. The end result is a high-performance twin that delivers better edge hold and greater stability on landings. Asym MidBite corrects the differences between toe and heel edge power. By providing a smaller radius and a shorter & deeper MidBite zone on the heel edge compared to the toe edge makes those heelside turns more powerful with less effort.
Which is your top selling European market and why?
Disregarding the current pandemic situation, the UK and France are our biggest European markets. This is thanks to our distribution partners out there; they were amongst the first to believe in the YES. brand and helped build a strong customer base across Europe.
What have been the bright spots in what has been a difficult European 20/21 pre-book season?
The difficulty remains because of the overstock that everyone has due to the situation and the fact that the winter was a real challenge for all our retailers in Europe. Most of Europe has been in lockdown for the majority of the winter season but there are some positive numbers that lift our spirits a little. You could see a growing enthusiasm in snowboarding within the countries with lesser restrictions and somewhat opened ski resorts. This leads us to believe that when we manage our stock and get back on a "normal" type of season we'll see Europe rise again.
How has the market outside of Europe performed this season?
Outside of Europe it has been a pretty good year. It all comes down to people being able to go riding, in countries where resorts were open, the season went well. The USA had a good year for us, and so did Russia and Australia.
Any new trends in the North American market that you expect Europe to follow?
Hopefully growth! I think snowboarding is experiencing a very creative moment at this point, with great events like the Natural Selection bringing snowboarding back to an understandable level for the newcomer. I think that the side hit and resort riding trend has been rising in Europe for the past couple years, but it will translate more in the coming years and we will see more crews riding the whole resort rather than staying in the park. I think the artistic part of snowboarding is growing with all the travel restrictions, kids are getting creative on the streets and rediscovered their backyard terrain.
How have you adapted your product development process as a result of COVID?
We've had to shuffle our calendar quite a bit and a lot of the development process was the result of digital meetings. Which resulted in a longer process but also allowed us to focus on the essential.
What can we expect to see from the winter 21/22 line?
We are bringing a fresh UnInc line to the mix with 3 boards from the founders and also an extra focus on women's line with a high-end park board.
How do you see the snowboarding market developing over the next few years?
I think with individual sports gaining popularity fast there is a chance for snowboarding to grow and become a new trend. With snowboarding becoming more diverse since the early 2000's we can see more and more people getting involved. With the pandemic travel restrictions and closed resorts there is definitely a massive boom in the backcountry and touring side of things and street riding is getting insanely creative.