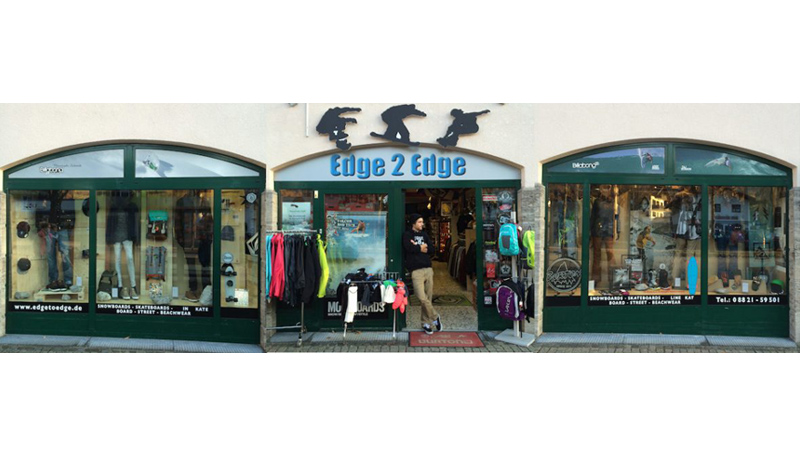 Edge 2 Edge, Garmisch-Partenkirchen
Edge 2 Edge snowboard shop in Garmisch-Partenkirchen has been serving the local area with expert advice for a quarter of a century and SOURCE thought it high time we featured the shop as our Retailer Profile spot.

Please give a brief history of your store.
The Edge 2 Edge Snowboardshop in Garmisch-Partenkirchen stands for 25 years of snowboarding, service and support. In 1991, one fine summer day three enthusiastic pioneers had the idea to open a snowboard shop in Garmisch-Partenkirchen. In the following winter, Jacqueline Gruber, who is still the owner today, and co-founders Erwin and Leo opened the very first snowboard shop here, which is celebrating its 25th anniversary this year. Established, experienced and now far beyond the county borders.
How has snowboarding business changed in 25 years?
What has changed the most in the business itself, compared to back in the day is you have to work a lot harder to generate turnover; it's not just about the opening hours of the shop anymore. Controlling and agreements are more important than ever, thoroughly checking deliveries and invoices, terms of payments, pre-orders, reorders etc. The snowboard business only became a real proper business in the last couple of years. You can't afford to make any mistakes anymore!
What's the most challenging aspect of the snowboard business at present?
Snowboarding has grown up, yet working with the offspring has been neglected for while. But that's starting to change now and we notice that snowboarding is still playing a role for the younger target groups.
What are you doing to help involve kids in snowboarding?
We support young riders in every way we can. We try to find and convince a lot of new riders in cooperation with the Snowboardclub Garmisch-Partenkirchen e.V. and offer them a platform. Our support with the Bavarian Slopestyle Championships was a great help for the Snowboardclub GaPa.
What are five products you couldn't live without right now?
The only thing that's really needed is snow at the beginning of the season so that turnover (sell through) starts at the right time and not just in the sales period. Apart from that every shop has to look after how to generate their own revenues.
What makes your store different and in what ways does your store excel beyond your competition?
We are experts; we love and live what we're trying to sell. We focus on the sport and think that this enables us to help out a lot of people.
How do you stay in touch with the wants and needs of your customers?
We search the market for all kinds of innovations, chat with colleagues and friends, and look at what's happening in other countries, even while on our private time on holiday. You always have to form your own impression to be convinced on something. The internet with all its various channels is so fast nowadays, a trend can be born on one day and gone the next. This can be very interesting to following yet is to be treated with caution.
What events do you have lined up for this winter?
In the 2016/2017 season we will once again support the Snowboardclub Garmisch-Partenkirchen with hosting the Bavarian Slopestyle Championships. And we will almost certainly organise a couple of shop screenings to watch Nitro BOOM and of course TheFourthPhase for example…
Which brands are selling well for you at the beginning of 16/17 winter so far?
In the streetwear and outerwear sectors we're happy to have a good partner in Volcom, which is a brand that appeals to a lot of different customers; whether they have been part of the scene for years or just found their way in this summer through skateboarding or something else.
When it comes to hardware, we're big into Mervin products, (Lib Tech, GNU and Roxy snowboards). And Nitro have a great offering in boards, bindings and boots and are a constant that we rely on too. But we mustn't forget the younger clients of course, which have big potential. Oakley does a great job not only with goggles – we're also very curious how the consumer will react to their helmets.
How are you using social media to stay relevant?
We use Facebook to stay in touch with our friends and clients, which is a great tool that is super easy, quick and informative. With funny, interesting and informative posts you can quickly reach the relevant target group and generate interest and rewards for our shop, explaining what we're up to and what's in the pipeline for events etc.