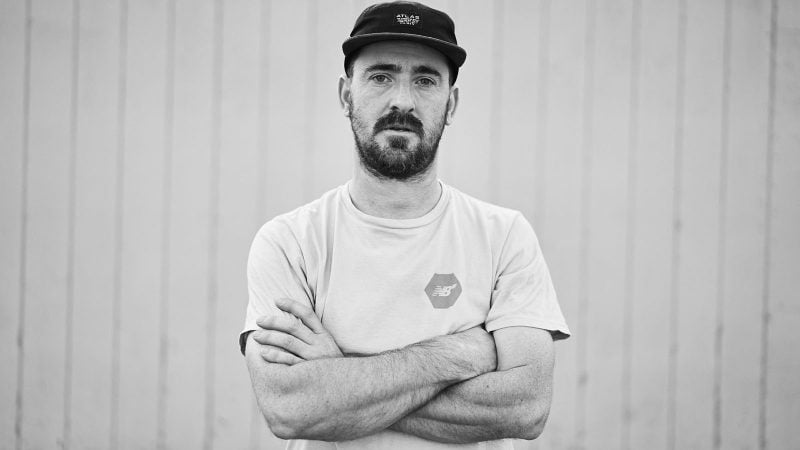 Big Wig: New Balance Numeric's General Manager Sebastian Palmer
Over the past decade New Balance Numeric have gone from category newbies to one of the best respected and most hyped brands on the market. Spawning from a pure athletic company means their expertise is in making performance footwear. We speak with New Balance Numeric's General Manager Sebastian Palmer to find out how they pair this technical approach with the core credentials needed to cut it in the skate shoe business.
Seb, how did you come to work for New Balance Numeric and had you worked within skateboarding previously?
I've been managing the New Balance project for almost 11 years now. My career started at Sumo a skate store in Sheffield, UK which I started in 1993 and owned until it closed in 2005. Additionally, I worked for the distributor New Deal on brands such as Lakai, Fenchurch, DC Shoes etc from 1998 to 2003, then Nike SB from 2003 until 2008, helping launch their program across Europe. I then moved to California to work for Sole Tech on the éS brand which was unfortunately put on hiatus in 2011. In 2012 Frank Messman approached me to manage New Balance's entrance into skateboarding and in 2014 I integrated this in-house at New Balance and established the office here in Long Beach, California.
How was New Balance Numeric's entry into the European Market received?
We had a staggered start in Europe beginning in the UK, then Spain & Italy. Prior to covid we began to transition to new distribution opportunities, and we are now available in most markets. Due to the momentum and awareness in the US we've been well received and have increased our share of the skate footwear market since 2021. We admittedly had our issues with distribution stops and starts and some issues on fit / sizing, but we're in a great place now.
Who were the driving forces behind getting NB Numeric cemented into European skateboarding?
For Europe our regional Brand Manager David Mackey and European Team Manager Mark Baines have been the driving forces in getting the Sales Agencies in place, defining the distribution and managing the Marketing.
How are you working across Europe with distributors and agents?
In the UK we work with the agency Spiv based out of Manchester. They are well respected by our retailers and have ensured strong disciplined growth. Across Germany, France, Benelux and the Nordics we have Ensemble which is a new agency from the people behind Beast Distribution. Again, there is mutual trust for them to build the business responsibly. In France they recruited Vincent Bressol as a great example of working with the right people who have the experience and relationships with the right stores across France. In Iberia and Italy, we have internal NB associates that have built strong foundations in each market.
NB Numeric's team seems to be growing at a pretty rapid rate, especially in the UK with guys like Charlie Munro and the newly acquired Matlok-Bennet Jones. Are you working on a full-length video any time soon?
Our team has naturally grown and we have added more great skaters like Matlock and Charlie. We have grown the brand by attracting each skater to us, we much prefer when skaters approach us. In that way, we have grown organically and the team is just that, a global network of connected personalities that are all super proud to wear our shoes. This happened recently with adding Andrew Reynolds where he tested many brands and was impressed by what we have built, and we welcomed him into the New Balance family. Each skater has to offer a point of difference and compliment the roster, we look for hard working individuals with distinct style and purpose.
We work on multiple projects and have been doing so for many years. Originally each time we opened up a new country we would initiate a global video project there to show our commitment. Film such as Quids In (2015) , Tinto de Verano (2016) and Parallax (2018) all saw the global team visit Europe. More recently we continue to work with local film makers such as Quentin Guthrie on projects like Assets or Jacob Harris on projects with Tom Knox. There are some longer-term projects in the works, but we will keep working on these projects across Europe.
Is Covid19's under/overstock situation still affecting your sales/pre-orders in Europe?
We managed Covid very well as far as Inventory, our only issues were delays in some season's deliveries. There are some residual issues in late delivery, but these are marginal and due to shipping delays, our production was not affected as badly as other parts of the industry and we are generally understocked for our current demand.
As a technology-heavy skate shoe brand, are you noticing a trend in more brands taking this route regarding their shoes?
Yes, our genuine technological features have been a major factor in consumers adopting our shoes. This was part of our patient long term approach not to compromise our principles and be unapologetically technical. That approach takes longer, it takes the more adventurous consumers to try the shoes but when the extra cost is justified by superior quality, fit, cushioning and durability their return business and their endorsement brings more to try the shoes. 10 years ago the skate shoe market was skewed heavily vulcanized where it is harder to innovate. We have brought strong points of difference in our vulc shoes such as the visible underlay that adds durability and structure to the 306 or our unique vaulted heel design in the 272 that disperses impact. We are happy to help lead the trend towards more cup sole product and bring unique technology from Basketball, Running and other sports to skateboarding. We also see competitors returning to signature models after our clear successes with Jamie Foy, Brandon Westgate and Tiago Lemos models.
How do you find people view NB Numeric now you've clearly proved your worth as a skate brand?
I think they now recognize us as part of the overall New Balance brand, a strong independent Athletic company with high standards and reputation. We've proven that we have been able to bring something new to the table, genuine intelligent design and consistent marketing. We are exactly where we want to be as an alternative credible choice for skateboarders, available only through skate retailers. We still have plenty to prove and we're happy to keep pushing for higher standards and being deserving of the reputation for the best shoes.
What does the future hold regarding NB Numeric's skate program?
We recently held our annual global summit for Numeric in Long Beach and it was great to have all our associates, agencies and athletes together to work on the next couple of years. New Balance is a very strong and hitting its stride in Lifestyle and many other sports such as football, baseball, basketball and of course running its main association. Numeric is a significant part of the growth and success in the last few years and we're proud of the legacy and the diversity and youthfulness we bring.
As far as product this year we launch our version of 3 shoes from New Balance's rich archive. The NM 574 is our version of NB's most famous classic running shoe but on a vulcanized sole. Then we delve into our rich heritage in basketball with the 480, a shoe from 1983 which we have rebuilt for skating, adding Fuelcell one of our leading performance foams and lots of skate ready details. The shoe launch will include a colourway by Andrew Reynolds, he helped us refine the design and Andrew is also working on a full signature shoe for 2025.
In October we bring Tom Knox's first signature model shoe the 600. We started with another heritage model from the early 90s but modernised it for Tom's needs with FuelCell midsole, FantomFit upper and other features that maintain the clean retro profile but with much higher standards of fit, cushioning and durability. This one is personal to me being European and being able to support Tom achieve his dream of a signature shoe. He already has earned his reputation, especially with the Atlantic Drift video series and has a global fan base, recently getting on Krooked skateboards and with an upcoming signature Dickies line, the shoe will be a deserved culmination of all that hard work.
Hope to see you in London in October for the launch.