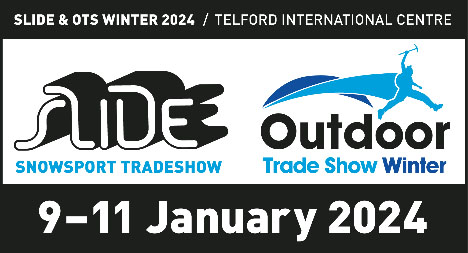 Exhibitor Booking Open For Slide & OTS Winter 2024
Press release:
Slide & OTS Winter, the UK's only trade show dedicated to winter action sports, returns to Telford International Centre, from Tuesday 9th to Thursday 11th January, the perfect time of year for snowsports and outdoor brands to showcase products and innovations for the 2024/25 winter season.
Bookings are now open to everyone on a first come, first served basis. To date, over 50% of previous exhibitors have already re-booked for 2024 as shown on the latest show floorplan. Slide & OTS Winter continues to grow year on year, as the show brings in more and more brands who have a winter product range in their portfolio; that is reflected in the number of retail visitors attending the show, which grew by 12.3% in 2023 in comparison to the previous year's show.
Space only' options are competitively priced at just £86 per sqm for members of the Snowsport Industries of Great Britain (SIGB) and/or the Outdoor Industries Association (OIA); (the early bird price runs until 5th October 2023). There are also a number of pre-built shell scheme options available, with or without power and lighting included.
Feedback from exhibitors and visitors to the 2023 show was overwhelmingly positive, including:
"Slide has to be the most efficient three days of my year, seeing every brand that I need to, all in one place and with all their ranges laid out. No excess travelling or drawn out appointments with little product to show. And 2023 was the best yet, with the stands, ranges and brands all looking great."
– Steve Wells, Ellis Brigham Mountain Sports
"Slide & OTS Winter has a relaxed atmosphere, it is a quick and simple get-in and set-up, it is cost effective and the show was well run, well organised with good communication…we will be back!"
– Chris Davison, CDA
Exhibitors can book online via the show website. Any other specific stand requirements should be addressed to the organisers, MCS PR & Event Management, who have been appointed as organisers for Slide & OTS Winter from 2024 onwards.
For further information visit SlideOTSWinter.co.uk or contact MCS PR & Event Management:
Alasdair Scobbie / Marta Williams at MCS PR & Events
Tel: 0161 437 4634