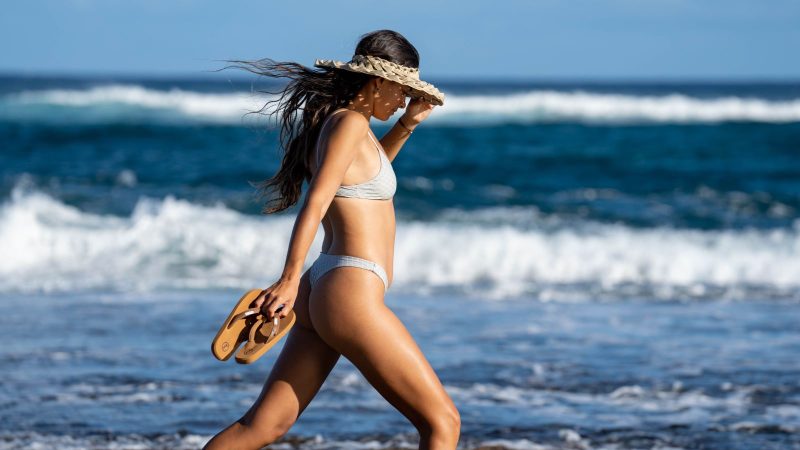 Foamlife's Timo Mullen Talks New Materials & New Markets
They've been on the UK surf scene for a few years and can be found in many UK surf shops, however Foamlife are growing. Foamlife are present in Europe, in independent stores in the US, and are taking steps into South Africa, so we caught up with Co-Founder and Sales Director Timo Mullen to find out what Foamlife are doing & where they're going.
Please give us a brief history of FoamLife to the present day.
We officially started FoamLife during Covid lockdown in 2020, but I think if we look back on our lives, both professionally and in the sports we enjoy, FoamLife probably started over 40 years ago!
My co-founder Karl Read and I have grown up with an affinity for the ocean and enjoying the sports and lifestyle that surrounds it. My father owned one of the first surf and watersports shops in Ireland and Karl grew up as part of the underground surf scene on the South Coast of England.
Our love of surfing and the ocean both led us to study at the same University in Plymouth, right bang in the SW of England and beside some of the best surf beaches in Europe.  I studied Maritime Law and Karl – Design. We both eventually ended up working together for one of the biggest surf brands in Europe for over 15 years helping to take it to a turnover of over $70 million, with myself looking after Sales and Karl heading up Design and Production.
We both have always been very conscious of the ocean and the environment; the ocean after all is our playground and we need to look after it for not only our children, but the generations following. We could see that a lot of the major surf brands were making only slow movements (any movement to be fair is to be applauded) on their journey towards sustainability. One product sector we saw the least amount of focus on was the flip flop/thong/sandal category, so we decided that we should start a brand that is focussed on sustainability, comfort and a look that resonates with consumers like ourselves who live and breathe a beach lifestyle. There was nothing on the market that ticked all those boxes and we believed there was demand and a gap in the market for such a brand.
Whether you are a surfer, windsurfer, kite surfer, SUP, sea swimmer, or just enjoy the van life, we wanted a brand that encapsulates it all, and that's essentially how FoamLife was born. We are now in our 3rd year and growing rapidly from our Head Office on the South Coast of England. We are now stocked right across Europe, from Norway to Greece, as well as North America and soon to be South Africa.
What is your thinking behind expansion into Europe?
Obviously, Europe is potentially a massive market for us, from the outset FoamLife was created to be a global brand, we don't mess about! Our main goal in year 1 was to become established in our home market of the UK, ironing out any growing pains of starting a new brand and then move to Europe, but the market had other ideas. We were inundated with requests to stock our product across Europe and the rest of the world. For once, we thought with our heads rather than our hearts; we took a slowly softly approach and made sure we began our worldwide journey with the right partners that we can grow with for many years to come. Going into our 3rd year, we now have great partners in Portugal, Spain, the Canary Islands, and Greece. In France, we supply the Stokehouse stores in Hossegor (Vissla, Sisstrevolution).
Brexit had the potential to cause a lot of issues for a UK company to trade within Europe, but we love a challenge at FoamLife and we now have a great EU Distribution partner in Northern Ireland. This has been a fantastic move for our future in the EU. Northern Ireland, as well as being part of the UK, also retained a special privilege to still trade seamlessly with the EU as was normal pre-Brexit. I am Northern Irish, so it seemed a perfect match – and so far, everything is running smoothly with deliveries being shipped out from March onwards.  Our new warehouse is situated 100m from the beach, purely by chance of course!
We are keen to speak to any distributors or agents across Europe and around the world who want to join the FoamLife movement. Some of our highest traffic to our website comes from France, Germany, Holland, and Scandinavia so the demand is there. As we go to press, we also just signed our partner in South Africa, a key country for us as it's home to our chosen charity, Surfers Not Street Children.
How is the European market different to your home market?
The market is different in Europe, but I would say FoamLife has more of a global appeal than being focussed on one specific market. Both Karl and I are well travelled, I competed on the Windsurfing World Tour for many years and Karl is married to a Brazilian, so we have a very multi-cultural outlook. And despite Brexit, we 100% are still European in our minds.
I think the European consumer is also very influenced by the vibe of our brand, they resonate with our marketing and our goals for sustainability. As we grow, our team of ambassadors and riders start to have a bigger part in spreading the word of FoamLife and our "Live Less Ordinary" mantra, I guess that is why they are now called influencers, in the best possible way!
Our design inspirations come from the beaches of Europe, Hawaii, and Australia; however, the UK has always been known as a massive leader in street culture and fashion, I think we have the perfect mix.
How are you adapting your line for EU sales?
We really focussed on our labelling and merchandising; all our products come with UK, EU, and US sizing and pricing clearly visible so the consumer and wholesale customer can be quite clear in-store and at the till on their product choice. We also use simple info graphics and icons on our labels to show the specific characteristics of our product.
Any plans for distribution in North America?
Yes, North America has the potential to end up being our biggest market, we are about to start our first season stocked in all the Vissla/Sisstrevolution stores in the US and Hawaii.  We have massive respect for Vissla – they are probably the most successful brand in a lot of the independent stores in the US and Hawaii. They are authentic like us, and live and breathe a healthy attitude towards the ocean and the world. We are extremely happy to be stocked in their beautifully merchandised stores. I guess the tough part of my job will be deciding which surfboard to pack when I go out to visit the stores in person!!
We also exhibited at the Surf Expo show in Orlando, our stand was right beside industry giants such as Yeti and Sun Bum. We had a great show, the reaction to FoamLife from retailers was fantastic. It would be great to have distribution in the US, but for the moment we will work with our current stores to provide the best possible service to all our US customers. We are currently looking for a distribution partner in North America, so please get in touch if interested and you think you fit the FoamLife way of life and our "Live Less Ordinary" mantra.
Why should retailers' stock FoamLife and what are your marketing stories for this season?
FoamLife was created to bring something new and fresh to the footwear industry with a clear focus on sustainability and comfort, mixed with simple styling for a modern consumer that lives and breathes a beach lifestyle.
FoamLife offers great margins and price points, proving that sustainability and style does not have to cost the Earth! Our price points range between €30-50, so we are right on the sweet spot to turn around some great numbers. We have a loyal following and most of our first-time consumers return to buy multiple pairs of our flip flops and sliders – they literally are the most comfortable flip flops and sliders you will ever put on.  All our packaging is 100% plastic free, from the factory to the end consumer.
We offer the full package, from product and customer service right through to our stunning stands and POS material. We think like retailers as well as like the end consumer, on top of keeping our brand at the forefront of our mind. With over 30 years of experience in the industry, we hopefully have a healthy balance on the wants and needs of our customers. It can be the simple things such as the way the product arrives packaged to the store, invoicing requirements, and good communication that can be as important as a great brand and product, the overall package is so important to success.
We try to carry over best-selling styles and colours for continuity in the range, this builds a following for key styles and stops needless discounting on end of season lines. We do not discount our product; our website is a showcase for our brand, and we price our products to be competitive in the market without the need for discounting.
One of our key marketing stories for 2023 will be our 'Earth Series' line. Each season we strive to increase our sustainability credentials as best we can. Last year we introduced a sugar cane derived foam to the range, and for 2023 we have:
Incorporated the sugar cane further into more sustainable materials on the uppers of our flip flops and sliders,
Added a plant based vegan bio-leather material to the range which will form part of our 'Earth Series' range,
Further increased our hemp options,
Included RPET webbing on the toe posts and use recycled polyester and thread in the lining of the padded strap for our 'Earth Series' range.
We have a great campaign launching alongside the new 2023 range launch which will be unveiled on our website, social media, and in our advertising.
Can I also take this opportunity to thank all our retailers and distributors who have been a part of our growth, as without our customers we are nothing.  Also, a massive shout out to our charity partner Surfers Not Street Children based in South Africa and Mozambique, we are humbled to be involved with such a great organisation, look them up and give your support.
For all Retail and Distribution enquiries please contact Timo Mullen FoamLife at [email protected]
www.thefoamlife.com