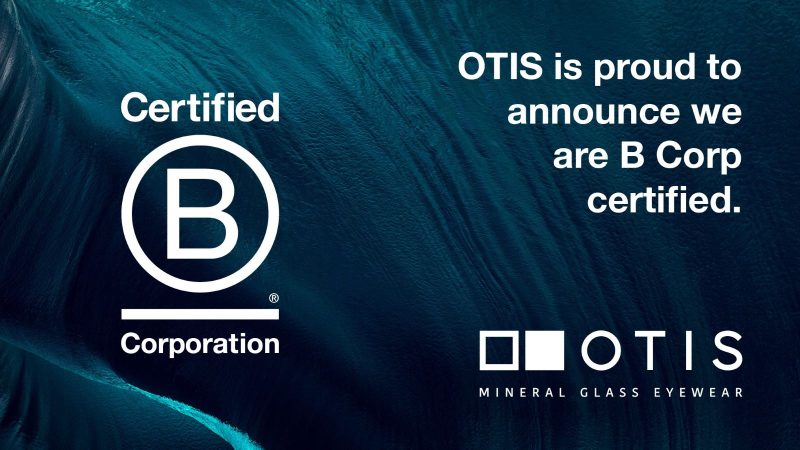 OTIS Eyewear Achieves B Corp Certification
Press Release:
OTIS Among First Eyewear Brands to Certify as a B Corp
OTIS has become one of the first eyewear brands in Australia to certify as a B Corp. The certification has recently risen as the gold-standard in making sure businesses use their influence as a force for good in the world. OTIS, known for its scratch-resistant, endlessly recyclable mineral glass lenses, already had some solid sustainability credentials before certifying, but the task still took a lot of work. Only a fraction of brands who start the process actually end up making the grade to certify because B Corp measures businesses' entire performance across sustainability, social goals, corporate accountability and more.
"I was actually really surprised that we were pursuing B Corp as its no mean feat," explains OTIS Brand & Product Manager, Sally Kerr. "The fact they measure a whole business and not just certain aspects is really challenging. My surprise changed to feeling pretty proud that I work for a brand who has the ability and confidence to apply."
It took over a year of effort and different programs to gain certification, but in the end OTIS passed with a solid score of 91.9 (80 is the core benchmark). On top of using their mineral glass lenses, the brand has introduced Eco-Acetate frames, which are certified biodegradable. They've enrolled in volunteer programs, hired an even more inclusive team, and their parent company The Leisure Collective ratified their constitution to consider all stakeholders in decision-making (not just shareholders).
The changes are just the beginning of OTIS's plans to improve "what we can, where we can, as fast as we can". A great drive for their crew to head to work with extra purpose each day.
To learn more about OTIS and their environmental and social responsibility programs,
head to OTISEYEWEAR.COM/PAGES/SUSTAINABILITY