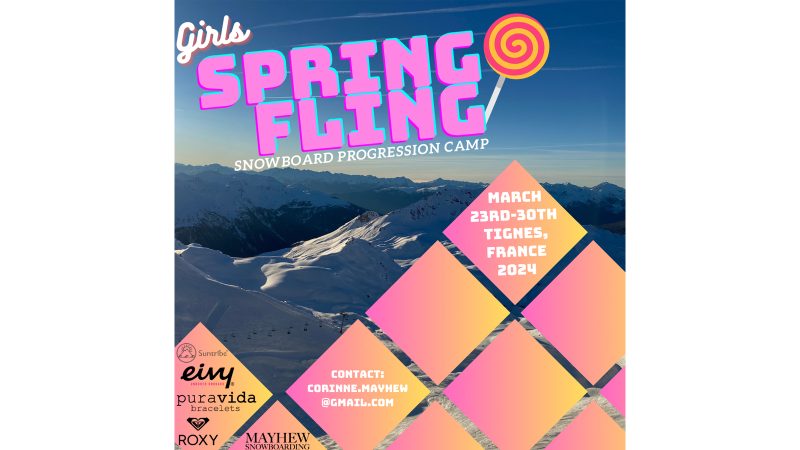 Girls Spring Fling 24 With Mayhew Snowboarding & Katie Blundell
🍭🩷Girls Spring Fling🩷🍭
….IS BACK FOR 2024……
Girls-Only Snowboard Progression Camp with top qualified BASI Snowboard Coach Corinne Mayhew and Ex-pro Snowboarder Katie Blundell
➡️ 23rd-30th March 24 | Tignes ⬅️
Spaces are limited so be sure not to miss out…..
☀️After the huge success of last years camp, we have locked in the dates for another action-packed ULTIMATE shred week in Tignes. The focus is on FUN, this is when the maximum snowboard progression happens. It is a golden opportunity to meet like minded ladies and progress your snowboarding to the next level in an encouraging and nurturing environment. There will be heaps of activities off the hill too including yoga, gymnastics, apres and much much more. After this EPIC week, you will be leaving the mountains brimming full of confidence, with new skills in the bag some amazing lifetime memories☀️
Prices are £1349 per person and includes:
🔹 Return flights/ transfers Gatwick to Lyon
🔹7 nights accommodation staying with Ski Vertigo in Tignes Le Lac (with access to sauna and hot tub!)
🔹7x breakfast and 6x evening 3 course meal with wine
Coaching/ other activities-price of £650 includes:
🔹5x days of 4x hours coaching (technical, freestyle, powder/variables) from Corinne and Katie per day
🔹Intro to splitboard session (according to conditions)
🔹Boardsports-specific yoga session with @hannah.tadasanayoga
🔹Daily group warm ups
🔹Gymnastics workshop
🔹Mindfulness talk
🔹Film night
🔹Games night
🔹Goodie bags from @eivy @puravida @suntribesunscreen @roxy
🔹Apres session and much more!
Any questions or further info please contact….
T: +33 (0)615187407 (whatsapp)
Stay social on insta @cozz_wozz / @katieblundell twitter @mayhewsnowboarding