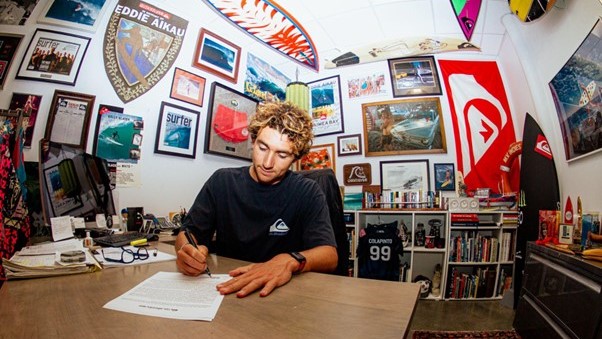 Griffin Colapinto Joins Quiksilver's Global Surf Team
Press Release:
GRIFFIN COLAPINTO SIGNS WITH QUIKSILVER
Quiksilver, the original boardshort company, is proud to introduce Griffin Colapinto to its global surf team. The San Clemente, California–based professional surfer is currently ranked No. 7 in the world and is the leading American on the World Surf League (WSL) Men's Championship Tour. Quiksilver has entered into a multi-year contract with Colapinto, with the ultimate goal of supporting him on his quest to become a world champion.
Colapinto has been commanding the lineup from an early age, competing in numerous surf competitions and championships, winning notable titles and consistently progressing his career. Following his successful Hail Mary aerial reverse in the 2016 Hawaiian Pro at Haleiwa, Colapinto finished the 2017 season as the WSL Men's Qualifying Series champion and has since won numerous additional titles. Colapinto also became the first Californian to win the prestigious Triple Crown in 2017. Today, Colapinto has positioned himself as a potential candidate to compete for Team USA at the Paris 2024 Olympic games.
"Griffin Colapinto's incredible determination, character and talent is inspiring," states Quiksilver Global General Manager Brad Blankinship. "He's an essential part of the team that will help lead Quiksilver into the future." Drawn to his ambition in and out of the water, Quiksilver is honored to support Colapinto's endeavors and is excited to partner with him on notable content projects and signature products. In addition to his incredible talent on the board, creativity comes naturally to Colapinto; he and his brother, Crosby Colapinto, have a production company, Cola Bros., where they document their sibling bond behind the scenes of competitive surfing.
"When you evolve your personality, you evolve your reality and Quiksilver is now a part of my personality," says Griffin Colapinto.
Colapinto's consistent forward momentum is a welcome addition to the Quiksilver team and aligns with the brand's commitment to support determined and genuine athletes. "Since 1969, Quiksilver has been supporting the most talented surfers in the world. However, talent doesn't measure itself solely in the water, but also through action off the board," says Quiksilver VP of Global Marketing Bobby Gascon. "Griffin's unique and honest personality provides a truly relatable approach that we trust will inspire fans for many years to come. We are truly honored to have him join our brand, and we look forward to our partnership."