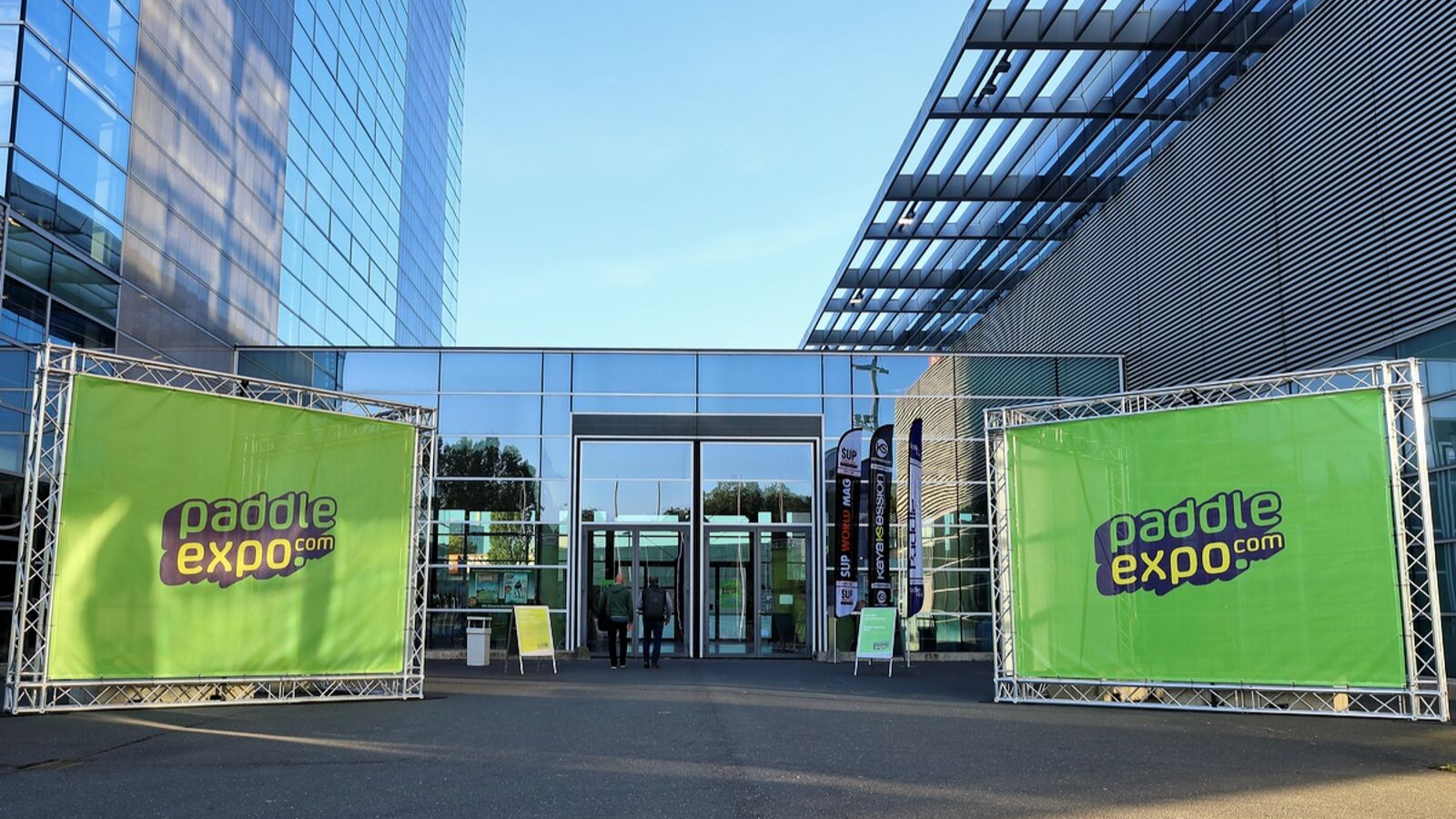 PADDLEexpo 2019 Preview, Nürnberg, October 4-6
October 4-6 2019 kicks off PADDLEexpo and marks the 17th edition of the show. This year 160 exhibitors will show 290 paddlesports brands at the Nuremberg Exhibition Centre, where over 1500 trade visitors are expected from 50 plus nations. The show has moved back to the 8400 sq meter hall 3A, where it was held from 2014 to 2016. This year the exhibition space is completely sold out, as has been the case for many years. The show will take place at the same time as last year in the first week of October and it remains in its traditional Friday-Sunday slot. Opening hours are Friday and Saturday 9am to 7pm and on the final day from 9am to 4pm.
The three-day event brings together retailers from all over Europe to Nurnberg who gather to see the latest product and technologies on offer. The brand roster includes all the key SUP players such as Starboard, BIC, Red Paddle, Naish, RRD, Mistral, Fanatic, JP-Australia, Airboard, AquaMarina, NSP, Focus, Light, Indiana, Aquaglide, Infiniti, Aquadesign and many more.
Additionally, many specialist SUP accessories, clothing and wetsuit brands can also be found. New to the show this year are Duo boards, Glory SUP Boards, Jbay Zone SUP, Moai Boards, Sharkee Dry Bag, Mint Lama and NSP. On the opening night after-hours parties will take place on the stands of Rotomod, BV Kanu, Dewerstone, Exo Kayak Gatz Kanus Gumotex, NRS and Palm Equipment.
The Paddleexpo industry dinner on the second evening will be held at the NCC Mitte and is the annual invitation from all exhibitors at the show to all of their customers. Last year over 2,000 people sat down, for the biggest get-together of the SUP community you will ever see under one roof in Europe. The dinner is a great opportunity for retailers and industry to celebrate together and watch the Paddlesport Product of the Year Awards show presented by KayakSession Publishing. The winning products are chosen by a panel of independent judges, consisting of product development, retailers, outfitters, and former manufacturers, as well as paddlers, There are 11 categories: Paddles, Accessories, Recreational Paddling, Sea Kayaking, Canoeing, Inflatable, Kayak Fishing, Stand Up Paddling, Whitewater Kayaking, Apparel/Equipment and the Special jury prize. The awards highlight products that are making a difference through innovation, performance, design, and utility and the lucky winners are announced during the industry dinner.
Later in the evening the 2019 International Whitewater Hall of Fame honorees will receive their awards. This year's recipients are Hermann & Christa Kerckhoff who run Canada's longest-running whitewater instruction school and Joe Pulliam from the manufacturers of the Perception, Dagger, Jackson Kayak brands and Chris Hawkesworth a major contributor to the development of standards for helmets and other safety equipment.
Consumer demand has remained strong for SUP this year, so action sports retailers should take the time to visit the show and look at this market whether it be for hardboards for the ocean or inflatables for lakes and rivers, Paddleexpo is a one-stop-shop window for all there is to buy in the paddle business and it's all under one roof in a single hall, simplifying the selection and buying process for retailers and this is a significant advantage for all visiting shops. Industry professionals and retailers can attend the fair at no cost, you just need to register in advance on the website. www.paddleexpo.com