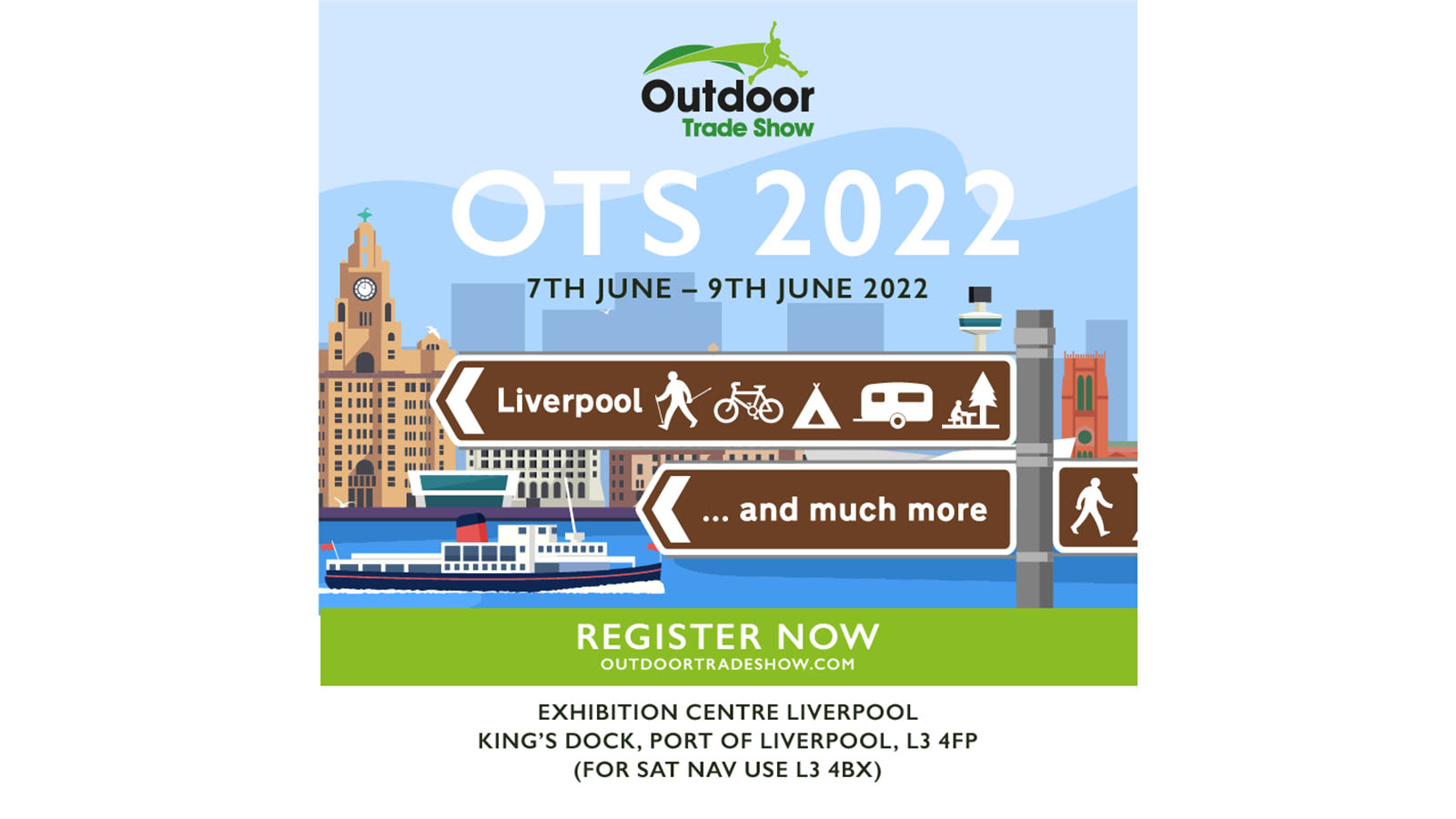 Preview: Outdoor Trade Show 2022 Returns to Liverpool Exhibition Centre
Back and bigger than last year, Outdoor Trade Show returns to Liverpool Exhibition Centre in the first week of June, between 7 – 9. Only a few exhibition spaces are left, with 124 exhibitors already confirmed to attend. We spoke to organisers to find out why brands and retailers should attend.
Please can we have an overview of the show's history.
Following the demise of the industry event in Harrogate, The Outdoor Trade Show was created and began as a joint-industry venture in 2006 with 46 exhibitors in the exhibition halls at Stoneleigh Park, Warwickshire. Fast forward to 2022 and the event has stood the test of time attracting over 1,000 trade visitors at its peak.
Could you give our readers some figures from the the last show?
Due to the pandemic the show was postponed in 2020. We were fortunate to be able to stage it again in 2021 – holding it under Covid restrictions and following all the government restrictions that were in place at the time. This was one of the first trade shows in the UK to be given the go ahead following the pandemic and, although we didn't know what to expect and attendance was compromised, it was encouraging that exhibitors and visitors were keen to get together again and have face-to-face meetings. 2021 was also the first time the show was held at the new, modern exhibition complex in Liverpool which proved to be very popular and was warmly received by visitors and exhibitors alike.
110 exhibitors supported the show in 2021 and to date, over 124 companies have signed up for the 2022 event. This year we have taken an additional 2000sqm of exhibition space…OTS exhibition space now totals the entirety of the venue's hall space.
What are the planned highlights for the 2022 show?
Following the success of last year's OTS Sustainability Breakfast – with guest speakers, sponsored by Rab – we've decided to include it in the programme again. The OTS Sustainability Breakfast will return on Wednesday morning, June 8.
Details on how to register for the breakfast will be announced soon but if you are not already signed up to receive our mailers, please register HERE, where you will receive all you need to know about what's going on at OTS 2022.
The Outdoor Industries Association is hosting an area for the UK Outdoor Industry Awards and all entries will be on display in a special feature area at the show. The finalists will be announced at the OTS Social taking place on June 8. Don't forget to visit the area to see the latest innovations across nine product categories.
What's new for this year's event?
This year we have an outdoor tent display in the 'Deck Area' where buyers can view suppliers' tents pre-pitched on the hard standing area. We have also attracted interest from watersports and cycling accessory brands, so there is more diversity than ever; OTS will feature a wide spectrum of brands that crossover in the outdoor market.
Any evening or side show events planned ?
On the first evening of the show (Tuesday, 7), there will be a 'soft close' to the show with business ending at 6pm, but with the halls remaining open until 8pm allowing the opportunity for exhibitors to entertain and socialise with customers and colleagues on their stands.
Outdoor clothing brand Paramo will be celebrating its 30th birthday anniversary at the show and will be hosting a celebration on its stand on the Tuesday evening.
We have an OTS Social / networking event on the Wednesday evening (June 8) at the Revolución de Cuba in Liverpool's vibrant and lively Albert Dock area which is in close proximity to the exhibition venue and nearby hotels.
The evening will start with the announcement of the OIA UK Outdoor Industry Awards 2022 finalists, followed by drinks, informal dinner and networking to catch up with colleagues and meet new ones. Tickets cost just £20 per person and includes nibbles on arrival, a drink and a selection of Latin inspired food. You can buy your tickets HERE on the OTS website.
Lyon Watersports is hosting a product demo opportunity between 6pm and 8pm in conjunction with Liverpool Watersports Centre. Show visitors are invited to test RTM and Indiana kayaks and paddleboards on the water on the Tuesday and Wednesday evenings. If you are interested contact [email protected] or visit the Lyon Watersports stand at the show.
How are the bookings for the show looking? And why should brands book space as soon as possible?
Show bookings have gone well this year and we took the gamble of taking an additional 2,000sqm of available exhibition space at the venue so now occupy the whole of the available hall space. A total of 124 exhibitors have now booked space at the event and there are now only a few stand spaces now left. You can view the latest floor plan HERE.
Which brands are new to the show for 2022.
New exhibitors to the 2022 show include the following brands, distributors and manufacturers: Teva & Reef, Rumpl, Pocket Mountains, Elliker, PelliTec, Spinlock, Carson Optical, Rooster, UltraGrime, Gill, Reydon Sports, Adidas Eyewear, Lyon Watersports, HOT Sportswear, Midge Solutions, Super Sparrow, Adventurize, Peak Design, ZyroFisher, Amazonas UK, Night Lark, Swandri, Snow Peak, Picture, Milo, Heat2Eat, Battery Group, Revo, ROKA, Garmin, Tambu, Mustang Survival, Red Wing and Mounts.
You can view the exhibitor list HERE.
Why should retailers attend?
This is an exclusive, annual opportunity for trade buyers to preview the latest product ranges and new collections from brands and distributors. OTS provides a 'one stop shop' for retailers to do their comparisons and make vital buying decisions on clothing, footwear and accessory collections for the forthcoming season. The show falls slightly earlier this year at the beginning of June and fits with manufacturing order deadlines and so makes it more relevant than ever to attend.
We look forward to seeing everyone involved in the UK outdoor trade at this year's event.  www.outdoortradeshow.com