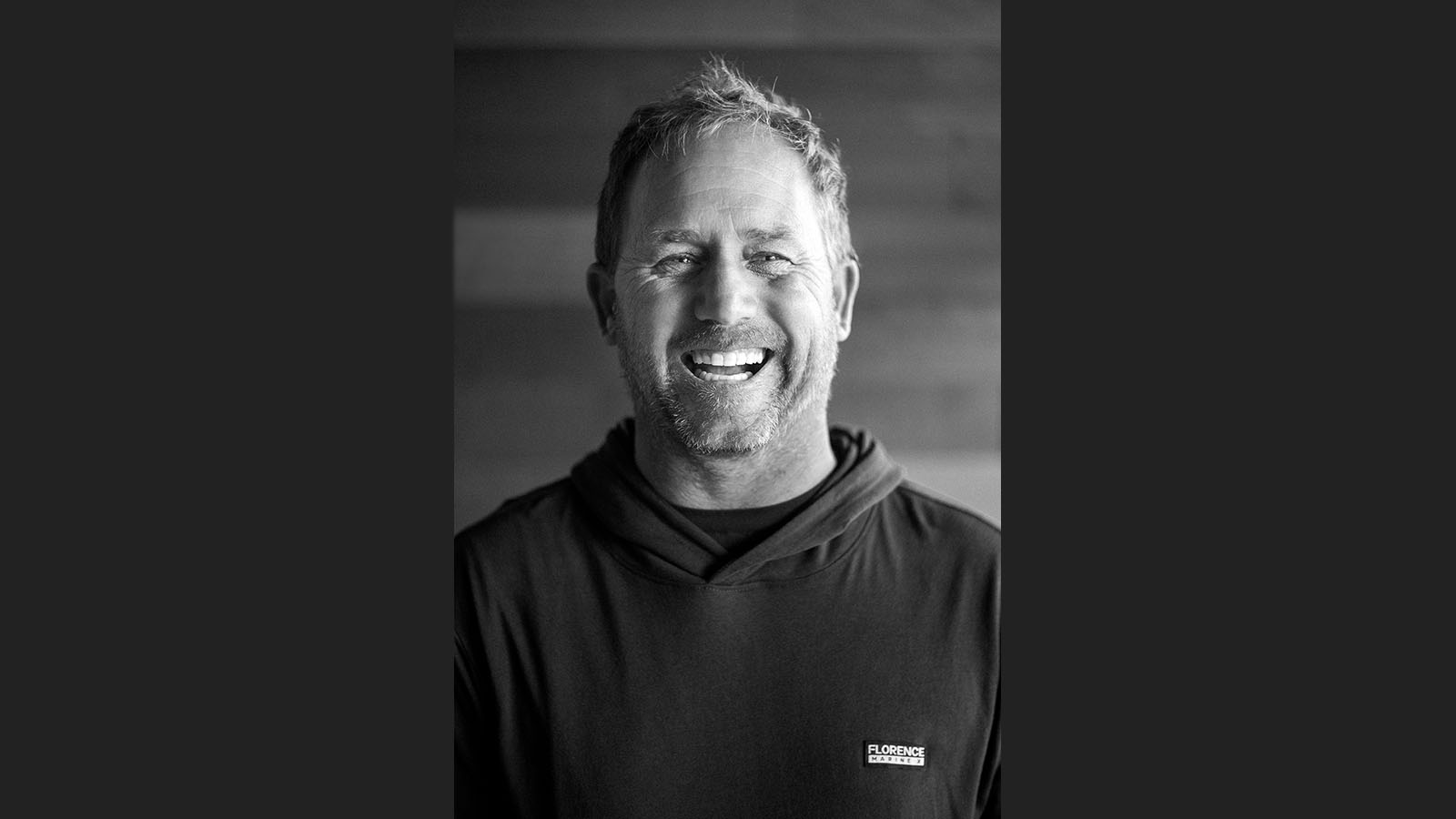 Big Wig: Industry Vet Pat O'Connell Talks Inner Workings of Florence Marine X Europe
One of the nicest guys in the surf industry, we first spoke with Pat O'Connell at the inaugural WCT event at Kelly Slater's Surf Ranch Pro 2018, then serving as VP of Sports Marketing at Hurley. Since then, Pat went on to head up competitions at the WSL and is now back working with the Hurley family and John John Florence on the world champion surfer's brand Florence Marine X. Launched to great fanfare within the surf industry, they are positioning the brand as more than just a surf company. We speak with Pat to find out more about their bespoke wetsuit programme and discover how they are leveraging community with great effect – often with exclusive offers for brand membership holders, selling within a day. We also gauge Pat's thoughts on how a newly formed company balances D2C efforts with the wholesale channel. Interview by SOURCE Editor Harry MT.
Pat, please give us an insight into your work background after being a pro surfer?
So in 2005 I left the Tour and was looking for my next adventure. I rang up Bob Hurley and asked him if I could run a region for him. I thought to myself, how hard could this be? Thankfully he had the wisdom to ask me to come in first and try my hand at just being in an office to start. I was still at the point in my life where I was chasing swells, and if the waves were good, I definitely wasn't going into the office or replying to emails. But Bob was – and still is – a great mentor and coach. He was understanding and over time I was able to get some small wins in the sports marketing realm. That helped me see what I was good at and let me focus. During that time, we took on the Hurley Pro, the US Open in Huntington Beach and redefined what was thought possible in terms of a brand putting on an innovative event. Additionally – and what I'm most proud of – is that we assembled arguably the best surf team in history in partnership with our then parent company, Nike (including the signing of John John Florence). After 15 years, I left my Hurley family to join the WSL to lead competitions, which is something I've been passionate about since the beginning. Today I've re-joined Bob, John Florence and some great people from the Hurley days and we've launched a new outdoor venture called Florence Marine X.
Pat, talk to us about what makes FMX a unique brand on the market.
Florence Marine X stands alone in that it's truly an athlete-founded and athlete-led brand. John John is the best surfer in the world, and he's the ultimate test pilot for our gear when he's out in the water. We're 100% focused on building gear to help you get outside and thrive in the elements, and that all stems from John. He's the most passionate and focused outdoor person I've ever been around. He wakes up, looks out the window and picks his adventure for the day. Surfing, sailing, foiling, open-ocean paddling – whatever the weather and the ocean is dictating for that day is what guides him. This never-ending pursuit and curiosity is what sets our brand and our products apart.
Talk to us about the bespoke wetsuit programme.
When we decided to bring wetsuits to market, we had a choice: deliver an average wetsuit at an average price, or offer the best of the best. For years, a lot of the top surfers in the world received their wetsuits from some select manufactures in Japan who are the best on earth at what they do, including John. We said, how cool would it be if we could offer that same experience to our members? We have 9 different thicknesses/styles and 4 different colours for you to choose from on our site, ranging from hooded fullsuits to padded impact suits, and each suit is made to order. Once you place your order, you'll get a confirmation email and 6-8 weeks later the suit will land on your doorstep. We'll just warn you: once you wear one, you'll never want to wear another wetsuit ever again.
How has the company been received in Europe? We hear it's in high demand…
We launched our first products along with membership online in the EU and UK late last year, and we'll be delivering to wholesale accounts very soon. So far, our community there has responded exceptionally well to both the gear and our brand overall. John has a special relationship with Europe. He clinched his first world title in Portugal, and he's been exploring the coastline since he was a young kid. The ethos of Florence Marine X, with its focus on exploring the unknown and leaning into curiosity beyond just surf, seems to mesh really well with our customers in the region.
Part of our membership program is the ability to apply to become a wear-tester for our brand. We call them our Florence Test Pilots, and so far we've had a professional sailor, a downhill skateboarder and a few other members from around Europe participate to give us feedback on our gear. It's been great to connect with the local community and also for us to get real insight in how our gear is helping them get outside and enjoy their surroundings.
Overall, we've had a warm welcome in Europe, and we're excited for what's on the horizon.
Your membership model is interesting… and presumably a great way to find out more about your customers to enable the company to better communicate with and sell to them?
When we launched, our goal beyond just producing high-quality, responsibly-made gear was to build a community and offer an ongoing conversation – that's why we started the Florence Marine X Society. It's a one-time cost to sign up, with a portion of that going to environmental causes. And once you're in, you're in. Once you sign up, you get first access to new gear, we'll drop new edits from John early or exclusively for you to watch, and you're able to sign up to be a Florence Test Pilot where members get to test our products and give us feedback on how to make it better. It's been a really cool journey so far, the response has been epic, and we're really looking forward to the horizon.
Will you guys ever add any other pros to the team?
While I don't see us creating a traditional 'surf team,' we definitely see opportunities to work with great regional ambassadors and people doing amazing things that inspire others.
What have been the best selling products since launch?
We're an outdoor brand anchored in the water, and people are coming to us with an expectation that we'll make the best gear in the world to help you thrive in a marine environment. From the beginning, we've had a maniacal focus on boardshorts and sun-protective gear. As people begin to get their hands on either our Block Boardshort or our UPF Active Shirts, word of mouth spreads and oftentimes we are selling out online before we get the chance to let people know we've got new products available. A great example has been our Hooded Rashguard. John had a unique need for this piece, and he wore one almost every day he went surfing at home on the North Shore. We've made them available exclusively to Florence members, and they'll usually sell out in a day. It's really cool to see people react so positively to the gear, and we're so thankful for their support.
We've got some great new products on the horizon and we're confident people are going to enjoy them.
What are the 3 biggest lessons you've brought to the company from your time at Hurley & the WSL?
Authenticity first. You have to start from a good, honest place or else you've already lost before you've begun.
Community above all. You can't go it alone. It takes a team working together towards a common goal to make great stuff happen.
Nothing is possible without relationships. I've always told my colleagues: anyone can send an email. The ability to pick up the phone and call someone and make things happen is the reason we are in the positions we're in.
What new opportunities do you see for the brand going forward?
We're really excited for the future. I see our potential as limitless, and as long as there is a horizon out there to chase, we see an opportunity to bring great products and inspiration to people all around the world.
What does the company see as the perfect harmony of selling in the wholesale channel while also selling D2C on your own website?
Both wholesale and DTC have their own strengths, and each share unique abilities to reach people and curate experiences in their own way. Our goal is to be accessible to those who are looking for responsibly-made gear to motivate themselves to get outside, regardless of the channel.