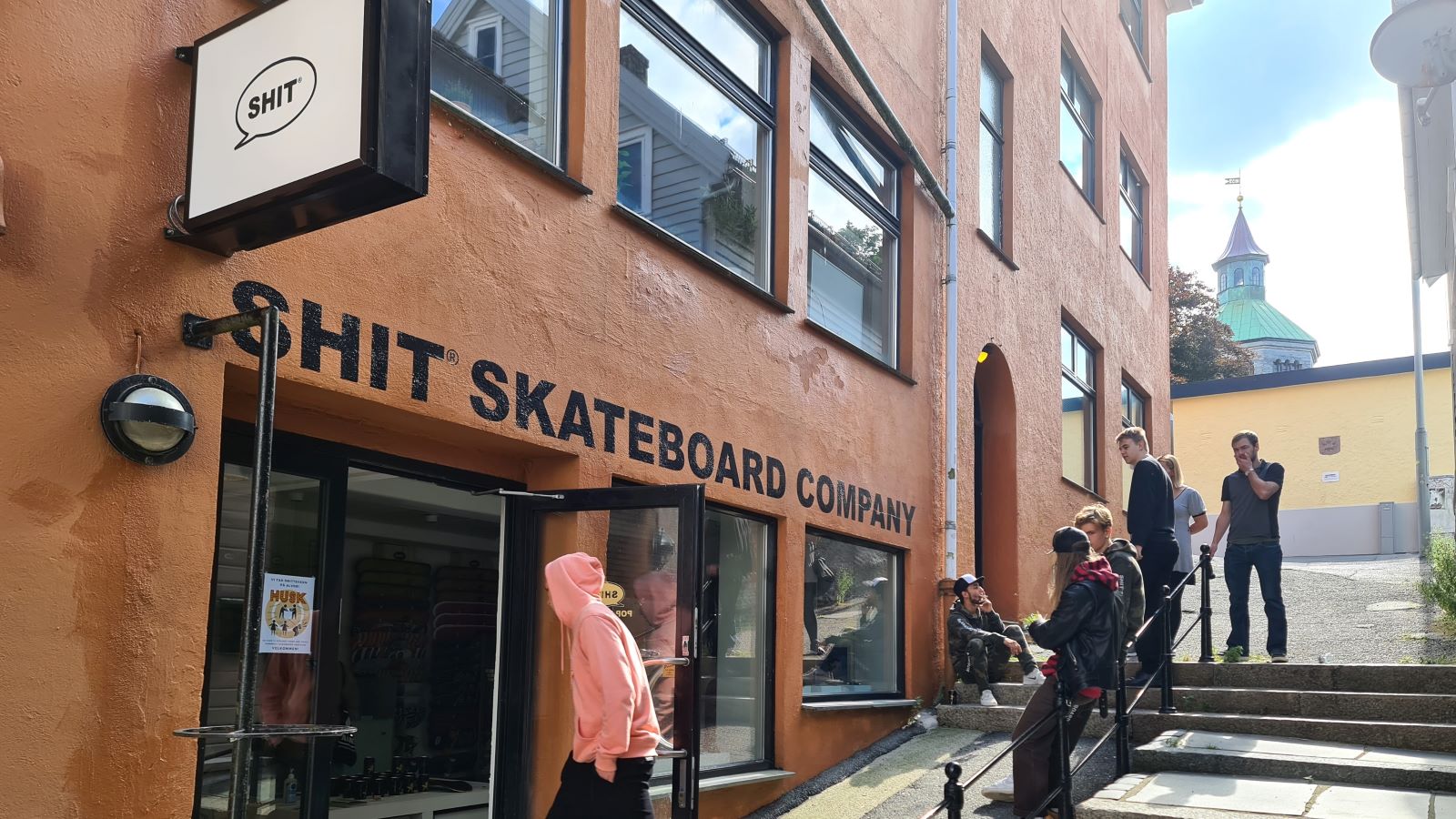 2021 Nominee for Best Shop in Stavanger (Norway): Shit Skate Shop
Our #108 cover-boy Frode Goa isn't always riding waves in the cold Nordic Sea – in his day job, he's the mentor at Shit Skate Shop in Norway. Alongside products from Shit Skateboard Company (Frode's own brand), the shop stocks a range of European and worldwide brands, as well as skater collabs. We got in touch with Frode to talk Shit.
How did Shit Skate Shop begin, who's on the team and where are you based?
We reopened the shop last fall as the market was booming. Our team consists of Aksel Sørum (Vert), Elias Egeberg, Alicia Van Steenoven, Anker Hovland, Rene Juel Petersen, Martin Mentzoni and Stefan Vatland. We are based in Stavanger, on the west coast of Norway.
Let's start with a question you're probably sick of being asked…how has biz been impacted by Covid?
Days in the shop are quiet and skateparks are currently packed with scoots.
How's it feel being nominated for the #Byasbeste downtown store 2021 award?
It's pretty awesome. There are two skate shops located in this city besides ours and they've been around for 10+ years – they've never been nominated. So knowing that we got a skate shop put on the map is pretty fun… it's about time! And as a matter of fact, it's historic.
How do you communicate with the local community, and do you host events/comps/work with any athletes?
Our team is very active, myself included. They can always be found in one of the dozen sick local skateparks – when we are not hitting the streets for real skateboarding that is!
Alongside your own brand, what other brands do you stock?
Independent, OSL Skateboards, Palace, Bones, OJ`s, Sour Solution, Powell Perelta, Santa Cruz, Pro Tec and a few more.
Which are your most popular products?
It is our quality decks for sure. But our clothes have always been popular as well.
Tell us about your Pro model boards. Any more collaborations in the pipeline for the future?
We do BRO – not PRO. We have a new BRO team model deck in the pipeline to be revealed this spring. We're excited! And we are hoping to get the third SHIT X TURBONEGRO deck in stock this spring. And we got some more collaborations coming up – but nothing to reveal atm.
What are your plans for the rest of 2022 and beyond?
To keep on offering quality products to the market, to inspire and motivate kids as well as "the old skaters who quit". To keep on having a good time as we roll into the future.
Credit for the header photo also goes to SHIT® SKATEBOARD COMPANY