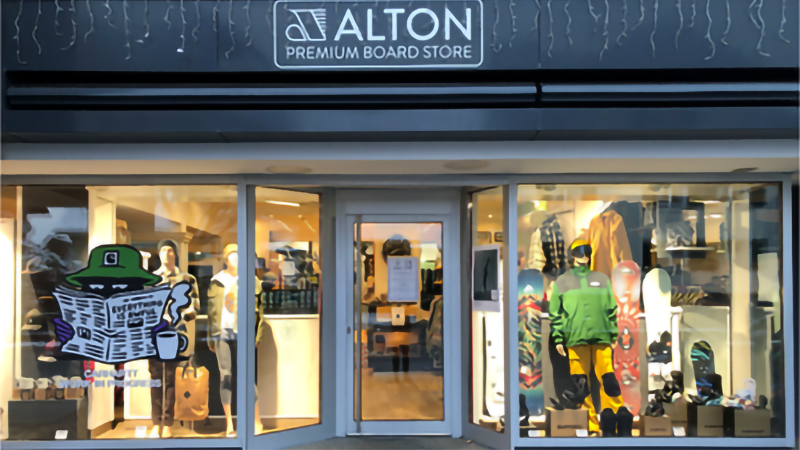 Alton Premium Board Store's GM Thomas Talks History, Biz, 2020 & The Future
Alton Premium Board Store is a family run business in Western Austria where GM Thomas Alton's Mum and Dad still oversee the back office and sales and siblings work alongside him on the shop floor. Thomas is a boardsports visionary with strong connections in park building and the Austrian snowboard and skateboard scene in general and we talk business and adapting to the new normal.
Please tell us about the history of Alton Premium Board Store.
My grandpa started the shop as a shoemaker in the 1950s. Back in the day, it was a difficult time after the 2nd world war, but with my grandma's support, passion and a big heart they made it work. My dad also made his way up as a shoemaker. Step by step the shoe store became a sports shop with fashion and "cool" soccer goods.
I was born 1982 (kid nr. 2 out of 4) and started feeding into the family business very early at 12 years old. When I wasn't at school I was busy building our first skate & snowboard offering. In winter 1994, we got sold our first boards and since day one I was super excited and fell in love with both snowboarding and skateboarding.  In 2000 we built the Alton Premium Board Store much bigger and my second passion (building snow parks) evolved.
So in winter 1999/2000 my own company "Parkdesign snowpark – management" was born. So now we stand at 21 years of park design and 26 years of Alton Premium Board Store – we are a big family, we are all owners. The best back-office dude is still my Dad and Mum still fills in on sales duties while Elisabeth (youngest sister) is the boss for all the shoes & fashion, Geli (oldest sis) also works in the back office. My role is the Premium Board Store, outdoor area and the snow park.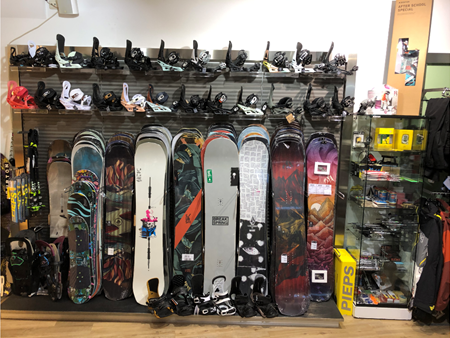 How much of your orders did you cut back on in March, or any time since then?
We didn't cut anything on back. We made our magazine/winter catalogue as always and pushed things forward. We are still looking forward to a good season. September was awesome and October was a killer! But to be fair nobody expected that we would get another lockdown right now until December 6th.
Our family business is strong, we realise that we are all in the same boat and we are motivated to get stranger after the lockdown. We will review our stock at the end of the season and I think that we may reconsider our order decisions for 21/22.
What percentage of old stock are you sat on compared to a 'normal' year?
Last season wasn´t that bad, so it's: 20% snowboards, 15% bindings, 15% boots, 10% men's outerwear, 20% women's outerwear, 5% goggles, 5% gloves.
What were some of the best things brands have done for you since the start of the pandemic?
Telling us they are happy to have up to 70% of carry-over. I think this is a really cool move. It will help us to make business with the same stuff the next season.
How do you expect brands to drive consumer demand with zero events?
That's really difficult. We have never built an online business because we are a local shop and talk to our customers directly by having cool in-store relationships. So, I hope the brands won't focus solely on the internet and will try to find other solutions to keep their customers!
Which brands are super hot right now and which products are selling well so far this season?
Volcom first as always. Burton is still our partner in crime. Jones Snowboards are super hot, especially the splitboards, Tubbs snowshoes, bib pants. And of course Slash Snowboards! Gigi is a good friend of ours, the coolest guy!
What are you hoping/expecting to see in product lines from brands for 21/22? Carry-over, smaller lines, more newness?
Carry-over and the most important thing is no big sales discounts. We can all make some business by taking a step back, and then there will be no need for massive discounts.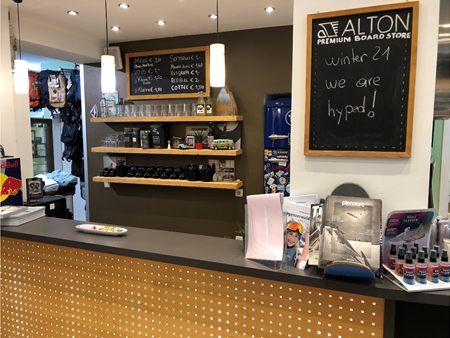 Tell us about how you've used social media to stay connected to customers during the lockdown in November?
We are using Insta, FB and our website to stay connected and bring a smile to people's faces. We are FaceTiming or Whatsapp video calling our costumers, giving them support and personal consultation (the same as we did in the first lockdown). It works pretty good. Our customers can find the right thing they like, sizes they need. Once that's done, we send the stuff out.
Sticking your finger in the air, how do you expect this winter to unfold?
Our idea is to push the scene locally and the next generation. We can all see the big change and a step up into the next level with kids snowboarding. Our objective should be showing our kids how cool it is to shred! Put them on a board and let them have fun. You can check out the Alton Mini Shred Day. It's for 2+ years-old kids, crazy cool!