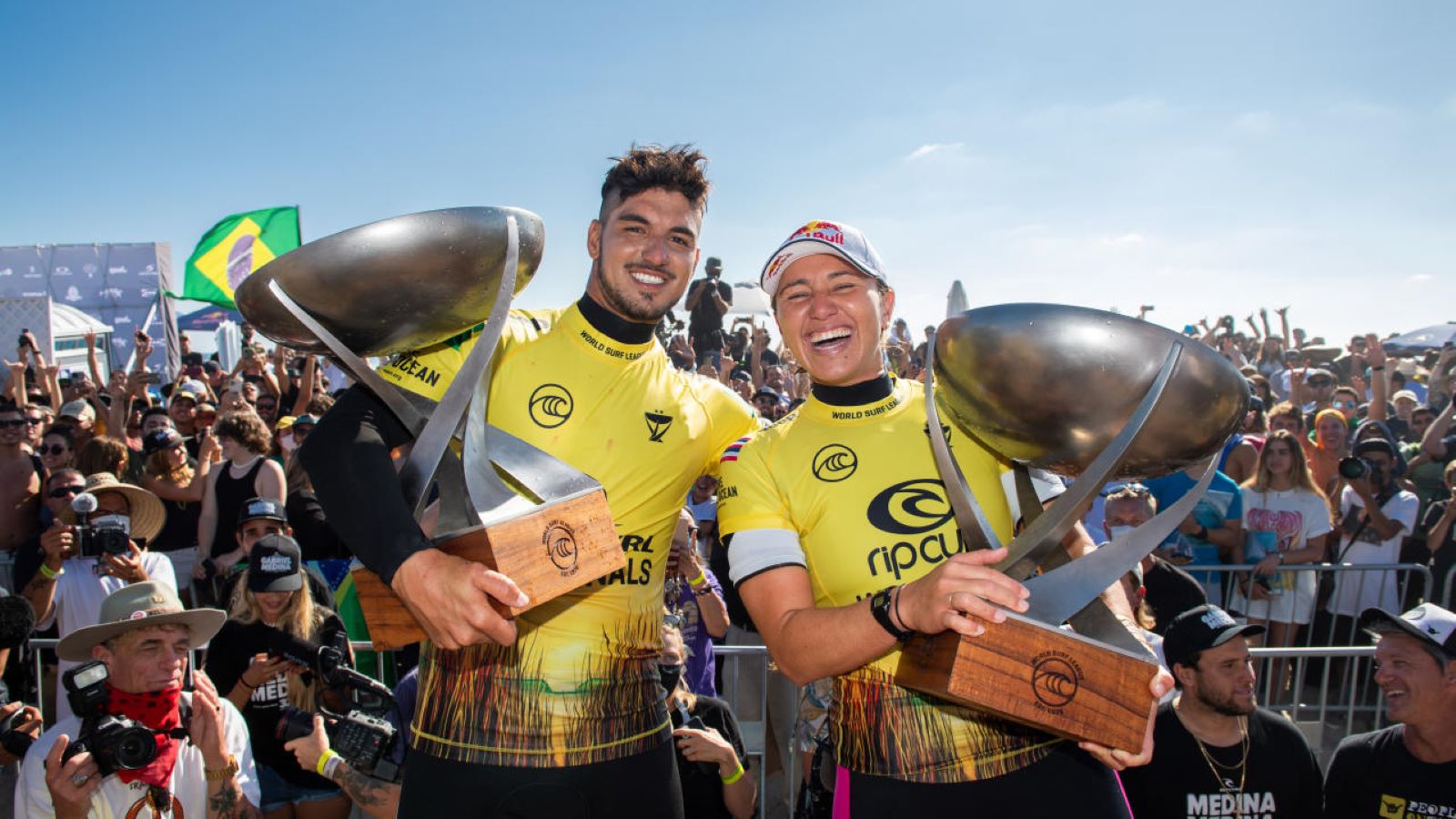 Rip Curl WSL Final Achieves 6.8 Million Live Stream Viewers
The new format for the WSL Championship Tour has been a hit with surf fans, with this year's Rip Curl final achieving 6.8 million live stream views and over 11.3 million fans engaging with video content.
Press Release:
Rip Curl WSL Finals is Most Watched Day of Surfing in WSL History
Largest Live Digital Audience With Over 6.8 Million Live Stream Video Views, Event On Pace to Deliver Record VOD Viewership
The first-ever Rip Curl WSL Finals on September 14 in San Clemente, CA, was the most watched day of professional surfing with the largest live digital audience in World Surf League (WSL) history. The one day, winner-take-all conclusion to the 2021 World Surf League (WSL) Championship Tour (CT) saw Carissa Moore (HAW) and Gabriel Medina (BRA) crowned the undisputed World Champions and was the single most viewed day of competition ever, beating out the 2019 Billabong Pipe Masters finals.
"The surfing we've seen on the CT this season has been incredible and has led us to our most important moment of the season, the battle for the World Titles at the inaugural Rip Curl WSL Finals," said WSL CEO Erik Logan. "To see the WSL Final 5 go head-to-head in amazing waves and to witness the women's and men's world titles be decided on the same day, in the water, for the first time was something really special. This new format has captivated our audience and driven consumption like never before."
The historic event marks the culmination of an incredible season, which included surfing's Olympic debut in Tokyo, and is the first edition of the new format. The world-title deciding Rip Curl WSL Finals generated over 6.8 million live stream video views, breaking all previous records.
As part of the WSL's ongoing strategy to drive the growth of the sport, 2021 saw CT events streaming on YouTube for the first time – driving new viewers and record consumption. The Rip Curl WSL Finals live stream on YouTube outpaced WSL's 2021 CT event average on the platform and was the largest single day of consumption for WSL on YouTube, more than doubling the numbers for the 2019 Pipeline finals.
In the lead up to the event, Rip Curl WSL Finals content generated 11.3 million video views and reached more fans pre-event than any other event in WSL history. In addition to the pre-event and live digital audiences, the event is on pace to deliver record VOD viewership as well as strong linear consumption. The Rip Curl WSL Finals was available via WSL's broadcast partners around the world and Nielsen Sports will aggregate all live and highlight linear viewing data for the league.