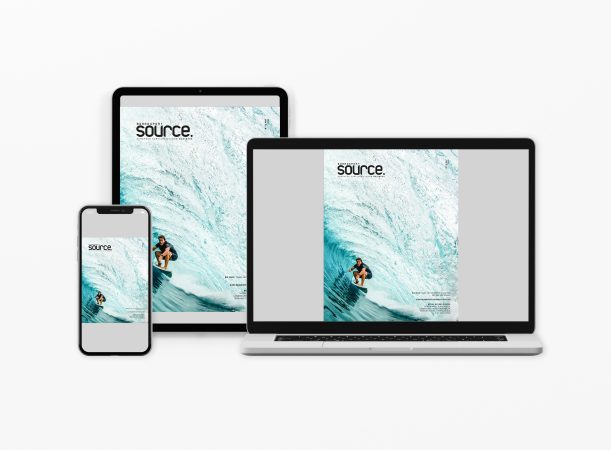 SOURCE Issue 116 OUT NOW!
Time of writing: April 25th.
On the cover: On the cover Sooruz Team Manager, Vincent Primel – Photo: Sylvain Guionnet
As winter 22/23 draws to a close, we complete another chapter in the boardsports biz annals. A recent history that's been plagued by one major world or economic crisis followed by another. First Covid and then the outbreak of war in Ukraine has set the tone for business in the past three years with myriad knock-on factors impacting how business is done. We saw a surge in demand, shortage in supply, clogged harbours, meteoric rises in shipping costs and now the word on everyone's lips… overstock. Wilco Prins sums it up perfectly in this issue's Big Wig, "the combination of pushy sales reps, shops that based their future purchasing on unrealistic Covid sales and the late arrival of outstanding orders created the high levels of inventory in surfboards and wetsuits we see today in a lot of stores." We also speak with new Db CEO Eric Bascle about the company's re-brand, their rapidly growing staff numbers and how they're using ambassadors and social media to foster a community approach.
This winter was one of the worst for snowfall in recent memory. The Alps saw better coverage than the Pyrenees, but we're working off a low bar there. We've borne the brunt of the cost of living crisis that saw record high fuel and energy prices this winter, which doubled with rampant inflation should have spelt danger. However, the snow industry managed to ride on the crest of the wave created the past two years and reports in – from places like the UK in particular – state that winter business boomed this year.
Across the board retailers are noticing that customers aren't quite so price sensitive around the mid and high-end products. Perhaps showing the average boardsports consumer is in the higher percentile of earners and less affected by the cost-of- living crisis. This definitely tallies in surf, snow, wind, foil etc… perhaps not so much in skate.
Despite the current overstock in surf and skate, brand deliveries have returned to normal for this summer and the price per container has returned to a more tolerable level. We hear in our longboard trend report that despite retailers and distributors being full of stock, brands are still being hit with inquiries for newness and fresh marketing stories, showing the core stores who know how to sell product still serve as a valuable sales channel.
Despite it being a terrible season for snow (that's in general, personally I've scored on all 5 trips!) at the time of writing this, I'm on route to the first Spring Break (UK board test) in four years, held again at Kaunertal. And it's been a winter full of events. After the drought from the past three years, everyone's capitalised this year and the snow events calendar has been full. Here's to a long, warm summer full of waves.
Always Sideways
Harry Mitchell Thompson
Ed-in-chief