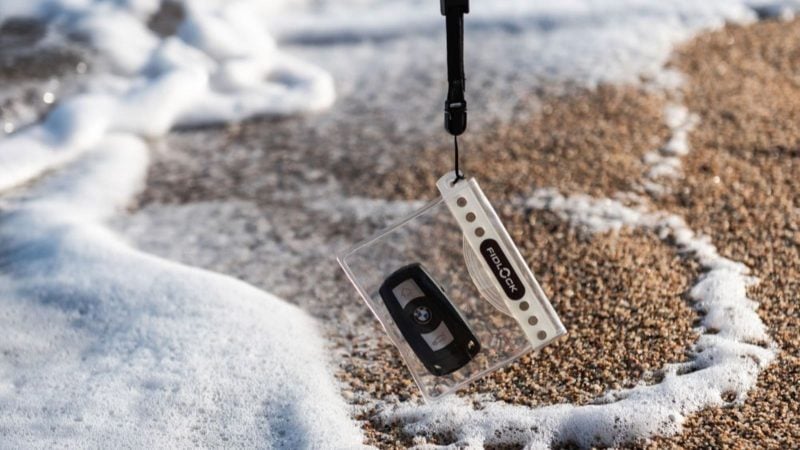 The Brand With Attractive Products: Fidlock Develop Magnetic-Mechanical Closure Tech
Keeping possessions safe and dry are key selling points for any customer looking to buy any product that involves fastening, attaching, or holding. Fidlock has capitalised on that need by developing an attractive solution: magnets. We spoke with the brand's Sales Manager Marvin Bach to find out how Fidlock were incorporating magnetic technology into their products.
Please give us a brief history on the brand since its inception
The story of the FIDLOCK premium magnetic fasteners began with an inventive musician – our creative founder and former professional cellist, Joachim Fiedler. During his career as a musician, he was frequently bothered by the unpractical handling of his bow holder. After sitting down with his cello, he was too often stressed by the struggle of reaching his bow: handling the bow holder with only one hand took quite long, and it is needless to say that he didn't want to let go of his cello with the other hand. A better solution was required. His inventive genius, which already showed itself on childhood sketches of crazy machines, didn't let go of the idea to innovate the bow holder. Why? Because he wanted to make it as easy as possible for the user, letting him focus on what really matters, in this case, the music. Therefore, he already focused on intuitiveness and comfort – features which can support not only cello players in their daily routine and rekindled the pioneering spirit of Joachim Fiedler.
What was the thinking behind the brand launch?
The moment of opening, closing, connecting, and securing should become an intuitive, positive experience for children and adults, athletes, and in industry. FIDLOCK makes products simple and safe, they inspire with quality and function in the long term. The HERMETIC products also meet this requirement precisely.
Please tell us about some of your key products for 2023
Key products and top sellers are our MEDI dry bag which is the perfect size for smartphones – it's available in five colours – and our sling bags, that come in two colours, with a lot more style than a normal waterproof bag.
There is a lot more coming soon.
And about your proprietary technology
In our constantly growing B2C section, we have been able to excite people with our compact and intuitive products. Thanks to the patented HERMETIC technology, the dry bags are becoming more and more popular by giving customers an innovative product with must-have potential. Whether beachboy or girl, a bike or backpacker, smartphone junkie, or outdoor activist – the automatic, hermetic closing system built into the bag ensures all things that are important are kept safe. The HERMETIC dry bags won't even stay open accidentally: "just let go!". Thanks to the unique closure technology, the contents remain 100% dry even in wild water action. The three ingenious magnetic strips allow for secure closing up to a water depth of 30 m (100 ft). With the transparent high-tech material, the smartphone is still accessible. The HERMETIC portfolio is complemented with an armband, a sling bag, or a chest bag for sports use.
How do you differentiate the brand from competitors?
More than 400 patents speak for themselves. FIDLOCK's successful innovations are the results of continuous basic research in the field of magnetic-mechanical closure technology. Our pioneering spirit is the driver for research and development, and the resulting pool of ideas offers solutions for our customers' future requirements.
How is the brand distributed in Europe?
In Europe, we work closely with distribution partners and agents.
What marketing do you have planned for this season?
We will be visible in numerous print magazines and on digital platforms. In addition, there will be constant PR activities with a broad distribution list addressing numerous editors and editorial offices. A large-scale digital campaign is also planned to make the brand permanently visible and generate reach. The campaigns will be flanked by long-term partnerships with ambassadors and influencers. For the POS, we will start with a high-quality, flexible display and additional tools to communicate the brand in retail. Also, we are attending a lot of water sports and outdoor festivals, like the Kitesurf Masters and the Surf Festival at Fehmarn.
Why should retailers stock your product?
The HERMETIC products are a great addition to any water sports, outdoor and travel gear retailer. Buyers and end consumers will be surprised and convinced by the high quality and easy handling compared to other products on the market.
Furthermore, we have a NOS warehouse in Hanover, Germany for secured and fast delivery throughout the whole year