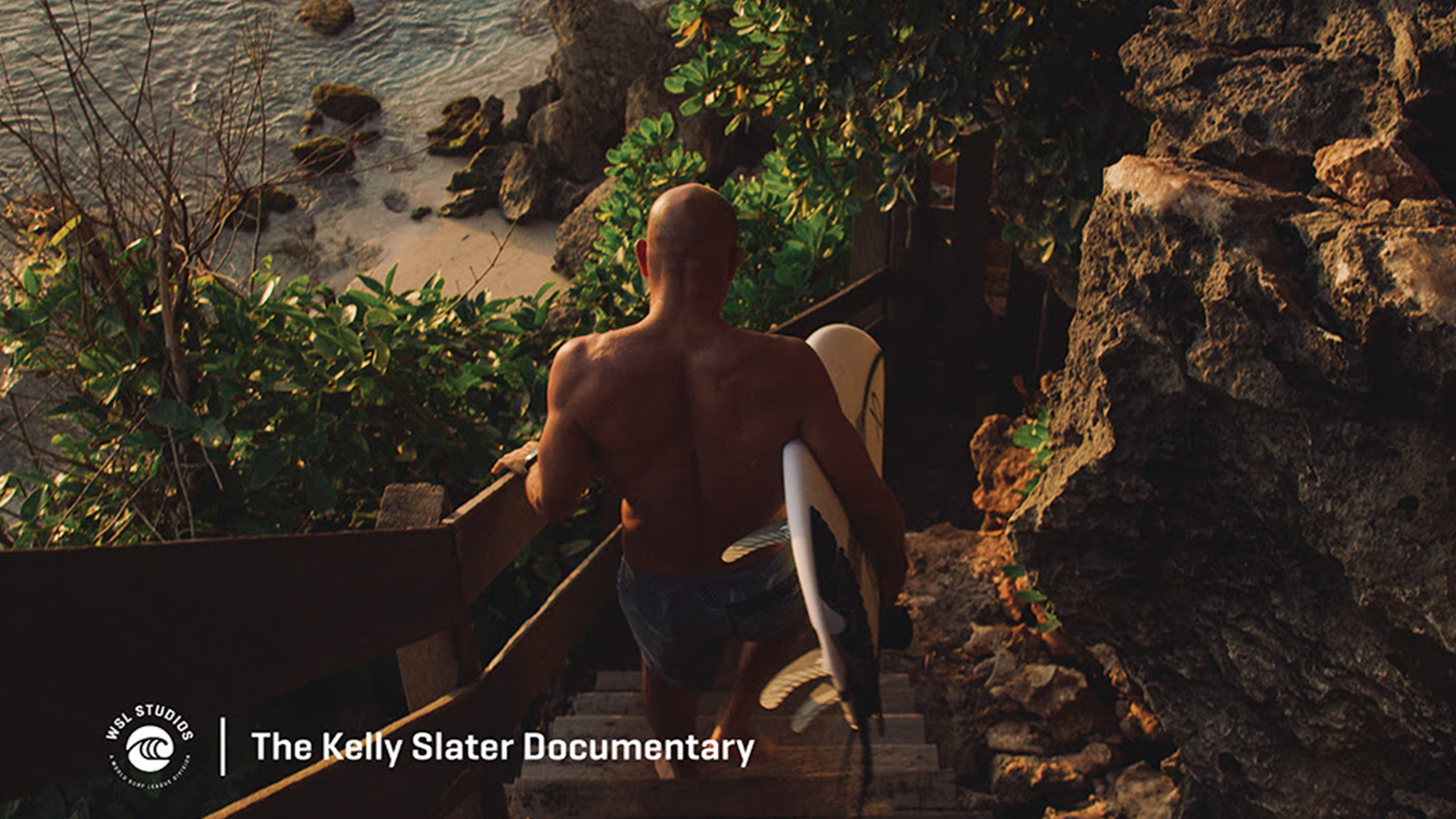 WSL Announces New Programming Strategy Including Documentaries + Launch Of Podcasts
From documentaries to podcasts, World Surf League Studios looks to deliver varied content not only to the surfing community but to anyone wanting a peek into the world of surfing.
Press Release:
Development of Landmark 11-Time World Champion Kelly Slater Documentary
Partnership with the Producers that Created Netflix's 'Drive to Survive'
Creation of WSL Podcast Network
Today, the newly-formed World Surf League (WSL) Studios unveiled its debut slate of programming. Designed to connect to surf fans as well as appeal to all audiences, the content focuses on telling the transformative stories of surfing, showcasing the incredible lives of the world's best surfers across all disciplines, as well as using the sport as a window into an array of diverse and fascinating cultures.
The debut slate is comprised of documentaries, docu-series and daily short-form content that is designed for distribution across multiple platforms. The projects feature content with established and award-winning production companies, up-and-coming filmmakers and innovative producers, harnessing their talent, deep knowledge and unique points of view.
"WSL Studios is anchored around storytelling that highlights the raw athleticism of the world's best surfers, extending through everyday people, and the richness of emotions and narratives that surfing invokes," said WSL President of Content, Media and WSL Studios, Erik Logan. "With our initial slate, we have endeavored to demonstrate the range of stories that are possible through the Studio and the common passion for people, surfing and the ocean."
The Kelly Slater Documentary
11-time World Champion Kelly Slater has granted WSL Studios unprecedented access to his 2019 competitive campaign and personal life. Shooting began prior to the start of the WSL Championship Tour (CT) season on the Gold Coast in Australia and will continue through to the season finale at Pipeline in Hawaii in December. This never-before-seen look behind surfing's most decorated champion and one of the sporting world's most mythic personalities shows the world through Kelly's eyes.
For the first time, at the age of 47, one of the greatest athletes of all time is thoughtfully reflecting on a three-decade career and openly talking about all the noise and questions swirling around him with retirement, the Olympics, and the many pressures of maintaining the elite level of performance he expects from himself.
Box to Box Films Co-development Partnership
WSL Studios has partnered with Box to Box Films for the development of a multi-episode docu-series covering the Championship Tour during 2020. Box to Box Films is the award-winning company behind Formula 1: Drive to Survive documentary series on Netflix.
Development is well underway for a series following the world's greatest surfers on the world's greatest waves all through the 2020 season. Exclusive access has been given to document the true and raw emotions behind competing at the highest level for an entire season. This intimate storytelling approach, married with the lure and beauty of the sport, will take viewers inside a never-before-seen world of competitive surfing. Production is scheduled to start in March 2020.
WSL Podcast Network
WSL Studios has partnered with Himalaya Studios for the creation of The WSL Podcast Network. WSL Studios will drop a suite of weekly shows covering everything from the latest surfing news, insightful interviews, the latest on ocean conservation as well as WSL's push toward equality. Slated for a fall 2019 launch across all podcasting platforms.
Himalaya is an innovative native podcast platform, audio content network and original production studio all geared toward global distribution and audience growth.
Deep Blue: The Mark Visser Project
WSL Studios, Mark Visser and Pilgrim Media Group have partnered on a feature-length documentary around finding the largest unridden wave in the world and then surfing it. Mark Visser, who has famously surfed Pe'ahi at night and is the founder and creator of the Ocean Warrior course, has located what is thought to be the biggest unridden wave measuring over 100 feet. Dubbed as the "Free Solo" of surfing, director conversations are underway for this project.
Transformed
This new series from WSL Studios launched earlier this month and focused on the question, "How has Surfing changed lives and cultures?" Hosted by Shaun Thompson, 1977 World Champion, this series highlights one transformation story each episode, focusing on the human and cultural impact of surfing.
Transformed premiered on August 5th on the WSL's owned and operated channels. Season 2 is greenlit and production is underway with a launch in Fall 2019.
Watch Transformed, here.
Surf Ranch Sessions
A new series shot on location at the WSL Surf Ranch, where the world's top professional surfers share waves and stories with individuals who are at the top of their professions. This innovative format uses surfing as the common thread for conversations around the parallels of elite-level performance and the common love of the water.
The debut episode features F1 World Champion Lewis Hamilton, 11-time WSL Champion Kelly Slater with Big Wave Surfer Kai Lenny discussing the parallels between Formula One and surfing. Season 1 also includes Steve Aoki, Bethany Hamilton, and Celeste Barber.
Brilliant Corners, Presented by Hydro Flask
Brilliant Corners is a visually stunning adventure series with former European Longboard Champion and current WSL Commentator Sam Bleakly. Traveling the world with his longboard in tow, Sam uses surfing to explore the brilliant corners of the world highlighting often never seen coastlines and communities that live at the intersection of travel, culture, food, and surf.
Season 1 of Brilliant Corners takes viewers through Madagascar, Papua New Guinea, India, and Senegal.
All In: Season 2
WSL Studios and Red Bull Media House have renewed All In: "Life on the Championship Tour" for a second season. One of the most successful video series of the year, Season 2 will feature WSL CT surfers and their preparation for the 2020 Olympic Games. Season 2 premieres early 2020 across WSL Platforms and Red Bull TV.
Watch All In Season 1, here.
Sound Waves
During each CT event, WSL Studios follows a surfer from the moment they arrive. This behind-the-scenes series puts fans right next to each surfer as they compete through each round. See what happens between heats, conversations with coaches and how they really feel about their performances.
Season 1 launched on June 29th with Seth Moniz, Conner Coffin, and Jack Robinson, and was the most-watched video series in the month of July across all WSL Platforms. Season 2 premiered on August 14th with Brissa Hennessy, Sebastian Zietz, and Courtney Conlogue.
Watch Sound Waves Season 1, here.
About WSL Studios
A division of the World Surf League, WSL Studios is a content creation engine, committed to delivering a broad range of high-quality surfing competition and community storylines to the world. The content is transformative and celebrates surfing, human potential, and the ocean.
The WSL is the global enablement platform for surfing and surfers around the world, and has been dedicated to celebrating the world's best surfing on the world's best waves since 1976, annually running more than 180 global events across the Men's and Women's Championship Tours, the Big Wave Tour, Redbull Airborne, Qualifying Series, Junior and Longboard Championships, as well as the WSL Big Wave Awards. The League possesses a deep appreciation for the sport's rich heritage while promoting progression, innovation, and performance at the highest levels.