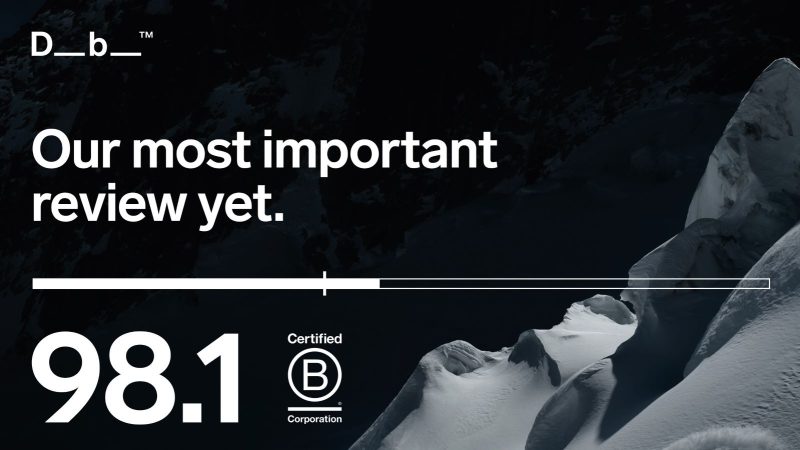 Db Achieves B Corp Certification
Press Release:
Premium outdoor travel brand Db has announced its certification as a B Corporation (or B Corp) and is now joining a growing group of companies reinventing business by pursuing purpose as well as profit having met rigorous social and environmental standards which represent its commitment to goals outside of shareholder profit. It includes five key impact areas of Governance, Workers, Community, Environment and Customers. The certification process is meticulous and Db achieved a 98.1 score, compared to a minimum requirement of 80.
98.1
- Overall B Impact Score
80 
- Qualifies for B Corp Certification
50.9 – Median Score for Ordinary Businesses
Founder Truls Braatas stated : "Since inception o- Db in 2012, our vision has and remains to 'enable meaningful journeys'. However, the world has changed over the last ten years and we acknowledge travel as a conflict we wrestle with on a daily basis. We'll continue to do everything we can to minimize our impact whilst steadfastly focused on our belief that if we journey out into the world, we'll come back better people."
CEO Eric Bascle added: "We know that we can come together as individuals, businesses, and governments to work on and implement solutions. With only hundred certified B Corps in the Nordics, we're rallying -or even more to join us – especially in Norway where we became the eighth certified B Corp. This is an opportunity for us to prompt acceleration in this space."
Executive Director of B Lab Nordics, Nille Skalts, said: "We are thrilled to welcome Db to the Nordic B Corp movement, and to act together to be a force for good. Having -ollowed Db during their impact assessment, I witnessed their hard work and commitment to the environmental and social causes. I know that they are a strong addition to drive actions forward in collaboration with the B Corp movement. This is especially valuable within the textile and travel industries which need a pro-ound trans-ormation now and in the years to come."
To complete the certification, Db is committed to being legally accountable to all of their stakeholders – workers, communities, customers, suppliers, and the environment – not just shareholders. Tangible steps that have been taken include:
Transitioned from virgin fabrics to 100% recycled and GRS certified.
100% of our products are free from PFC.
94% of all fabrics are Oeko-Tex™️ certified.
We offset more than 100% of our CO2e emissions we haven't been able to cut yet.
Db Renewed offering repaired, second hand products to 64% of our customer base.
We have enrolled all our manufacturers in a decarbonation program.
They are all third party audited and compliant with our Code of Conduct.
Limited lifetime warranty on complete product range for Db Black members.
Programs and policies to promote Diversity, Equity & Inclusion and paid community service days.
The Looking Sideways x Db fund offering a platform, support and mentorship to young creatives, one of whom will debut their short film about pollution around the Scottish waters at London surf film festival.
Creative exchanges hosted by Db to help young creatives learn and develop skills to work their way into their own careers.
Learn more
Responsibility journey: https://dbjourney.com/pages/responsibility
B Corp Certification: https://dbjourney.com/pages/b-corp